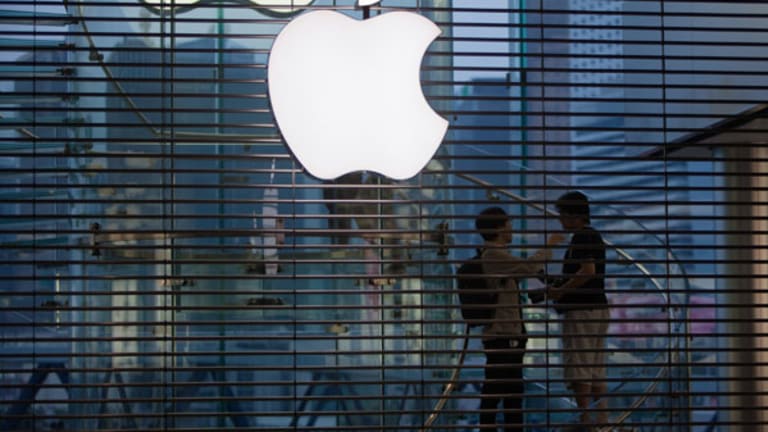 Could Lauren's Roger Farah Be Apple's Next Big High Fashion Hire?
Apple made speculative headlines buzz when it hired Paul Deneve from Yves Saint Laurent and Angela Ahrendts from Burberry. Could Polo Ralph Lauren's Roger Farah be next?
Apple made speculative headlines buzz when it hired Paul Deneve from Yves Saint Laurent and Angela Ahrendts from Burberry. Could Polo Ralph Lauren's Roger Farah be next?
NEW YORK (TheStreet) -- Apple (AAPL) - Get Report hiring pattern these past 12 months suggests a shifting emphasis on fashion and a eye-appeal away from pocket protectors, hard drives and screen size.
That's not to say that the latter are suddenly unimportant but merely suggesting that the ultra-secretive technology company has something up its sleeve -- perhaps literally, with an iWatch -- that involves a bit more fashionable flair than its typical products. 
Last July Apple hired Paul Deneve, then-CEO of global fashion company Yves Saint Laurent, as a vice president for Apple and would report directly to CEO Tim Cook. His job description is simply for "special projects," which has obviously only fueled speculation about what his purpose actually is at the company.
Deneve wasn't the only head-scratcher hire. As The Saint wrote, "In 2013, Apple hired fitness expert Jay Blahnik, who consulted with Nike (NKE) - Get Report as Nike developed its popular FuelBand. Then a month later, Apple hired Ben Shaffer, who served as Nike's FuelBand designer. That year, rumors circulated that Apple had as many as 100 people developing the iWatch."
There's still more. In October Apple hired Angela Ahrendts who was the CEO of Burberry.
Clearly, Apple was and likely still is, hellbent on the fashion aspect of whatever product or products it is working on. And that's good, because there's no need to release something as hideous as the Samsung Galaxy Gear. 
>>Read More: Tim Cook Is Doing Just Fine, One 'Incremental' Step at a Time
Perhaps my speculation is completely unwarranted, but it would not surprise me to see Roger Farah, former president and executive vice chairman of Polo Ralph Lauren (RL) - Get Report, go to Apple as well. 
The 61-year-old stepped down as president in 2013, when he became the executive vice president. He will retire this month but remain on the board until August. Farah "is credited with turning the company into a fashion powerhouse" according to The Wall Street Journal.
And although Farah has not signaled he will do anything but retire, there have been suggestions that he may head to J.C. Penney (JCP) - Get Report or Target (TGT) - Get Report. These suggestions may be more likely to pan out and are completely warranted. 
The two distressed retailers could certainly use a new leader, although Mike Ullman, the former, and now once again CEO for J.C. Penney, seems to have figured things out for the time being. 
>>Read More: Google Glasses Could Ding Big Retailers Sears, JC Penney and More
With that being said, and of course, this would be adding to the speculation, but I wouldn't be surprised to see Farah join the tech world via a position at Apple. 
The Cupertino, Calif.-based technology giant has been adding fashion leaders and executives to its employee list since last year, clearly making sure that whatever it releases, functions well and looks cool too. 
It's good Apple is doing this, especially if it is working on a wearable device. An iWatch for example, is different than having a phone. It's something consumers wear, it's an accessory. So its looks are almost as important, if not more important, than its functionality. 
With the amount of money Apple has, it can recruit whoever it thinks may be necessary. And in the apparel-technology world, it's likely better to be safe, rather than sorry. 
Farah to Apple may be an unlikely scenario, but just don't consider it surprising if you see the headlines in the not-too-distant future.
>>Read More: 3 Reasons to Utterly Ignore the Bad News on Consumer Spending
-- Written by Bret Kenwell in Petoskey, Mich.
At the time of publication the author held no positions in any of the stocks mentioned.
This article represents the opinion of a contributor and not necessarily that of TheStreet or its editorial staff.
Bret Kenwell currently writes, blogs and also contributes to Robert Weinstein's Weekly Options Newsletter. Focuses on short-to-intermediate-term trading opportunities that can be exposed via options. He prefers to use debit trades on momentum setups and credit trades on support/resistance setups. He also focuses on building long-term wealth by searching for consistent, quality dividend paying companies and long-term growth companies. He considers himself the surfer, not the wave, in relation to the market and himself. He has no allegiance to either the bull side or the bear side.