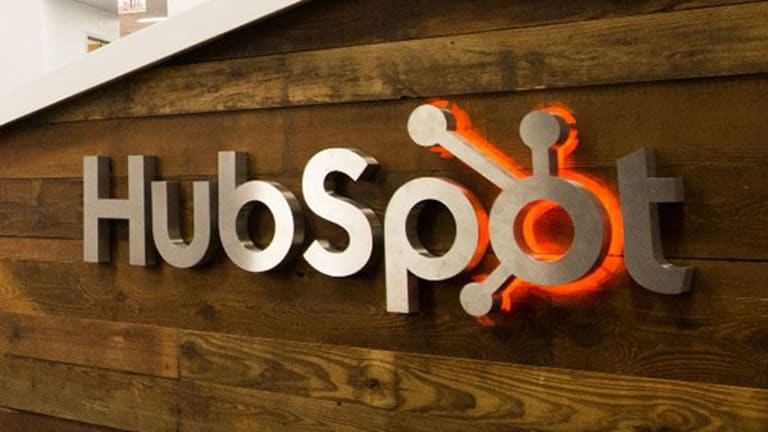 Could HubSpot Be the Next Salesforce?
HubSpot's new CRM feature should make the company even more attractive to businesses and should help it acquire new customers.
NEW YORK (TheStreet) -- HubSpot (HUBS) - Get HubSpot, Inc. Report is poised to continue its strong growth with the roll-out of an update to its customer relationship management system (CRM). The update bolsters HubSpot's offerings and should give it an even larger presence in the marketing space.
The Cambridge, Mass.-based company provides tools that help companies engage consumers and increase sales prospects. It has been among the hottest firms in the Boston area's vibrant technology space. Although its stock price has declined from an all-time high of nearly $54 a share in late July, its share price is up about $17 since its October 2014 public offering. 
data by
HubSpot's new update is a basic CRM tool that fits nicely with its marketing automation product. For existing customers, it makes HubSpot more useful by allowing them to store sales contacts directly in the product rather than in other platforms, like Salesforce.com (CRM) - Get salesforce.com, inc. Report , with which HubSpot integrates. Now, HubSpot will be both an integration for the CRM leader as well as more of a competitor. For those who aren't already using HubSpot, the update is a free, basic CRM tool that they can use instead of products like Salesforce, which are powerful but expensive (and many organizations don't need the most advanced features). HubSpot can use this new free customer base to sell its advanced marketing automation offerings. The CRM product is free and has been rolling out over the past few months.
HubSpot has become a popular choice for enterprise-level sales teams. The HubSpot CRM has becoming a particularly important tool in marketing automation. HubSpot has over 15,000 clients in more than 90 countries. It has three marketing products costing $200, $800 and $2400 per month.
My firm, Internet marketing company Webimax, has helped clients use HubSpot for years. Recently, we have noticed many of our clients move to HubSpot from competitors, like Marketo, another marketing automation tool. 
But many customers are still not realizing HubSpot's full potential. The CRM add-on could change that. For one thing, the add-on is free. As part of its strategy, HubSpot is counting on companies to switch from competitors or add its product to systems focused on other areas. 
Clearly, digital NEW YORK ( TheStreet ) marketing has become increasingly important. Businesses know that the ability to collect information about consumers online behavior will give them a competitive edge and benefit their bottom line. HubSpot's willingness to offer businesses a free product will undoubtedly attract small- and medium-sized businesses -- especially those that wouldn't be able to afford or take advantage of more powerful tools like those Salesforce offers.
To be sure, HubSpot needs to make improvements. Its platform is not always user friendly for non-technologists. Ongoing usage costs can be daunting for smaller organizations, particularly for those who only need some of the system's functionality. And businesses with large- to medium-sized sales teams can easily spend more on another CRM than on the Hubspot platform. Further, the company took a PR hit this summer when its chief marketing officer was let go in a book scandal. 
That said, HubSpot is a well run company with an impressive product in a hot business area. Expect continued growth. 
This article is commentary by an independent contributor. At the time of publication, the author held no positions in the stocks mentioned.