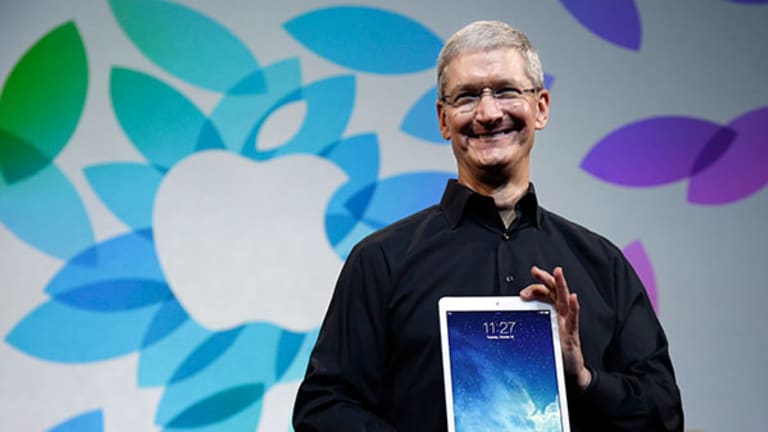 Could a Smartwatch Be Apple, Intel's Next Big Flop?
Is the market for wearable technology real or did a consensus of technology companies misguidedly fabricate it?
Is the market for wearable technology real or did a consensus of technology companies misguidedly fabricate it?
NEW YORK (TheStreet) -- I don't want to pull a Ballmer ...
So I won't predict wearables -- smartwatches and such -- will fail. But somebody's got to start asking some questions. And I will.
But first ...
I stand by what I wrote Wednesday: If anybody wins with wearable technology, it's not going to beIntel (INTC) - Get Report. While Intel employees should be spending their time finding a way to reinvigorate the company, they were busy reading my article about their company's successive failures via Intel's internal network:
Funny thing is, as the 8:00 a.m. hour (pacific time) Wednesday wore on the page views from that address climbed.
This triggered visions of Intel employees strolling into work with nothing better to do than read what some hack has to say about them. I would have expected them to be A) up and at it much earlier and B) focused on bigger and better things.
Even so, I'm flattered Intel uses me as bulletin board material. But it's time to walk the walk. A year or so ago, I wrote an article critical of Intel. It also ended up on the company's intranet.
That article triggered an angry call from one of the firm's corporate communications people. He condescended me with You don't know what's happening over here and Just wait. We have plans type of stuff. 

Still waiting, pal ...
What's lost in this is that I -- and TheStreet -- have been more than fair to Intel. Personally, I've been behind the company when I probably should not have been. On Intel Media. And on the fantastic Intel Experience pop-up stores the company erected over the holidays.
Intel Media failed. And the Intel Experience stores wind up well-intentioned, nicely-executed wastes of time.
But enough of that ...

Second, and more importantly, who is responsible for the fabrication of the wearable technology phenomenon?
Is it Intel?
Because, if it is, as I indicated Wednesday, Apple (AAPL) - Get Report, Google (GOOG) - Get Report, Samsung and anybody else with aspirations should run away as fast as possible.
The tech community appears to have rallied around wearables as the next big thing. But it doesn't feel like a Steve Jobs situation where he knew what people wanted before they knew what they wanted. It seems like we've run out of ideas. And we're going to shove smartwatches and such down the gadget-buying public's throat.
As I said earlier this month with respect to Apple's reported move into wearables:
I'm not all fired up about Apple turning us into a bunch of hypochondriacs with a wearable device that'll do stuff like tell you when you're about to have a heart attack. Frankly, I think it's a big mistake to play into the hands of a health anxious society that Googles every little ache and pain.
Maybe I'm misreading the world's appetite for the next mobile device. But, I'm just saying, don't expect an Apple smartwatch, for example, to sell 30, 40, 50 million units like iPhone does.
Plus, consider when Apple will enter the wearable market (again, assuming it does). It will not enter it out in front the way it did with iPhone or iPad. That might not matter, but I prefer the Apple that leads and then, as it did with iPad, sheds some market share not because of anything it did wrong, but because of market expansion. The copycats come in, spread a market thin and Apple remains the kind of quality.
I'm not going to carry an iPhone in my pocket and wear a smartwatch on my wrist. Just not going to happen. And I get the sense I'm not alone. There's not all of this pent-up demand for wearable technology that Apple -- and everybody else in tech -- needs to service.
There's manufactured demand. It feels as if there's been a need created by some mysterious consensus. I don't want Apple to chase, especially if it means it's running the same race as inept Intel and marketshare slumming Samsung.
I'd prefer Apple blows the doors off with iPhone 6 and iPad Air 2 and a television and calls disruption a day with that.
But I could be wrong. We might be on the verge of a world where everybody wears their technology at the end of their sleeve. I'm just not sold on it yet.
--Written by Rocco Pendola in Santa Monica, Calif.
Disclosure: TheStreet's editorial policy prohibits staff editors, reporters and analysts from holding positions in any individual stocks. Rocco Pendola is a columnist for
TheStreet
. Whenever possible, Pendola uses hockey, Springsteen or Southern California references in his work. He lives in Santa Monica.