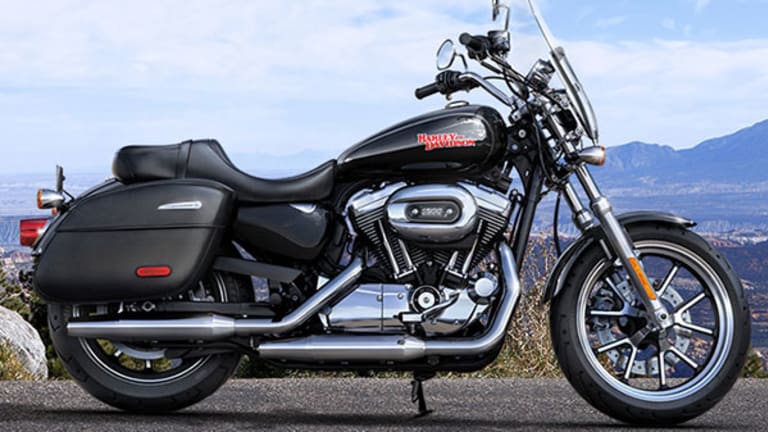 Could a Massive Buyout of Harley-Davidson Actually Work?
A private-equity buyout of the iconic motorcycle maker may not be as crazy as it sounds.
A private equity buyout of Harley-Davidson (HOG) - Get Harley-Davidson, Inc. Report may not be as crazy as it sounds. 
Shares of the legendary motorcycle maker rocketed as much as 20% on Friday amid speculation of potential takeover interest by private equity firm KKR & Co. The spike follows a similar move back in December, also due to takeover speculation. A Harley spokesman told TheStreet at the time, "Harley-Davidson has periodically been the subject of marketplace speculation of various sorts, and it's our longstanding practice not to comment on market rumors and speculation."
The spokesman for Harley-Davidson didn't return an email request for comment on Friday.
But a bunch of suit-wearing private equity investors owning a motorcyle brand that bleeds red, white and blue may not be as remote a possibility as it seems.
"We have no particular insights into the veracity of these reports, but given the company's strong balance sheet, solid cash flow, superior brand name and encouraging new product strategies, we think a leveraged buyout could work," said BMO analyst Gerrick Johnson in a new note on Monday. He added, "At minimum, a $65 [a share] deal would appear to be sustainable, with cash flow better than potential interest expense -- given an inexpensive valuation, if the acquirer could improve business performance, such a deal could provide value over time, in our opinion."
At Johnson's $65-a-share estimate, Harley-Davidson at a minimum would be worth about $12 billion. The company's market cap stood at roughly $9.82 billion as of Friday's close.  
Harley has built up significant brand equity through the years that is likely not being reflected in its stock valuation, and has worked diligently to re-tool its manufacturing facilities to more efficiently produce bikes. Further, Harley's debt-to-equity ratio is relatively low at 52%, giving a would-be buyer room to add debt to complete a big transaction. Add in that before Friday's pop, shares of the storied bike manufacturer were down about 30% since Jan. 1, 2015, owing to a disappointing stretch of sales, and it's easy to understand why a private equity firm might be sniffing around.  
From Harley's perspective, it may be open to offers as a way to escape Wall Street's scrutiny in what have been several challenging quarters. The operating environment for Harley-Davidson is one that could be best characterized as ultra-competitive. Japanese motorcycle manufacturers such as Honda, Suzuki and Kawasaki have been able to price their bikes more competitively in the U.S. for more a year due to the yen's weakness.