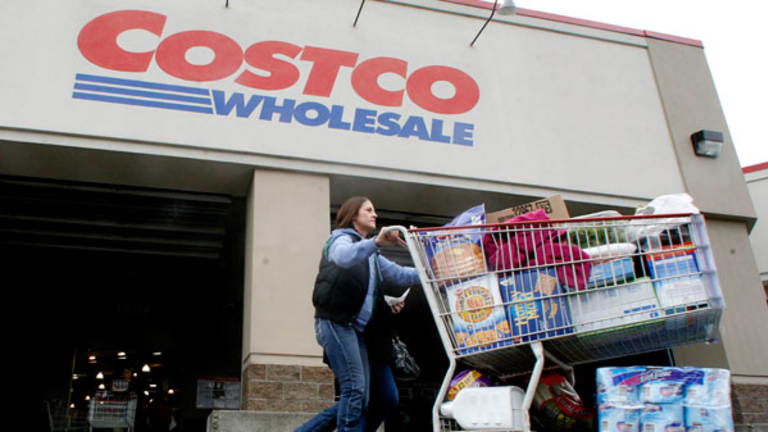 Costco's Secret Is in Plain Sight, So Why Hasn't Anyone Copied It?
It's not just that Costco pays line employees more. It also pays store managers less.
NEW YORK (TheStreet) -- Costco's (COST) - Get Free Report secret is that it continues to profit even though it pays wages that satisfy its employees.
More proof came in the latest Glassdoor survey. Its list of the 25 best companies based on compensation listed Google (GOOG) - Get Free Report at No. 1 and Facebook (FB) - Get Free Report at No. 3. Costco was No. 2 and was the only retailer on the list.
That doesn't mean Costco pays as much as Google. The results are based on surveys of employees. It means Costco employees are nearly as satisfied with their treatment as those at Google.
Employees may be happy today, but investors are not.
Read: Apple Buys Beats: What Wall Street's Saying
On Wednesday Costco reported earnings of $473 million, or $1.07 per share, on revenue of $25.23 billion, missing analyst estimates for EPS of $1.09 and revenue of $25.76 billion. Shares were down about 78 cents overnight, and are flat over the last year.
Everyone, including our own Brian Sozzi, asks, "What's Costco's secret?"
The secret comes into focus when you compare Costco's results with its closest competitor, Walmart's (WMT) - Get Free ReportSam's Club, which came in a few weeks ago. 
Read: Microsoft Windows Phones to See Greatest Growth During Next Four Years
As Walmart management said on its conference call, "Sam's Club had a tough quarter," performing "below expectations," with same-store sales down slightly from a year ago. Sam's represents 26% of Walmart's total volume, meaning it's actually bigger than Costco, thanks in part to a larger international presence. But Sam's international operations are growing -- it's the domestic end of the business that is not.
In its latest quarter, Costco, on the other hand, logged overall same-store sales growth of 4%.
The simple implication from this is that many people are driving right past Sam's Club outlets to go to Costco. I do it all the time. The question Wall Street never asks is why.

WATCH: More feature videos on TheStreet TV | More videos from Brian Sozzi
Most suspect it's because Costco has higher-end merchandise, which attracts a higher-end clientele. But that's not why.
The main reason is because when I walk into a Costco store the people working there are happy. Good wages translate into happy employees, and happy employees make for happy customers. You don't have to pay Google wages to make this happen, but you do have to pay significantly more than the minimum wage, and Costco does that.
The Glassdoor survey of Costco wages show a pretty flat salary curve, with pay ranging from $10-$23 an hour for cashiers and just $22-24 an hour for supervisors. No position averages much more than $22 an hour, but none averages less than $11 an hour either. Even the guy who checks your receipt and the woman who sells the cheap hot dogs take home a decent wage.
Glassdoor estimates salaries at Sam's Club are quite different. Cashiers and other low-level employees make as little as $8 an hour, but supervisors take home an average of almost $50,000 a year, which comes to about $25 an hour.
Read: Amazon Picks Fight with Hachette Over E-Books
It's not just that Sam's Club employees earn, on average, several dollars per hour less than those at Costco. There is a clear line between labor and management in every Sam's Club store. The line is blurred in a Costco store.
Is that communism? Some might say so. But based on the numbers, it's also good business. Everyone in a retail store is on the same team. Why should there be lines drawn between them?
And that's the secret of Costco. It is hiding in plain sight. What is amazing is how few retailers have copied it.
At the time of publication the author owned shares of GOOG and COST.
This article represents the opinion of a contributor and not necessarily that of TheStreet or its editorial staff.
Follow TheStreet on Twitter and become a fan on Facebook.
>>Read More: The Seven Deadly Sins of Biotech Investing
>>Read More: Palo Alto Networks Is Too Good to Be Left Alone