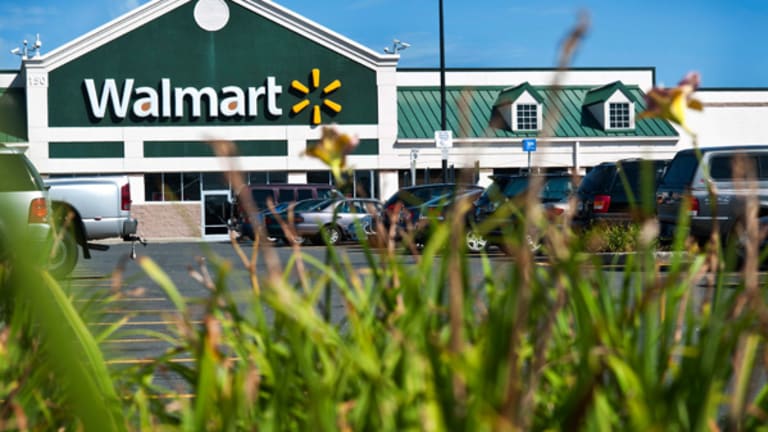 Costco, Target and Wal-Mart Are Dominant U.S. Department Stores
One-stop shopping outlets Costco, Target and Wal-Mart have become 'The Big Three' in retail.
NEW YORK (TheStreet) -- From 1896 to 1930, there were more than 1,800 makers of passenger motor vehicles in the United States.
Now it is down to "The Big Three" of Chrysler, Ford (F) - Get Ford Motor Company Report, and General Motors (GM) - Get General Motors Company Report, with niche players like Telsa Motors (TSLA) - Get Tesla Inc Report. Poor management, adverse technological changes, competition from abroad and debilitating economic conditions all played roles in reducing the number of companies making passenger cars and trucks in the U.S. 
The same factors could narrow down department stores so that Wal-Mart (WMT) - Get Walmart Inc. Report, Target (TGT) - Get Target Corporation Report and Costco (COST) - Get Costco Wholesale Corporation Report remain as the "The Big Three" with others struggling to carve out and protect dwindling market shares.
There is certainly no shortage of retailers in the U.S., but some famous names look like they may not survive. J.C. Penney (JCP) - Get J. C. Penney Company, Inc. Report, Sears Holdings (SHLD) , Dillard's (DDS) - Get Dillard's, Inc. Class A Report and Bon-Ton Stores (BONT) all have negative sales growth on a quarterly basis and for the last five years. The Great Recession certainly contributed to declining sales growth, but there should be positive growth by now. The continuing negative growth for these companies is very bearish.
By contrast, sales growth has increased for Wal-Mart, Costco, and Target on a quarterly basis and for the past half decade.
[Read: Tiffany Indicates High-End Strength]
What makes the future of retailers such as J.C. Penney and Sears even more precarious is their debt, which must be serviced with cash generated by declining sales.
The debt-to-equity ratio for Bon-Ton Stores is more than 18. That means that it required more than $18 of borrowing to produce every dollar of shareholder equity. J.C. Penney has a debt-to-equity ratio of 2.5. For Sears Holdings, it is 0.9. Dillard's has a more modest debt-to-equity ratio of 0.41. By contrast, the debt-to-equity ratio for Costco is 0.46.
[Read: 5 Black Friday Apps for the Unprepared]
The defining advantage for Costco, Target and Wal-Mart could be that these stores sell groceries. It's true that groceries carry low margins, but they draw customers into these stores on a regular basis. From there, it is a short stroll to high-margin items, such as jewelry and consumer electronics.
Groceries also provide a solid revenue base, especially during economic downturns: Consumers will always have to eat. For Wal-Mart, groceries and consumables are 55% of sales. Food accounts for 34% of annual sales at Costco, but if you include "sundries" (candy, snack foods, tobacco, alcoholic and nonalcoholic beverages and cleaning and institutional supplies), the number rises to 56%. Groceries make up about one-third of sales at Target. No matter what happens with the economy, a significant portion of the sales for Costco, Target and Wal-Mart are secure.
That also allows for expansion into high-profit areas that simply would not work in the current structure of J.C. Penney, Sears Holdings, Dillard's and Bon-Ton Stores.
[Read: Go Mobile This Holiday Season]
A timely example is Wal-Mart's expansion of its health department. There are health clinics in more than 100 Walmarts. The $4 generic drug program has done well. Wal-Mart also is offering more vaccines. Wal-Mart, Target and Costco offer a wide variety of health products that are high-margin and recession-proof such as vitamins, supplements and over-the-counter drugs.
In the liquidity-induced rally that is the current bull market, Sears Holdings and Bon-Ton Stores are both up about 50% so far this year. Even J.C. Penney has rebounded, gaining about 35% in November.
But the short floats tell the real story here.
While a short float of 5% is considered to be troubling for a business, it is 26% for J.C. Penney. For Sears Holdings it is 18%. It is 8.8% for Dillard's. For Bon-Ton Stores, the short float is almost 40%.
As for "The Big Three," there is a short float of 1.1% for Costco, 1.7% for Wal-Mart and 3.6% for Target.
Jonathan Yates does not have a position on any of the stocks mentioned in this article.
This article is commentary by an independent contributor, separate from TheStreet's regular news coverage.
Jonathan Yates is a financial writer who has had thousands of articles appear in periodicals and Web sites such as TheStreet, Newsweek, The Washington Post and many others. Much of his career was spent working on Capitol Hill for Members of Congress in both the House and Senate, on both committee and personal staff.  He was also General Counsel for a publicly traded corporation.  He has degrees from Harvard University, Georgetown University Law Center and The Johns Hopkins University.