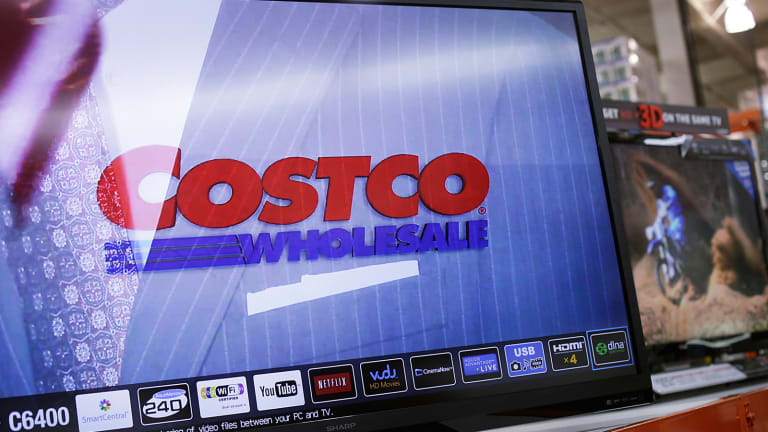 Costco Stock Isn't Cheap, but Buy It Anyway for Value, Safety
At a time when most retailers are letting investors down, Costco should continue to deliver when it reports earnings Wednesday, thanks to its membership model and consistent popularity among consumers.
NEW YORK (TheStreet) -- There's no denying the retail sector has been a disappointment this earnings season. Other than a few decent results from the likes of Target (TGT) and J.C. Penney (JCP) , the group has been a huge letdown. But Costco Wholesale (COST) , the largest warehouse retailer in the U.S., should run counter to that.
Though consumers have been spending less on goods, as evidenced by April's retail sales data, that is unlikely to impact Costco, which operates under membership business model that has helped the company to grow profits for more than two decades.
Membership has grown to some 42 million households, holding almost 80 million Costco cards, and over the past twelve months, these cardholders have paid some $2.5 billion in fees alone. And with renewal rates of over 90%, Costco members are showing their loyalty and how much they love the benefits Costco offers. This makes Costco's business -- in terms of revenue and profits -- highly predictable.
In other words, investors tend have a good sense of how the company will perform based on membership growth and the fees Costco collects from its members. This is one way Costco's business model offers investors an element of safety: Unlike other retailers that live and die by same-store-sales, the membership model can offset any potential weakness in traffic.
Because of these qualities, among others, Costco shares never seem to get cheap, which suggests its investors are not as price-sensitive as the consumers who shop at its stores. At 28 times earnings, not only does Costco trade seven points higher than the average for the S&P 500, it's also eight points higher than the SPDR S&P Retail ETF (XRT) , which trades at P/E of 20.
Still, this has never stopped investors in Costco from making money. Its 5% gains so far in 2015 may be nothing to write home about, but pan back over the past three years and five years, and Costco is up 73% and 160%, respectively, beating the broader averages in both time frames. And that includes a 30% gain in the past twelve months. So ahead of the company's fiscal third-quarter earnings results Wednesday, betting against Costco doesn't seem smart.
For the quarter that ended in May, earnings are projected to grow 8.4% to $1.16, while revenue of $26.64 billion calls for an increase of 3.3%. For the full fiscal year, which ends in August, earnings are projected to climb 13% to $5.24, while revenue is expected to climb more than 5% to $118.53 billion.
That both quarterly and full-year earnings are projected to grow at twice the rate of revenue explains why these shares are never discounted. Investors don't mind paying for a management team that never takes their eyes off the bottom line. The company's profit has climbed impressively for three straight quarters, averaging more than 15% growth for the past four quarters. It's like the old axiom, "You get what you pay for."
This article is commentary by an independent contributor. At the time of publication, the author held no positions in the stocks mentioned.