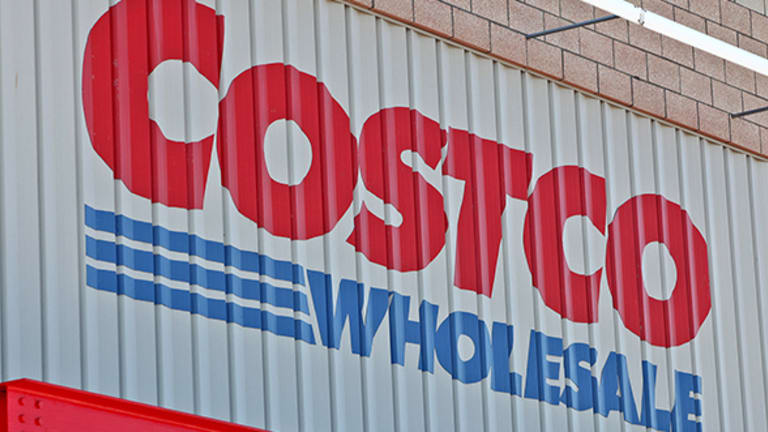 Costco Shacks Up With Citi After Sending American Express Packing
The big-box discount retailer has finalized plans for its breakup with AmEx and what follows. But will the split yield profit or peril?
Last year, Costco (COST)  said that it would split from American Express, its credit card partner of 16 years.
Now Costco has announced June 19 as the final date on which AmEx cards will be accepted at its 691 locations and its plans for a new and potentially lucrative partnership with that company's credit card rival.
Is the impending split good news for Costco's bottom line, or has the discount warehouse chain shot itself in the foot?
The loss of Costco as a partner will be huge for AmEx as an estimated 10% of its cards bear the Costco logo. Although an official reason hasn't been given, analysts think that Costco had wanted lower fees on its store cards.
Last month, Citigroup purchased AmEx's portfolio of Costco credit cards for a reported $1 billion.
Beginning June 20, Costco stores will accept the Citi Visa, as well as all other Visa cards, along with cash, checks, and debit cards but not AmEx cards. After June 19, Costco-branded American Express cards will become invalid at all merchants.
But the new Visa cards will yield bonuses for Costco shoppers.
All Costco AmEx holders will receive a new Citi Visa in the mail in May or June and don't need to apply for the new card. Through the Visa, cardholders will receive significant savings such as cash back on gasoline purchases of 4%, versus 3%; a 3% bonus on restaurant and travel; 2% cash back on all Costco purchases; and 1% on everything else.
The new situation appears to be a win-win for Costco and shoppers alike. Increased shopping rewards equal increased customer loyalty.
AmEx, on the other hand, is beginning to look like a loser, but as is the case for many jilted partners, the company is on the rebound.
The credit card company has inked a deal with Boxed Wholesale, a smartphone application-based retailer that has been hailed as the next Amazon. Boxed Wholesale especially targets millennials, a potentially lucrative demographic for e-commerce retailers.
The app will use AmEx's Express Checkout feature and will also rack up extra shopping rewards.
However, Costco doesn't have much to worry about. The company has a solid business with a history of profits.
Investors in the mega-retailer should continue to enjoy robust free-cash flow and a successful membership-based revenue model. In addition, the company is expected to increase the membership fee in the near future, which would further boost revenue.
Analysts are calling for the company's business to grow by an average annual rate of 9% in the next five years, beating expectations for the S&P 500 by nearly 4 percentage points.
Costco shares are up about than 1% on Monday, trading above $152 apiece, which is below is 52-week high of $169.73 but above the low of $117.03. Steady growth and increased customer loyalty should lead Costco to a successful 2016.
You see Jim Cramer on TV. Now, see where he invests his money and why Costco stock is a core holding of his multimillion-dollar portfolio. Want to be alerted before Jim Cramer buys or sells COST? Learn more now.
To see a list of the absolute worst stocks to own right now, take a look at this report called 29 Dangerous Stocks: Sell Now! Inside, there is a full list of the market's most overvalued stocks, and you learn how to keep avoiding them in the future. Click here now for a copy.
This article is commentary by an independent contributor. At the time of publication, the author held no positions in the stocks mentioned.