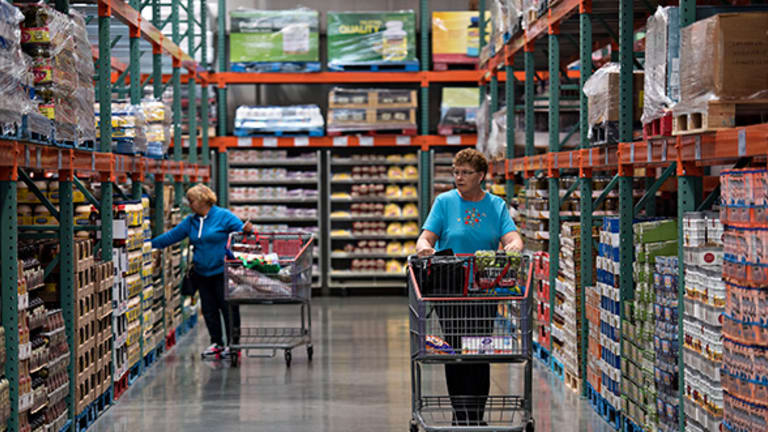 Costco Isnt Cheap After Earnings Beat -- but Buy Now Anyway
Costco's profits just topped Wall Street estimates for the fourth straight quarter. With a consistent performer like that, you can't wait for a good entry point to invest.
NEW YORK (TheStreet) -- It's been said that "timing is everything," but waiting for the right buying opportunity can be expensive, especially when trying to pick a moment to jump into a high-quality stock.
Shares of Costco Wholesale (COST) - Get Reportare rarely cheap compared to the rest of the market, in part because the largest U.S. warehouse-club chain has a business model that insulates it from many of the risks faced by other retailers. This quality was evident when Costco delivered third-quarter profits that topped Wall Street estimates for the fourth straight quarter.
For the quarter that ended May 10, Costco, , which operates 673 warehouse stores, earned a profit of $516 million, or $1.17 per share, a penny better than analysts' consensus estimate. On a year-over-year basis, that translates to an increase of more than 9% from last year's EPS of $1.07.
Net revenue during the quarter advanced 1% to $25.52 billion, while total revenue increased just 1.1% to $26.1 billion from $25.8 billion. While the Issaquah, Wash.-based chain's revenues fell shy of average analysts' estimates of $26.63 billion, that can be attributed to the same weak retail sales in environment in April that hurt most retailers.
Because of these factors, Costco's same-store sales during the quarter slipped 1%, while same-store sales in the U.S. gained  1%. Granted, those aren't breathtaking numbers. They're certainly not what Costco is accustomed to. The fact is, consumers aren't spending as much of their so-called "gas tax credit" as the market had hope they would.
Nonetheless, during the quarter, revenue from membership fees climbed 4% to $584 million, helping Costco offset a slight increase in merchandising costs, which climbed to $22.7 billion from $22.6 billion. Aside from higher merchandising costs, Costco was also hurt by both the strong dollar, which impacted its sales overseas, and falling gas prices.
Factor out the issues relating to changes in gas prices and foreign currency exchange rates, and same-store sales would have been higher by 6%. By comparison, same-store sales at rivals likeTarget (TGT) - Get Report and Wal-Mart (WMT) - Get Report climbed 2.3% and 0.4%, respectively.
That fact that Costco was able to exceed earnings estimates is a testament to the strength of its membership business model, which has helped the company to grow profits for more than two decades.
In a note to investors before Costco's results were released, David Schick, analyst at Stifel Financial said, "Costco continues to gain warehouse-club share as their largest competitor [Wal-Mart/Sam Club] is undergoing the early stages of a transformation effort."
To Schick's point, Costco has begun to focus on ways to get its members to buy larger volumes of products by offering lower prices -- a strategy aimed at undercutting Target and Wal-Mart. So far, the plan appears to be working. All of this explains why Costco stock, which trades at 28 times earnings or seven points higher than the average stock in the S&P 500, is rarely cheap. (Though it has dipped since the the report came out. Shares were trading in the neighborhood of $142 near midday Friday, down from $145.42 on Wednesday.)
However, with the retailer sporting a 90% member retention rate -- and membership fees account for the bulk of its profits -- waiting for a good entry point on the stock doesn't make sense. When considering jumping into a high-quality stock that consistently grows profits, forget "timing is everything," and apply a different motto: "There's no time like the present."
This article is commentary by an independent contributor. At the time of publication, the author held no positions in the stocks mentioned.