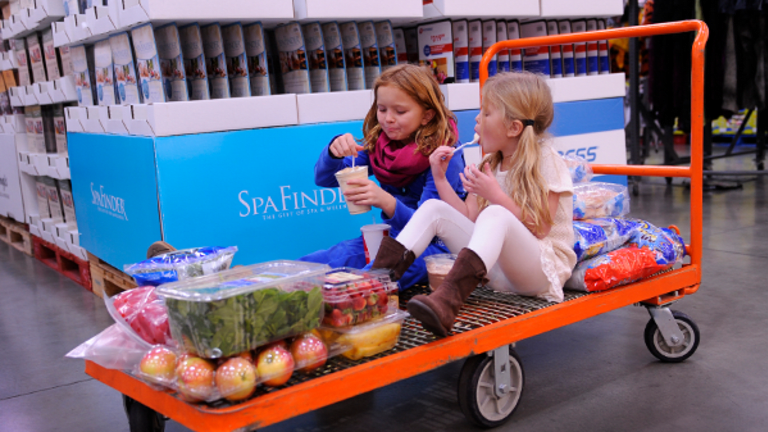 Costco Endures Amazon Blitz; Insurers Tap Drones to Assess Harvey Damage - ICYMI
Here's what you need to know now for Thursday, August 31.
Remember when Costco Co. (COST) - Get Costco Wholesale Corporation Report  could do no wrong?
It was 2016 and Justin Bieber's "Sorry" was at the top of Billboard charts and Donald Trump was just a long-shot candidate to take the Republican nomination. Samsung was still reeling from battery fires on its Galaxy Note 7 and a bid by Amazon.com (AMZN) - Get Amazon.com, Inc. Report  for Whole Foods Market wasn't even a twinkle in Wall Street's eye. Ancient history?
Well, a lot has changed since then, including Costco's membership fee, which increased in March just as the company began falling out of the graces of Wall Street.
The tides seemed to be shifting again as the members' only warehouse operator reported net sales grew 10% to $9.8 billion for the four-week period ended Aug. 27. Total comparable-store sales in August rose a respectable 7.3%, higher than the 6.1% Wall Street expected, and same-store sales in the U.S. climbed 7.4%, well above estimates for a 4.9% to 5.3% growth.
But as Costco dusts off the gloves to battle the looming threat that is Amazon-Whole Foods, one must wonder: how long can the company hold out? How long until Amazon figures out a way to ship 17 bottles of ketchup to your doorstep via drone? Despite the near-term charts pointing up, how long does the big box store stay relevant?
Frankly, with Amazon butting into everything from web hosting to on-demand video to appliance sales, it's hard to tell just who will remain viable in the wake of this roaming juggernaut.
As Costco finished higher, so did the major indexes, driven by renewed hopes of tax reform. The Dow Jones Industrial Average closed up 0.27% Thursday while the S&P 500 added 0.57% and the Nasdaq gained 0.95% to close at a new record.
This is an excerpt from "In Case You Missed It," a daily newsletter brought to you by TheStreet. Sign up here.

Photo of the day: Surveying a brutal storm's damage
In the wake of Hurricane Harvey property insurers are using drones to survey and assess the damage caused by the tropical storm on a large scale for the first time since the Federal Aviation Administration approved the civilian use of the technology in 2015, the Wall Street Journal reported. The fact that companies are able to use tiny cameras strapped to glorified remote control helicopters to accurately survey natural disaster zones is pretty telling about just how far we have come in the world of film. On Aug. 31, 1897 -- 120 years ago -- Thomas Edison received a patent for his movie camera, the Kinetograph (shown above), according to History.com. Imagine strapping one of those things to an 18-wheeler, let alone a drone. Good luck.
Read more from "In Case You Missed It." Sign up here.
More of What's Trending on TheStreet: