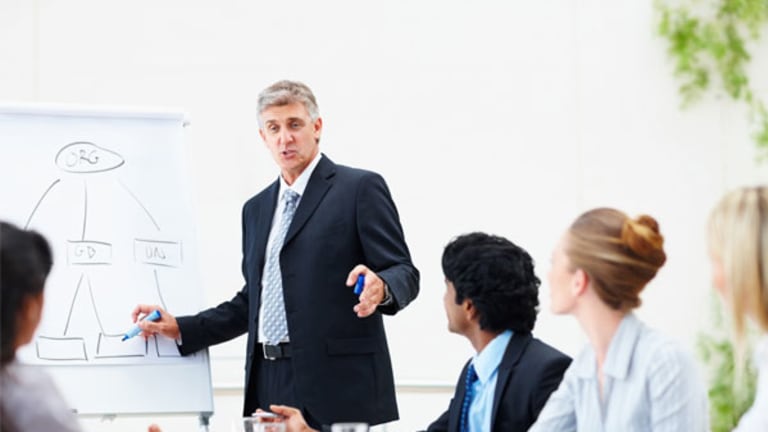 Corporate Governance in Sad Shape
A new book offers stories of how CEOs have subverted the purpose of boards and used them for their own personal gain.
A new book documenting how poor the state of corporate governance is in America -- and how it was a major cause of the financial meltdown -- will make you sick.
Money for Nothing,
authored by former Lehman Brothers banker John Gillespie and
Salon.com
founder David Zweig, lays out a compelling case for how CEOs and their minions have subverted the purpose of boards to oversee management and made them their lapdogs.
The book outlines numerous solutions to fix this problem. If they weren't so sensible, they might have a chance of being implemented.
We've now lived through two different stock market crashes in the last decade, and we learned each time in retrospect how poor a job boards did to protect the companies they served.
We thought we learned our lesson after Enron and Worldcom when Sarbanes-Oxley was implemented in part to improve corporate governance.
But, if taking your shoes off for TSA screeners is "security theater" designed to make us feel safer -- even if we're not -- Sarbanes-Oxley was the governance equivalent.
The stories of poor governance that fill the book would make you laugh, if they didn't cause you to be outraged.
Gillespie and Zweig discuss former Merrill Lynch CEO Stan O'Neal, who eliminated anyone from his board and management team who disagreed with him. Instead, he packed eight of the 10 directors with his friends, including John Finnegan, a friend of O'Neal's for 20 years who headed the Merrill compensation committee, and Alberto Cribiore, who had once tried to hire O'Neal and who was also put on the compensation committee.
O'Neal was ousted in October 2007, after initiating secret merger talks with
Wachovia
(WB) - Get Free Report
that would have resulted in a $274 million payout to O'Neal and ramping up Merrill's CDO exposure from $1 billion to $40 billion in 18 months. O'Neal was rewarded with a $162 million golden parachute by his board.
Other shocking tales from the book include Rick Wagoner, former CEO of
General Motors
. As late as August 2008 following a $16 billion quarterly loss, GM's chairman, George Fisher, praised Wagoner: "Rick has the unified support of the entire board to a person. We are absolutely convinced we have the right team under Rick Wagoner's leadership to get us through these difficult times and to a brighter future."
Wagoner told a reporter his view on his board: "I get good support from the board. We say 'Here's what we're going to do and here's the time frame,' and they say, 'Let us know how it comes out.' " Some estimate the final bill to the U.S. taxpayer for the GM bailout, once they emerge from bankruptcy, will be $50 billion.
The authors describe how the board of Chicago-based media company
Hollinger International
approved lavish spending in 2004 by its now-imprisoned CEO Conrad Black. They included:
"Summer drinks" for Black and his wife in the amount of $24,950;
A birthday party for Black's wife for $42,870;
Three dinners for Henry Kissinger (a Hollinger director) and his wife for $28,480;
A Rolls-Royce for $90,000;
Staff for the Blacks' personal residences for $1.4 million;
A collection of Franklin Roosevelt memorabilia (Black is a history buff and later wrote a book on FDR) for $8.9 million;
Corporate donations for $6.5 million;
Shareholders for Hollinger, which went bankrupt in 2009, paid for all these expenses.
My favorite story of lax board oversight in the book is
Shaw Group
(SHAW)
, a $3 billion market capitalization engineering firm in Louisiana that provided a "golden coffin" provision for its chairman J. M. Bernhard Jr.
His estate will get an estimated $38 million on his death, plus an additional $15 million, as long as he "will not compete with Shaw Group after his employment is terminated, whether by death or otherwise." That's right: as long as he doesn't compete with Shaw after he dies, his estate gets $53 million from Shaw's shareholders.
Money for Nothing
also documents how CEOs routinely select sports stars and celebrities to serve on their boards -- unqualified by anyone's standards and also unlikely to rock the boat against the CEO's wishes.
O.J. Simpson served on the audit committee of
Infinity Broadcasting
before he was arrested for murder. Ex-NFL quarterback Fran Tarkington was on the audit committee for
Coca-Cola Enterprises
(CCE)
before it came to light that another company he ran had an $8 million accounting fraud. Cyclist Lance Armstrong was forced to leave the
Morgans Hotel Group
( MHCG) board in 2008 after he had missed every one of the 11 board meetings the previous year (although he still kept $71,644 in cash and stock).
The authors have many sound suggestions for how to improve these transgressions. They include:
Opening up the process for nominating directors to more candidates;
Establishing a higher bar for who is qualified to serve as a director on public company boards
Imposing term limits on directors;
Limiting directors to serving on three or fewer boards;
Requiring directors to put some real skin in the game by buying meaningful amounts of company stock before serving;
Allowing shareholders to call Extraordinary General Meetings to replace incumbent directors (as is the case in the UK and Canada);
Establishing risk committees for all companies.
Although I agree with all these prescriptions, I'm troubled that we're now almost two years removed from Bear Stearns' failure and no real change has occurred to make U.S. boards more accountable to shareholders.
Although Mary Schapiro came in to head up the SEC with promises that her tenure would be much different from her predecessor, corporate boards continue to operate as they always have. Schapiro promised to give shareholders more access to nominate directors to corporate proxies but this effort has been delayed and watered down.
If you can't muster the will to change the way boards operate after what's happened in the last five years, what has to happen in order to change the status quo?
At the time of publication, Jackson was not long any stock mentioned.
Eric Jackson is founder and president of Ironfire Capital and the general partner and investment manager of Ironfire Capital US Fund LP and Ironfire Capital International Fund, Ltd. You can follow Jackson on Twitter at www.twitter.com/ericjackson or @ericjackson