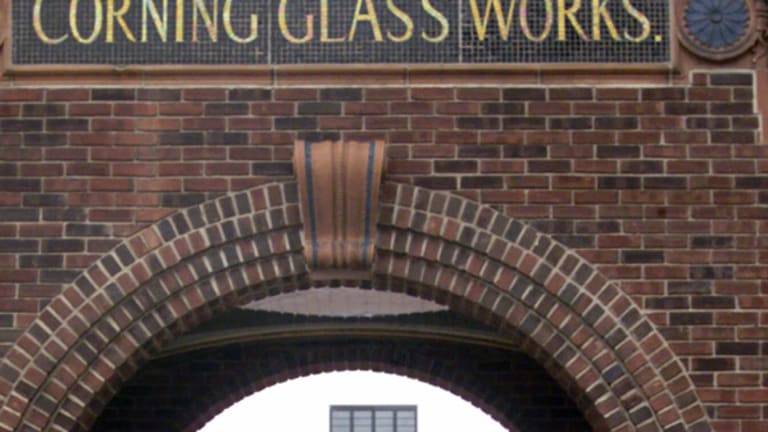 Corning's Performance Is Lights Out
This under-the-radar company with a solid balance sheet quietly continues to deliver profits, dividends and buybacks
This under-the-radar company with a solid balance sheet quietly continues to deliver profits, dividends and buybacks
NEW YORK (TheStreet) -- In its typical under-the-radar fashion, Corning (GLW) - Get Report has quietly risen more than 44% since my last column on the company.
After trending slightly lower in the ensuing months, the shares are up more than 50% since October and trade close to a two-year high.
This is not the same company that saw its stock price eclipse $100 in the summer of 2000, driven by the fleeting tech bubble, only to fall to the $1 range in 2002 after that bubble burst.
Today's Corning is a profitable company with a solid balance sheet and one that continues to put money back into shareholders' pockets in the form of dividends and stock buybacks.
The company has doubled the dividend within the past three years to 10 cents a quarter. That represents a 25% dividend growth rate during that period. Although that rapid pace will likely not be maintained, there is room for further dividend increases given the company's solid free cash flow generation and rather low dividend payout ratio (33%). Shares currently yield 1.9%.
In terms of share buybacks, Corning has reduced shares outstanding by 13% since the beginning of 2012. While some pundits may view buybacks in negative terms, I see it as a positive for Corning. The combination of rising dividends and stock buybacks suggests that management is confident in the company's prospects and has also believed that shares were undervalued.
In terms of the balance sheet, Corning ended the latest quarter with loads of cash and short-term investments -- more than $5.6 billion worth, or the equivalent of $4.28 per share. Total debt remains relatively low at $3.69 billion. Corning's current price-to-book ratio, at just 1.45, is also compelling.
As a value investor, I am often guilty of loading up on companies that may have decent balance sheets, but are lacking in the profit department. That's not the case with Corning.
During 2013, the company boasted a net profit margin in excess of 25%. Although that level will likely not be sustainable long term, I'll gladly take a profit margin in the mid-teens for a company such as Corning that is trading at less than 13 times 2015 earnings estimates.
Admittedly, Corning's future near-term stock price movement is a mystery to me, especially following a 50% run-up over the past seven months. However, continued dividend increases and buybacks should bode well for investors, especially for those with a longer-term perspective.
>>Read More: How the IPad Can Get Even Bigger
>>Read More: Greenberg: Why Kors Is Red-Flagged?
>>Read More: 4 Stocks Under $10 in Breakout Territory
At the time of publication, Heller was long Corning.
This article represents the opinion of a contributor and not necessarily that of TheStreet or its editorial staff.