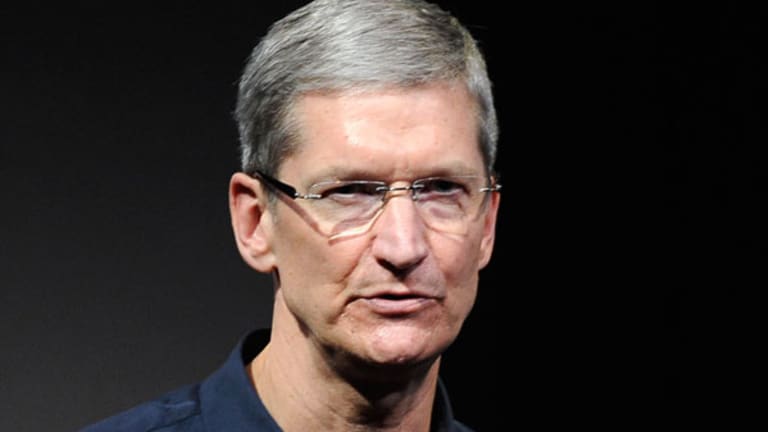 Cook's Honeymoon Over at Apple
For Apple to become a growth stock again, the company needs to create a new product category.
NEW YORK (TheStreet) -- The reaction to Apple's (AAPL) - Get Apple Inc. Report earnings doesn't prove that society stinks or that the tech market is about to crash. 
It proves that Tim Cook's honeymoon as Apple CEO is over.
In the almost two-and-a-half years since taking over from the late Steve Jobs, Cook has shown himself to be an able manager of Jobs' legacy. He has extracted huge profits from Jobs' ideas and has kept the iOS trains running on time.
But high-tech valuations aren't driven by able management, huge profits or trains that stay on their tracks. High valuations, in the form of extreme price-to-earnings ratios, come from doing something new, something different, something no one else is doing or can do.
[Read: Wall Street Got Apple Wrong -- Again]
When Apple launched the iPod, the iPhone and then the iPad, that's what it was doing. It was thinking different.
Apple hasn't had a new hit since Cook took over. It has tweaked its existing product line, it has scaled it, extracted money and profit. But it hasn't delivered a single new product worth mentioning.
I'm afraid "mobile commerce" isn't it, either. TouchID, as a way to enable and secure mobile payments, is a nifty thing to have, but it's not a game-changer. It's not transaction processing.
[Read: Apple's Problem in One Chart]
If Apple can help iPhone owners buy more stuff through TouchID, it's still just acting as one link in a long chain, and a minor one at that. The money in transactions comes from processing, it comes from banking and it comes from handling the merchandise.
Even if Apple announced a tie-up tomorrow with, say, Wal-Mart (WMT) - Get Walmart Inc. Report, turning that merchant's online operations into an Apple version of the Amazon (AMZN) - Get Amazon.com, Inc. Report superstore, it wouldn't move the value needle much. It would boost Wal-Mart, not Apple.
What Apple needs to give us is a new product, more specifically a new product category. Can it deliver an Apple TV that will explode the cable business model? Can it deliver an Apple Watch millions will wear? Or Apple eyeglasses?
These are the most obvious ideas that are floated by Apple analysts, but moving the needle requires more. We need to be wowed, we need to be amazed and we need to have our lives changed again. Steve Jobs did that for us, and that justified the high valuation placed on Apple shares in his time, relative to Apple sales and profits.
[Read: Jim Cramer: Beware of 'Lumpy']
By the time the summer press conference season rolls around, Cook will have had almost three years to come up with something new. He will have had all the resources of American design and Chinese manufacturing laid out before him through that time.
Can he make something of it?
If he can't, then Apple earnings aren't worth an above-market price. A dollar of Google (GOOG) - Get Alphabet Inc. Class C Report earnings are worth $32 because we can see Google continuing to grow, at about 30% per year, for years to come. A dollar of Amazon sales are worth $3 for the same reason.
Apple sales, by contrast, rose just 7% between fiscal 2012 and fiscal 2013, from $156.5 billion to $170.9 billion. Sales for the company's fiscal first quarter ended Dec. 28 show year-over-year growth slowing further, from $54.5 billion to $57.6 billion, roughly 5.6%.
[Read: Super Cities Fuel Immigration to U.S.]
It's unfair that Apple has to grow off such a large base, but that's the law of large numbers. Big ones are harder to move fast than smaller ones.
For people to invest in Apple, rather than buy Apple shares in order to extract value from them, they have to believe that sales are going to grow, fast. They need something new, something different, that they know people want badly.
If Tim Cook can deliver something like that, Apple will grow again. If he can't, it won't.
At the time of publication, the author owned shares in Apple and Google.
This article represents the opinion of a contributor and not necessarily that of TheStreet or its editorial staff.