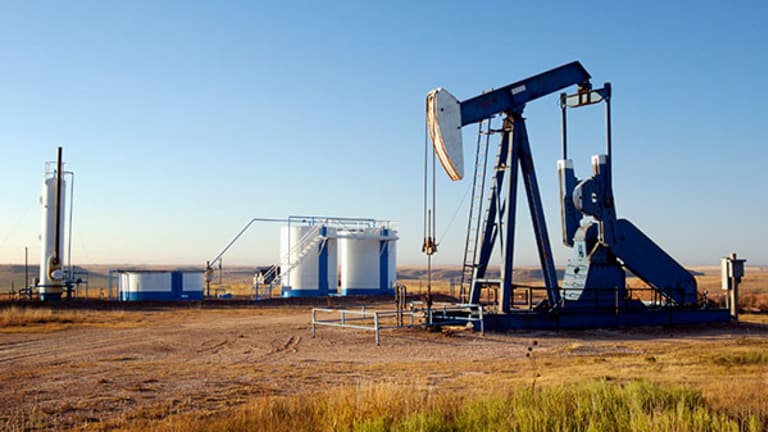 Publish date:
Continental Resources Takes Daring Move Despite Commodity Price Risk
Continental Resources removed its commodity price hedges at a time when crude oil is tanking. Was it an insightful move, a fool's move, or one of guts with no glory?
Continental Resources removed its commodity price hedges at a time when crude oil is tanking. Was it an insightful move, a fool's move, or one of guts with no glory?
NEW YORK (TheStreet) -- As oil prices continue to deteriorate, with the benchmark American WTI and European Brent crudes dropping to their lowest four-year levels on Thursday, Continental Resources (CLR) - Get Continental Resources, Inc. Report has done the unthinkable.  The Oklahoma-based oil company is selling all of its crude oil hedges through 2016, making the company even more exposed to commodity price risk.
How could Continental even consider such a move?
Apparently, by selling the hedges, Continental is effectively betting on a rebound in crude prices in the near term. The company does not "have any (oil) production locked in at any price, so it's purely playing the market" wrote Jason Wangler, an analyst at Wunderlich Securities, in an email to TheStreet. 
If oil prices recover, then Continental will be able to sell its production at better rates than its peers that have locked in future sales at lower prices. But even if oil prices fall, Continental will still be in a good position to "weather a storm," Wangler said. This is because Continental has already "made a nice amount off the hedges and has an ample liquidity position."
Essentially, Wangler explained, "If they are right they make lots of money and if wrong they can survive."
John Kilgallon, a Continental Resources spokesman, told TheStreet in an email that the company does not believe the recent aggressive downward move in oil prices is fundamentally based and should not be sustainable.
That said, Continental's outright sale of a majority of its hedges does make the company a riskier investment, and it comes at a time when oil stocks are tumbling. Shares of some of the leading Bakken producers, such as Kodiak Oil and Gas (KOG) , Oasis Petroleum (OAS) - Get Oasis Petroleum Inc. Report and Hess Corp. (HES) - Get Hess Corporation (HES) Report , have fallen by more than 11% since the beginning of October. Continental, with shares falling by 18% in the corresponding period, is down approximately 6.5% for the year to date, closing at $53.97 on Friday.
In an email to TheStreet, CLSA analyst Eric Otto said that Continental has "introduced unnecessary risk at an uncertain time for oil prices." By monetizing the hedges, the company's public shareholders will be "dragged along for a wager - which we believe is wrong - that oil prices will rebound quickly and on a sustained basis."
Although Continental strengthened its balance sheet by selling the hedges, its shareholders would have been better served had the company left its hedges in place and initiated either an asset sale, or launched a debt or equity, Otto said.
But on a positive note, Continental appears to be taking in the reality of oil prices in other ways. The company cut its capital expenditure budget for next year by $600 million, opting to keep its capital spending flat in 2015, as compared to 2014. During this period, the company will also delay the addition of rigs. This reduction, Otto said, "reflects the current reality of oil prices, versus the expectation in September when the 2015 budget was initially announced".
Continental's spokesman Kilgallon said the oil company was keeping its capital expenditures in check as a means to preserve the momentum it established during 2014. And by keeping its capital expenditures flat this year, Continental will be situated for re-positioning the company into a few higher rate of return areas, he added. 
Besides Continental, its competitorsRosetta Resources (ROSE) - Get Rosehill Resources Inc. Class A Report and ConocoPhillips (COP) - Get ConocoPhillips Report have also announced capital expenditure cuts for next year. Like its peers, Wangler said, Continental is also trying to balance its cash inflows - from oil and gas production - with cash outflows.
At the time of publication, the author held no positions in any of the stocks mentioned.
This article is commentary by an independent contributor, separate from TheStreet's regular news coverage.