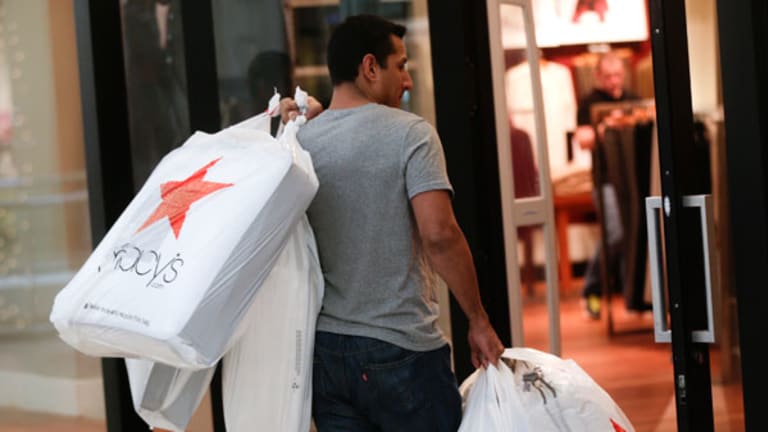 Consumers Shift to Big-Ticket Items -- So Is Confidence Finally Back?
Consumers are spending on big-ticket items like cars and refrigerators instead of going to the mall. Here's why that's a bullish sign.
NEW YORK (TheStreet) -- Shoppers, the pressure is on!
Since consumers drive the U.S. economy, and the U.S. is one of the few engines of growth in the world, shoppers really need to come through to save the global economy. Will they?
Yes, but barely. That take is based on the retail sales numbers rolling out right now, as well as the most recent reads on consumer confidence and employment.
You wouldn't think consumers have much life left, given the anemic sales just reported at big retailers like Macy's (M) - Get Free Report , Kohl's (KSS) - Get Free Report and the Gap (GPS) - Get Free Report , and the spotty mall traffic.
But these numbers hide what's really going on. Consumers are spending, they're just buying big-ticket items like cars and refrigerators instead of going to the mall. That's a bullish sign.
Car sales, for example, averaged 16.8 million units during the third quarter, just about the highest level in the past five years. "A 10% down payment on a $30,000 car is $3,000 worth of consumer discretionary spending that isn't going to Red Robin (RRGB) - Get Free Report burgers or Michael Kors (KORS) clothing," says Stephen Roseman, who tracks consumer trends at Calamos Investments.
"Consumers are spending -- they're just not spending at retail stores," Roseman said.
We'll see more evidence of this preference for big-ticket items in third quarter results posted by Lowe's (LOW) - Get Free Report and Home Depot (HD) - Get Free Report next week. They're expected to post 4% to 5% same-store sales growth for the quarter, according to Thomson Reuters, driven by increased spending on durable goods like fridges and washing machines.
This shift towards buying big-ticket items is a sign of confidence among shoppers. "Consumers are feeling more comfortable taking on more debt, and buying more durable goods," says Sarah Henry, a retail sector analyst at Manulife Asset Management. "They're showing healthier longer-term spending patterns, rather than devoting the next $40 to clothing."
This explains why we learned today that October retail sales reversed a September decline to rise 0.3% in October, even as Macy's, Kohl's and the Gap all just missed estimates for the quarter and posted declines in same-store sales.
Consumer strength was also confirmed today by the Reuters/University of Michigan consumer sentiment index, which came it at 86.9 for October, the highest since July 2007, and up from 84.6 in September.
Decent consumer confidence should come as no surprise, given slow but steady jobs growth and declining unemployment claims. These trends are likely to continue, judging by a bullish signal that came from the small business sector this week.
A National Federation of Independent Business report released Nov. 11 showed that the number of companies with one or more job openings rose to the highest level since February 2008, up 23.4%. And the number of businesses expecting to increase employment rose to the highest level since May 2008, or 9.4%.
"The survey corroborates lots of other positive labor market indicators," says economist Ed Yardeni, at Yardeni Research.
Troublingly, the bullish University of Michigan consumer confidence numbers mask a bifurcation behind the scenes. "Most of the improvement has been driven by upper-income consumers," says Credit Suisse retail analyst Michael Exstein. That's thanks to big gains in stock prices and home values that disproportionately help the wealthy.
Consumers in households earning less than $75,000 remain more cautious.
This explains why luxury retailers like Tiffany (TIF) - Get Free Report continue to shoot the lights out. U.S. stores are expected to post 6.1% same store sales growth for the third quarter when Tiffany reports on November 25, according to Thomson Reuters. "Tiffany nearly unlimited ability to raise prices," says Henry, at Manulife.
But this bifurcation in consumer confidence should change as wage growth picks up, which is more likely now that unemployment has fallen below 6%, says JPMorgan Chase (JPM) - Get Free Report economist Jesse Edgerton.
Ironically the weakness in the global economy that the U.S. consumer is expected to help overcome is actually helping these consumers, says Yardeni. That's because the global weakness puts downward pressure on commodity and gasoline prices -- making stuff cheaper, and giving consumers more spending power.
Gas prices on average dropped 16% to $3.09 at the end of October, from a 2014 high of $3.70, and they will probably fall below $3 a gallon, predicts Yardeni. Since U.S. consumers spent $536 billion on gas in September, a 20% decline in gas prices will save consumers $110 billion a year, he says. JPMorgan retail analyst Matthew Boss puts the annual savings at $500 for the typical consumer.
That's a lot of Round Robin burgers.
At the time of publication, the author held no positions in any of the stocks mentioned.
This article is commentary by an independent contributor, separate from TheStreet's regular news coverage.