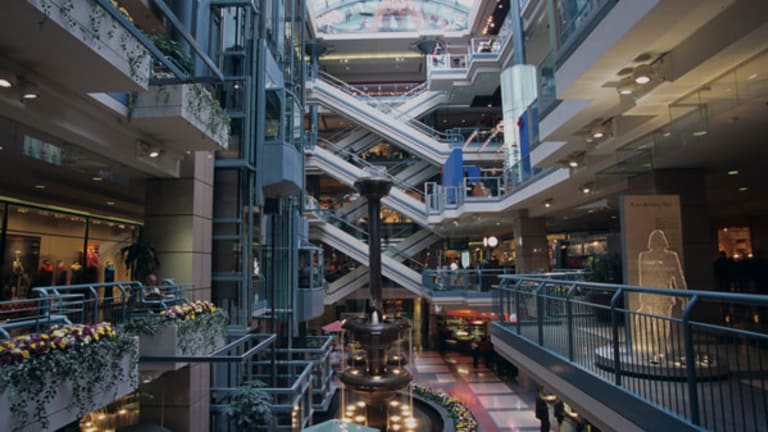 Consumers Are Spending Like Crazy Because of Cheap Gasoline
This is what the impact of lower gas prices looks like on consumer spending. But the economy overall is slowing a bit this quarter.
NEW YORK (TheStreet) -- Now we know what impact cheap oil is having on consumer spending.
November's retail sales handily beat expectations, rising 0.7% from a month earlier. Even setting aside the 1.7% jump in auto sales, retail purchases rose 0.5%, well above the 0.1% consensus forecast reported by Econoday.
But the truly impressive part of the report was the breadth of the gains. Except for gas stations and the tiny "miscellaneous" segment, every part of retail is now growing. Home improvement stores' 1.4% gain helps companies like Home Depot (HD) - Get Free Report and Lowe's (LOW) - Get Free Report , topped even the 1% jump in online retailers including Amazon.com (AMZN) - Get Free Report . Restaurants and grocery stores both saw gains. Electronics sales at chains like Best Buy (BBY) - Get Free Report rose by 0.9% and clothing sales jumped 1.2%. There's just no weak point in the report.
The reason is easy to spot: Consumers have an extra $60 billion burning a hole in their pockets instead of burning away in their cars' gas tanks, PNC Financial economist Stuart Hoffman said. Gas is 59 cents a gallon cheaper than it was this time last year, and the cash has to go somewhere.
"PNC's baseline forecast is for a very good holiday season (November and December combined) for consumer spending, with sales up by 4% to 4.5% from the 2013 holiday season. Online holiday sales should be up by 12% to 14% from a year ago (compared to a 10% gain in online holiday sales in 2013)," Hoffman wrote in a note to clients Tuesday.
The report could be seen as grist for the Federal Reserve to move toward raising interest rates next week. But other recent data point to the U.S. economy's growth rate slowing in the fourth quarter.
Disappointing data on exports and factory orders point to an annualized growth rate barely above 1%, Moody's Analytics economist Ryan Sweet said. And the investment bank Barclays lowered its tracking estimate for fourth-quarter growth to 2% from 2.5% after news hit Wednesday of lower-than-expected defense spending in November. The retail report helps, but just a little: Barclays raised its estimate to 2.1% Thursday morning.
"We have looked for falling gasoline prices to bolster disposable incomes and support stronger consumer spending activity" in the fourth quarter, Barclays' Jesse Hurwitz said. "The November retail sales data, combined with upward revisions to October data, suggest that this pass-through from lower gasoline prices is under way."
Consumption spending should rise at a 3% rate in the quarter, Barclays said. But the factory orders and exports show that not everyone has gotten the message. Or, perhaps, that the drop in oil is not as good for business investment as for household spending, and that government budgets work on their own logic. 
The markets will no doubt look at this report as good news. But economists are a long way from sold on the idea that the entire fourth-quarter economy will look as strong as retailing does.
This article is commentary by an independent contributor, separate from TheStreet's regular news coverage.