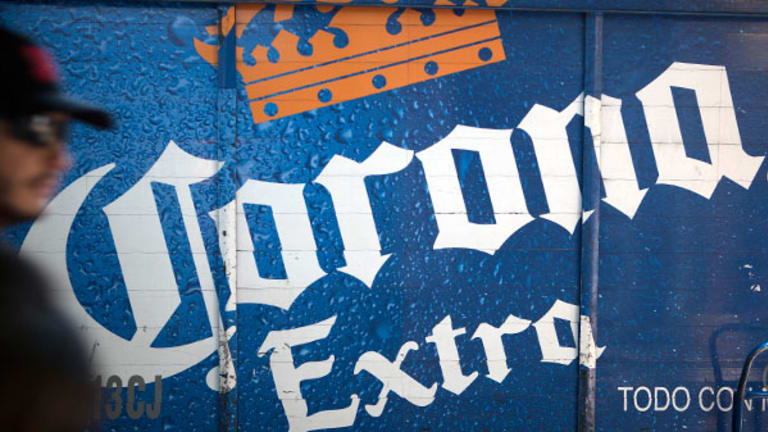 Constellation Brands Shares Have Gotten Expensive Despite Growth From Corona
Beer and liquor sales are growing at a double digit pace, but there are some concerns if you're looking to add money to the stock.
NEW YORK (TheStreet) -- Despite strong performance of late, Constellation Brands (STZ) - Get Report  is an expensive buy right now.
Constellation is an $18 billion marketer and producer of more than 100 brands that include Corona Light, SVEDKA Vodka, Robert Mondavi Winery, and Red Velvet Whisky in roughly 100 countries. Constellation's portfolio is one of the most diverse in all of the alcoholic beverage industry, ranging from low to high price points across the beer, wine, spirits, and specialty beverage categories.
On January 8, the company reported third-quarter earnings of $1.23 per share on revenue of $1.54 billion, while the Wall Street consensus estimate was $1.14 per share on revenue of $1.51 billion. Adjusted operating income was up 11% to $415.3 million as margins ticked up 90 basis points to 26.9%. Adjusted gross profit margins expanded 110 basis points to finish the third quarter at 43.5%.
Taking a look at each individual segment, we can see that beer was the big needle mover in the quarter. Beer revenues rose 16.1% to $768.1 million on strong sales on Corona branded products. Spirits only account for 5.7% of the business, but revenues jumped 26.5% to $88.3M on higher shipment volumes from the likes SVEDVA Vodka, Casa Noble Tequila, and Black Velvet. Lastly, wine, the largest segment a year ago, posted disappointing results. Wine revenues fell 3.8% to $685.1 million in the third quarter, largely on lower bulk wine sales.
Currently, Constellation Brands has cash and cash equivalents of $67.3 million, depending on the quarter of the year it can be in the $300 million to $400 million range. Total shareholder equity continues to climb higher, going from $4.9 billion in the third quarter of fiscal year 2014 to $5.6 billion now.
Following the overall performance in the quarter, management raised fiscal year 2015 earnings-per-share expectations to $4.25-to-$4.35 per share from $4.10-to-$4.25 per share. Wall Street was forecasting for just $4.24 per share in the current year. Constellation Brands is also projecting positive free cash flow of $275 million to $350 million and operating cash flow of $1 billion with capital expenditures likely to come in the $725 million to $775 million range (with more than 80% spent on the beer segment).
Valuation
Constellation Brands shares trade at a price-to-earnings ratio of 24.88 (using the mid-point of the company's 2015 guidance) with 32.3% earnings-per-share growth, price-to-sales ratio of 3.39, and a price-to-book ratio of 3.62. Revenue is likely to top the $6 billion mark this year and grow another 5% in 2016. Looking out to 2016, the stock trades at a forward price-to-earnings ratio of 22.62, putting the price-earnings-to-growth ratio at 1.95 (Wall Street analysts are projecting for $4.73 in earnings-per-share). A PEG ratio above 2 is consider expensive and one under 1 is considered cheap.
Firms that cover the stock have a mixed view on the company, as there are currently seven buy ratings, four hold ratings, and two sell ratings. Just a couple of days before the quarterly report, two notable Wall Street firms upgraded the stock. On January 5, RBC Capital (RY) - Get Report upgraded the stock to a top pick from outperform and the next day Goldman Sachs (GS) - Get Report upgraded the stock to buy from neutral, raising its price target to $117 from $97 (average analyst price target is $101.17).
Some 18 13F filers had shares of Constellation in their top ten holdings as of September 30. At that time, Kensico Capital Management held nearly 6.9 million shares making it its third largest holding at more than 13% of the fund. The only two bigger shareholders were Vanguard Group and State Street, which held a combined 19.7 million shares, both of which added to their positions from the previous 13F filing. However, given the size of these two institutions, Constellation Brands made up less than 0.10% of holdings for both.
Technical Analysis
After the earnings beat and guidance raise the stock has rallied nearly 10% ( up 32% from the October lows) and is now revisiting the resistance line from early 2014. Longer-term, the uptrend remains intact and the MACD and accumulation/distribution line both confirm it. The one major negative is now the RSI is back into overbought territory and at the top of the range, which led to a correction when this happened in June of 2014. If momentum starts to wane then Constellation shares could be setting for another retest of major support at the 40-week simple moving average (200-day simple moving average).
How to Trade
There is no denying that Constellation Brands has been an extraordinary performer in recent years (only missing earnings-per-share estimates three times in the last four years) and is likely to continue doing so going forward on the success of its beer and spirits segments, but there are some concerns for those who are looking to add shares now. The massive run up in the last three months and rich forward earnings multiples leave very little margin for error this year. Along with sheer business execution in the adult beverage space, beer and liquor stocks have also benefited from rumors of more consolidation (via mergers and acquisitions) in the sector that would help Constellation Brands and others in terms of pricing pressure. Speculation last year swirled around Heineken (potential seller), SAB Miller, Molson Coors (TAP) - Get Report , (both potential buyers and sellers), and Anheuser Busch (BUD) - Get Report (potential buyer). Constellation Brands could be in the mix as well given its 2013 purchase of Grupo Modelo's U.S. beer division for $5.4 billion from Anheuser Busch. Regardless of how the alcohol M&A market ends up in 2015, at least one major deal may already be baked into the share price for Constellation and the other companies in the industry.
We have to keep in mind that Constellation isn't a new tech company, but is instead a beverage company. People can only drink so much wine and the market is simply pricing in far more than it can deliver on. If Constellation shares were to pullback into the $95-to-$100 range, consider starting a long-term position. This would allow you to get in on a 10% correction in a company with a stable balance sheet where two of its three major segments are experiencing double-digit sales growth.
Corona Extra still wears the crown for being the No. 1 imported beer in the U.S. (and Constellation's Modelo Especial is No. 2) and Corona Light has the title worldwide (majority of Corona sales) that will propel Constellation's growth for years to come. Consumers are now gravitating towards more flavored alcohol versus the traditional light beers, putting Corona in the forefront to take market share. In the event of a big deal in the sector, it would only help the company's impressive margins expand that much further with fewer competitors and bolster the profitability of its category leading products.
Oil prices have been more than cut in half since the summer and this will translate to extra discretionary income for Americans and a large part of the world. AAA said that the plunge in energy prices saved Americans $14 billion last year compared to 2013. These savings are likely to accelerate this year with West Texas Intermediate crude oil prices down 10% year-to-date and showing no signs of a bottom yet. For the consumers that do drink (70% of U.S. American adults) these extra dollars can used for another drink or two on the weekends, which can move the bottom line for Constellation Brands via more shipments.
This article is commentary by an independent contributor. At the time of publication, the author held no positions in the stocks mentioned.