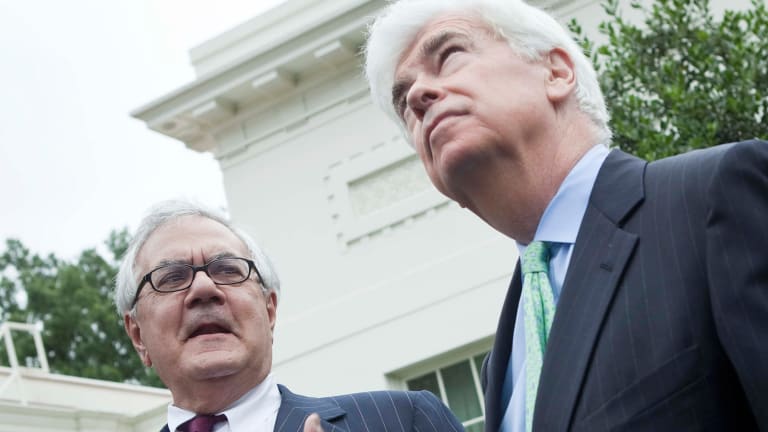 Congress Reviews Dodd-Frank; New York Closes Streets for Party: 10 Things Happening Next Week
More earnings and new phones from Motorola are also on the list of what to watch.
NEW YORK (TheStreet) -- Congress will meet to discuss whether the U.S. has become more "prosperous" five years after passing landmark financial reforms, and New York is banishing cars from a 7-mile stretch of road for some summer fun.
There's no shortage of hard data scheduled for next week, either. The earnings list below includes a fraction of the companies due to release results, and data on the overall economy is also expected.
2. -- Earnings highlights include:
3. -- May figures from the S&P/Case-Shiller home price index will be released at 9 a.m. ET on Tuesday, July 28. Analysts are looking for the measure to increase on a month-over-month basis, as it did in April.
4. -- Five years after Congress passed the Dodd-Frank Act, the House Financial Services Committee will hold a hearing on the act and its effectiveness in the Rayburn House Office Building on Tuesday, July 28, at 10 a.m. The bill's anniversary has stoked debate about whether the law was effective -- and will be effective -- in preventing the next financial crisis.
5. -- The Federal Open Market Committee will meet for two days starting on Tuesday, July 28, with a decision on interest rates expected at the end of the meeting. While the dollar continues to show strength, there is a 54% percent chance that rates will increase 0.25 percentage points, according to a survey of analysts conducted by Bloomberg. Still, many investors expect that a rate hike won't come until later this fall.
6. -- Motorola (MSI) is expected to unveil some new phones on Tuesday, July 28. Among the new products likely to be unveiled is the Moto G, which leaked plans suggest will contain a better camera and a new version of the Android operating system.
7. -- Gross domestic product figures for the second quarter are expected at 8:30 a.m. ET on Thursday, July 30. While the economy shrank in the first quarter by 0.2%, many analysts are expecting an increase for the second. One estimate from the Federal Reserve Bank of Atlanta puts the increase at an annualized 2.4%.
8. -- Enjoy good beer and food at New York City's aptly named Good Beer 2015, which starts at 6 p.m. ET on Thursday, July 30. The event at Hudson Mercantile marks the end of Good Beer month in New York. Sample brews from local breweries and buy your favorites to take home for later.
9. -- Renewable energy company TerraForm Global (ticker-to-be GLBL) goes public on Friday, July 31, with an offering worth $1.37 billion. Shares of the Bethesda, Md.-based company are expected to trade for $19 and $21 each. The company was formed in 2014 by SunEdison (SUNE) to manage that firm's solar and wind power assets, which include renewable energy projects in Asia and Latin America.
10. -- Ride a zip line, climb a rock wall or rent a bike at this year's Summer Streets festival, which closes almost seven miles of streets from the Brooklyn Bridge to the Upper East Side for three consecutive Saturdays starting Aug. 1. There also will be food, entertainment, and a light-and-sound art exhibit in the Park Avenue tunnel.