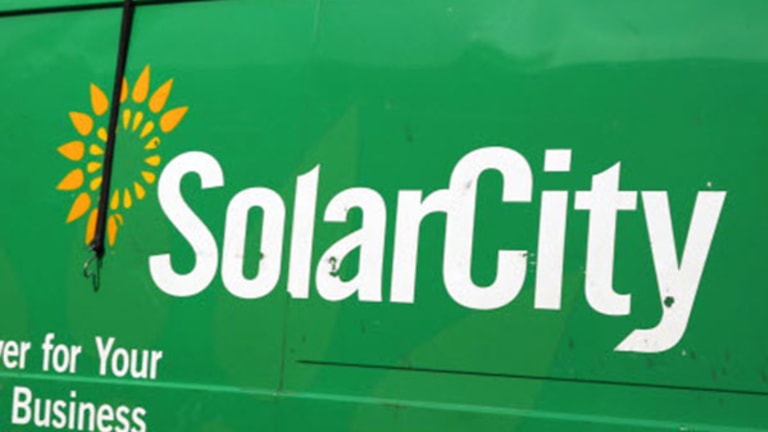 Confidence in Musk's SolarCity Continues to Wane
Barclays became the latest firm to pull back on the stock Monday, as headwinds facing the residential solar space, including expected interest rate hikes, worry the firm.
The light isn't shining so brightly at SolarCity (SCTY) in 2016, as the company's stock has been beat up following its third consecutive lack luster earnings and growing investor concern over its business model. 
Barclays analysts were the latest to weigh in on the nation's largest solar company, downgrading the stock to "underweight" from "equalweight" in a Monday note, citing headwinds facing the residential solar segment as a whole.
The analysts also lowered their expectations for their preferred residential solar segment name SolarEdge Technologies (SEDG) - Get SolarEdge Technologies, Inc. Report , which TheStreet pegged as a buying opportunity in May.
"SEDG remains our preferred exposure to the residential segment, and we maintain an [overweight] recommendation," Barclays' Jon Windham and Daniel Ford wrote. "However, given the headwinds facing the space, we reduce our [price target] to $28 from $35 [per share]."
The downgrade of SolarCity, which is chaired by Tesla Motors (TSLA) - Get Tesla Inc Reportfounder Elon Musk, adds to a growing list of concerning headlines for the solar power systems provider in the first half of 2016. 
SolarCity in early May reported a first quarter loss of $25 million, or 25 cents per share, compared to a loss of $21.5 million, or 22 cents per share, a year earlier.
Later that month, Deutsche Bank decreased its price target for SolarCity's shares to $32 from $49, cautioning that shares might remain in a trading range in the near term, despite the firm's positive long-term view of the stock. 
On June 9, SolarCity and Arizona Public Service Co., Arizona's biggest utility, reportedly called off talks on how to treat residential rooftop solar power, implying a contentious court battle between the companies is in the making. 
While R.W. Baird analysts upgrading the stock to "outperform" from "neutral" the same day, shares have fallen more than 9% this month and are down 57% year-to-date as of Friday's close. 
SolarCity announced Monday that it would expand its operations into Houston, which caused its stock to jump more than 3% in early Monday trading to just north of $22 per share.
Barclays downgraded SolarCity based on an expectation that the Federal Reserve's Federal Open Market Committee, which decided to keep interest rates level this past week, will raise those rates in September. 
"Higher potential interest rates make us more cautious on the residential solar space given ... the sensitivity to financing cost in the ABS and tax-equity markets; and ... the long duration nature of their consumer leases portfolio," the analysts wrote. 
Meanwhile, despite Barclays concerns about the strength of the U.S. residential solar market, the firm continues to favor SolarEdge, "due to its ability to continue to grow market share, diversification between leased and system sales markets, and strong balance sheet position."
Indeed, as negative industry sentiment has put a damper on solar stocks across the space, TheStreet has previously identified SEDG and SolarCity competitorSunPower (SPWR) - Get SunPower Corporation Report as top picks while share prices are low.