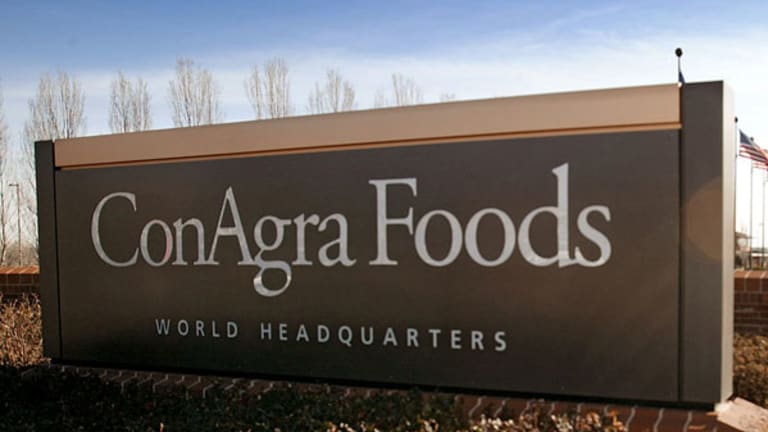 ConAgra vs McCormick: Which Will Win the Earnings Showdown?
These two food giants are solid investments, but we determine which is the better stock to own now.
These two food giants are solid investments, but we determine which is the better stock to own now.
Food companies ConAgra (CAG) - Get Report and McCormick (MKC) - Get Report are set to report their earnings this week. The street is expecting ConAgra to flex its muscles this quarter after it failed to beat estimates over the last two successive quarters, at a time when McCormick shined bright.
Almost resembling a much-awaited boxing bout, at stake is $33 billion of combined investor wealth, operated by both these giants.
Which will come out on top and bring home the investment gold? Bet on McCormick to continue its winning streak; here's why.
In the Blue Corner
ConAgra Foods, is one of North America's largest food companies. The $20-plus billion behemoth is aiming to split its less profitable consumer foods and more profitable commercial foods into two separate units, ConAgra Brands and Lamb Weston. It is understandably distracted for now. Lower profitability has been one of the principal areas of concern, which is why rivals like General Mills keep garnering a higher valuation.
In the Red Corner
McCormick & Company is a $12.9-billion market cap firm, smaller compared to ConAgra, with a better profitability and sales growth track record. It's also one of the 50 companies in the S&P 500 with more than 25 consecutive years of uninterrupted dividend increases. That makes McCormick a reliable source of income in an era of low interest rates.
The Earnings Round: We Have a Clear Winner
Coming to earnings, McCormick is projected to deliver 3.8% year-over-year (y/y) topline growth (sales at $1.06 billion) and earnings-per-share (EPS) of $0.74 (almost flat compared to $0.75 a year ago). ConAgra will likely report a 29.5% drop in sales at $2.89 billion and nearly 12% y/y drop in EPS at $0.52. The steep decline in ConAgra is partly because of its divested businesses. Remember, it sold Private Label and Spicetec divisions.
A large worry about ConAgra has been its debt, which stood at $5.5 billion. We expect when debt is disclosed in its fourth quarter earnings, ConAgra will report a significantly lower number, thanks to the repayment of debt from cash accrued from divestitures.
While ConAgra's gross margin rate expanded 260 bps to 27.4% and SG&A expense rate grew 430 bps to 16.7% in the third quarter, we would like to see if the gross margin rate expands in the fourth quarter as well. ConAgra over the past five years had low 20s gross margin rates. So, an upside would indicate a leaner and more profitable business.
Additionally, all eyes would be on whether ConAgra revises its fiscal year 2016 guidance. It had projected a diluted EPS for 2016 at $2.05 to $2.07.
For McCormick, earnings have always spoken louder than words. So much so that even the mighty Citigroup has thrown in the towel on its controversial McCormick sell recommendation. "Positives of spice retail sales speeding up by 250 basis points since the end of Q1, and net commodity inflation turning into deflation" have boosted McCormick, Citigroup suggested.
The Growth-Burst KO
With a gross margin of above 40%, McCormick's sales have been on a consistent upswing (on a constant currency basis). For 2016, the company has guided to 4%-to-6% sales growth in constant currency and operating income growth of 17%-to-20%. If McCormick has a good quarter, upward revision can't be ruled out.
With an 11%-plus rally since the start of this year, ConAgra shares are trading at a PEG ratio of 3.20. There is little room for error. What could drive ConAgra stock higher is faster earnings growth and higher profitability.
McCormick has so far lived up to expectations and this is why it trades at a slight premium (PEG ratio - 3.53). And so there you have it: Our bets are on the relatively steadier and growth-friendly McCormick.
---
Post-Brexit anxiety is pummeling global markets. If you'd rather avoid stocks, bonds and funds altogether during this period of extraordinary volatility, I know a way you can make a guaranteed $67,548 over the next 12 months. In fact, this moneymaking technique is so successful and simple, you might want to give up "conventional" investing forever! Click here now to learn more.
This article is commentary by an independent contributor. At the time of publication, the author held no positions in the stocks mentioned.