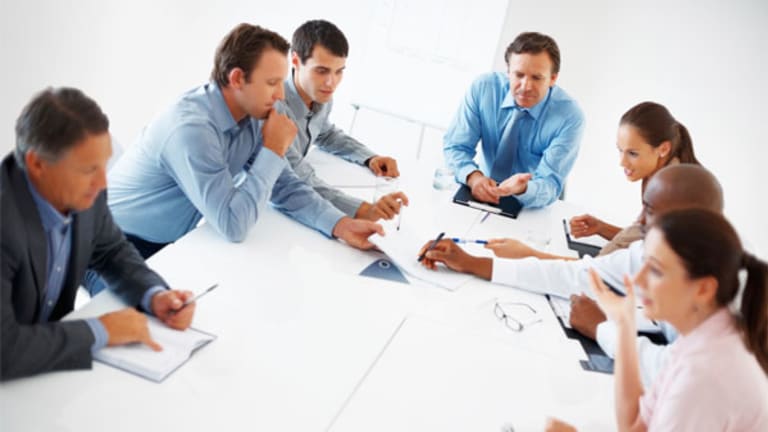 Comcast's Revenge for Tweet: Today's Outrage
The communications giant Comcast chooses to broadcast the tiniest of tweets, with humiliating results.
BOSTON (TheStreet) -- Hiring FCC Commissioner Meredith Attwell Baker four months after she votes for your $30 billion merger with NBC Universal is a provocative act, so you'd think Comcast (CMCSA) - Get Free Report would be understanding when a Seattle charity tweeted an "OMG!" over it -- literally.
Nope. A tone-deaf Comcast executive reacted to the May 12 tweet by taking back an $18,000 annual donation to the charity, Reel Grrls, which uses the money for a summer film camp for teens.
"Given the fact that Comcast has been a major supporter of Reel Grrls for several years now, I am frankly shocked that your organization is slamming us on Twitter. I cannot in good conscience continue to provide you with funding -- especially when there are so many other deserving nonprofits in town," said Steve Kipp, whose presentation of business cards bearing the title of vice president of communications will now raise eyebrows and furrow brows all over Seattle, where he is based. Kipp's actions were reported Thursday by
The Associated Press
,
Washington Post
and others.
Kipp's exactly the kind of vice president of communications you want if you want people to perceive your mega-corporation as the oversensitive kind that punishes children for the tweets of nonprofit workers, especially when they are simply reacting with astonishment to a hire that stinks so much it can be smelled from space. He's also the kind of vice president of communications you want if you want people to think of your company as paranoid, oppressive and creepy in a monolithic, Big Brother kind of a way, which is pretty much Comcast's unofficial slogan everywhere it dominates the cable and broadband market.
To Comcast's credit, it reversed Kipp's decision Thursday -- go figure, just after reports hit the Web. Somewhere there is a communications expert who realized the image problems caused by his actions (but somehow not by hiring someone off the Federal Communications Commission in the first place).
"I hope you can respect that this Tweet has put me in an indefensible position with my bosses," Kipp wrote to the Reel Grrls in explaining his decision to pull the funding -- which the organization said would have killed its summer camp outright.
Don't worry, Kipp, your bosses are cool with indefensible positions.
On Friday, Reel Grrls walked away from Comcast's money entirely, though.
"While we are heartened that Comcast has apologized for its actions, we believe this incident underscores the bigger problems associated with the overwhelming concentration of power that the Comcast/NBC merger and the resulting hire of Baker represent," says Reel Girrl rep Teresa Mozur. "We have decided to redesign our summer camp to focus on developing films about free press issues. We have also decided that we will not be partnering with Comcast on the camp and will instead pursue other sources of funding."
Readers Also Like:
10 Cities Unaffected by a Bad Economy