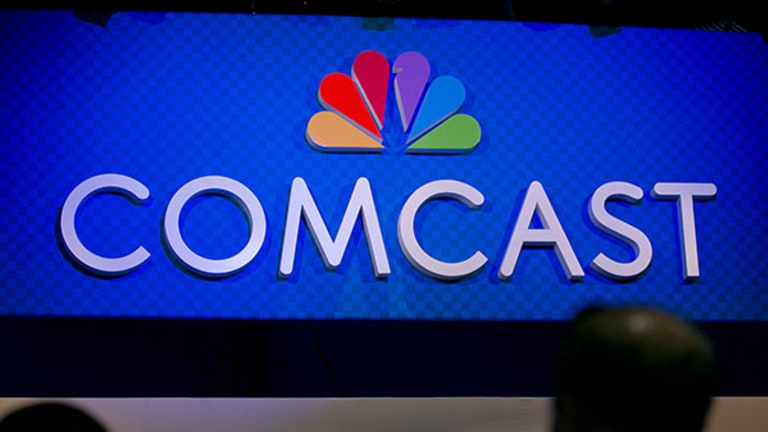 Comcast, Time Warner Cable Merger No Problem For Consumers
Outrage over one big giant cable company is pointless, misplaced.
NEW YORK (TheStreet) -- Enough hysteria.
Big company mergers have become one of those topics where all common sense and reality goes out the window. Outrage is the default and only acceptable emotion. 
Comcast's (CMCSA) - Get Comcast Corporation Class A Report buyout of Time Warner Cable (TWC) will change nothing, at least not negatively, for consumers. Your present situation will not change.
In fact, I reckon it might actually get better.
You will not be able to blame "rising cable bills" on Comcast and Time Warner. We have been seeing them for years.
You will not be able to blame a lack of choice or competition on Comcast and Time Warner. We have been seeing that for years.

WATCH:More market videos on TheStreet TV
You will not be able to blame too much choice in your cable package on Comcast and Time Warner. We have also been seeing that for years.
ICYMI: Here's how pay television service works in most parts of the United States.
You have the "choice" of one cable company. If you don't want to go with Comcast, Time Warner Cable, Charter Communications (CHTR) - Get Charter Communications, Inc. Class A Report or whomever services your area, you subscribe to DIRECTV (DTV) or Dish Network (DISH) - Get DISH Network Corporation Class A Report. In some cases, you might be lucky enough (from what I hear) to sign a deal with Verizon (VZ) - Get Verizon Communications Inc. Report for FIOS or AT&T (T) - Get AT&T Inc. Report for U-verse, but these digital TV options remain geographically few and far between.
Or you could opt to not subscribe to cable, satellite or Verizon/AT&T digital TV and be a "cord cutter." However, if you watch any meaningful amount of television, particularly sports or HBO or ESPN, that option pretty much means you're screwed. You will only remain a cord cutter out of misguided spite.
Under the reign of a CMCSA/TWC monster, you will still have -- by and large -- one choice if you want cable, two choices if you want satellite and, if you're lucky, access to a digital option from a telco. Or you can cut the cord.
Your bill will probably keep rising. And you (not you!) will continue to make the complaint that has become an ill-advised cultural meme -- I pay all this money every month for channels I don't even watch. What a ripoff!
Funny. When the typical American wheels him or herself into Olive Garden or one of those local restaurants where the pancakes are the size of hubcaps you don't see them complaining that they paid for all of this food they couldn't possibly finish. Because it's the American way to want more than you could ever possibly use and protest when you don't get it. Except of course ... with cable, which, contrary to mass intuition, is probably the best bargain going.
Take your family of four to a baseball game or the movies. How many times a month can you do that before you equal the average cable bill? Depending on where you live, maybe not even once. If you're tight on cash, cable (or satellite) is the only way to go vis-a-vis stretching your entertainment dollar.
If you have money to blow, cut the cord and watch the monthly subscription fees add up on credit cards you'll end up forgetting you even had.
Bottom line: All that people think is wrong with cable will either remain wrong with cable or experience tweaks that make it anywhere from marginally to much better under a Comcast/Time Warner Cable regime.
The combined company will have the power to turn the screws on networks like never before. Whether or not they choose to use it is a whole 'nother question. But if DIRECTV can force The Weather Channel to alter its programming to get back in the satellite provider's lineup, CMCSA/TWC should be able to box out niche networks large programmers such as Disney (DIS) - Get Walt Disney Company Report force on them. Or at least pay less for them and, in theory, pass that savings on to consumers (or maybe not raise prices as often as has become the norm).
--Written by Rocco Pendola in Santa Monica, Calif.
Rocco Pendola is a full-time columnist for
TheStreet
. He lives in Santa Monica. Disclosure: TheStreet's editorial policy prohibits staff editors, reporters and analysts from holding positions in any individual stocks.