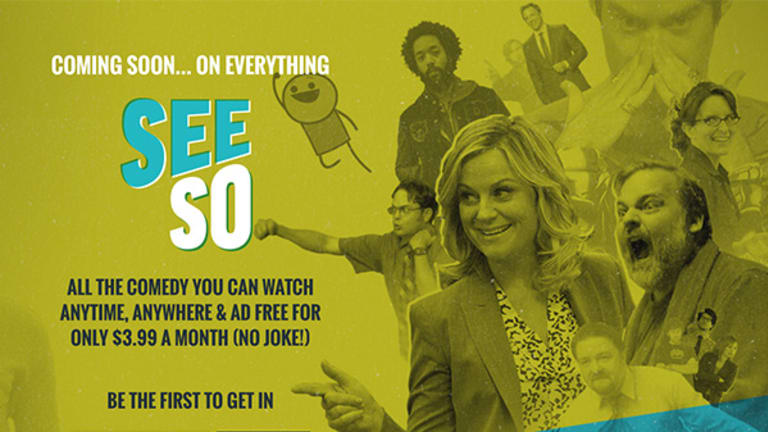 Comcast's 'SeeSo' is Hedge Against Millennials Leaving Cable-TV
Comcast is starting a comedy-focused streaming service as a means to reach younger viewers, but also to hedge against an acceleration of pay-TV subscribers opting out of their service.
New York (TheStreet) -- Comcast (CMCSA) really wants to be hip. The Philadelphia-based broadband provider also wants to protect itself against cord-cutters.
Put it together, and you have SeeSo, an ad-free $3.99 per month streaming service focused entirely on comedy. Unlike any other pay-TV provider, Comcast owns a lot of content at NBCUniversal, the massive television and film business it fully acquired in 2013. It also has a huge pay-TV business, 22.3 million subscribers at the end of June.
Ironically, Comcast has been defending its pay-TV business better than most pay-TV providers, losing a less-than-expected 69,000 subscribers in the second-quarter. SeeSo is a hedge against pay-TV subscriber declines accelerating.
Due to begin in January, SeeSo will allow Comcast to use NBC's large library of comedy content including episodes of 30 Rock, the US and UK versions of The Office,Saturday Night Live, The Tonight Show Starring Jimmy Fallon as well 20 original series including The UCB Show hosted by Upright Citizens Brigade co-founders Matt Besser and Amy Poehler.
At the root of this latest streaming offering, is Comcast's eagerness to carve out space for NBCUniversal, its television and film business, in the increasingly crowded space of Internet-based subscription services. SeeSo joins Time Warner's (TWX) HBO NOW, launched in April, as well as CBS's (CBS) SHOWTIME, which went live online as a standalone offering in July.
And then there's Netflix (NFLX) , Amazon (AMZN) Prime and Hulu, all of which are sometime partners and sometime rivals. Comcast along with Disney (DIS) and 21st Century Fox (FOXA) own Hulu. All of these services want to win over young people, not simply to generate additional revenue. It's about winning brand loyalty early in the online subscription game.
Comcast also needs to safeguard its cable-TV business. SeeSo is Comcast's latest attempt to keep its head above water with younger viewers, those much sought-after millennials, who have distanced themselves from traditional television viewing. The "cord-cutters" and "cord-nevers," who have either ended or never signed a pay-TV contract. In September, the cable-TV operator launched a cross-platform video service called Watchable, which, like YouTube curates a selection of content from popular online video networks and shows.
"Comcast, like all the other traditional media distributors is faced with a very uncertain future," Jimmy Schaeffler, a senior analyst at the Carmel Group, said in a phone interview. "They are not unlike transportation companies that once only used horse driven carriages and are seeing these new devices that people call cars.
"So Comcast is being forced to realize that if they want to succeed, their true mission has to be something along the lines of distributing video," Schaeffler added. "SeeSo and Watchable establishes even more clearly that they are stepping away from a pure focus on their traditional distribution system and building parts of a new distribution system."
At a press event in New York on Thursday, NBCU Digital Enterprises Executive Vice President, Evan Shapiro said that the latest subscription VOD service is "a complement, not a replacement." Arguably, streaming services are competing less with each other than with traditional cable-TV. But there's also likely to be a limit to the number of online subscription any one person will take.
"Big streaming services have created a paradox of choice - they're great if you know exactly what to watch, but if you aren't in the middle of a binge, the search can be near endless," Shapiro said. "By focusing on a specific, yet large niche, and providing a curated experience, we can help viewers find good stuff they might not or cannot find. SeeSo is your neighborhood comedy eatery, with daily specials from a chef you trust."
Whether or not Comcast will thrive in the online subscription market and survive in the traditional television distribution market, which boasts uncertain advertising market and declining ratings, is anyone's guess. But Schaeffler says he's more optimistic about subscription video service.
"It's a very efficient, cost effective system," Schaeffler said. "Also there is a lot of chance that the OTT market will succeed because the numbers are on their side. In other words, people keep being born. Those folks who are older and stick by the traditional means -they die. Young people today are given or told to buy laptops when they start school. That arguably makes the transition to OTT delivery even more inevitable."
SeeSo will kick off with a private invite-only beta in December.