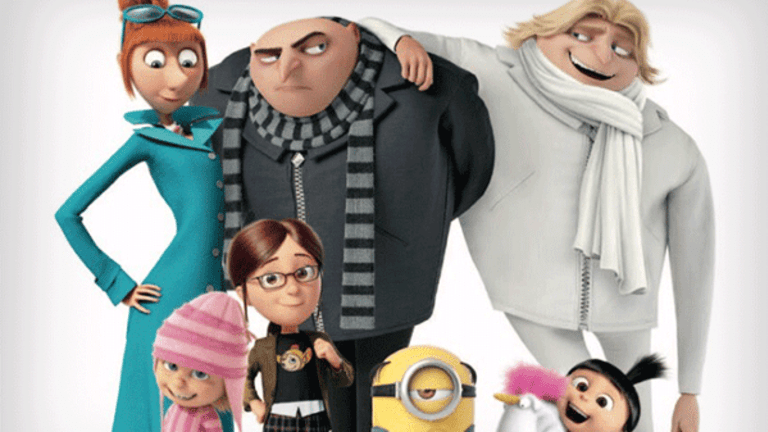 Comcast's NBCUniversal Looks to Storm Disney's Animation Castle
NBCUniversal acquired DreamWorks Animation for a hefty $3.8 billion, but with that studio as well as Illumination Entertainment in its arsenal, the media conglomerate is poised to dominate.
Comcast Corp.'s (CMCSA) - Get Report Universal Pictures seems certain to have a hit with the release of "Despicable Me 3" from its Illumination Entertainment animation studio on Friday, June 30. It will take a bit longer, on the other hand, to assess Comcast's recent big-ticket acquisition of another animation studio.
Until last year, Illumination was Universal's only animation studio -- but that all changed when NBCUniversal, which declined to comment for this story, announced in April 2016 it was acquiring DreamWorks Animation SKG Inc. for $3.8 billion. It was a hefty fee for the Steven Spielberg-founded animation studio, especially considering its hit-and-miss record over the past five years. Nonetheless, the deal was approved by board members and closed in August.
DreamWorks Animation's previous distribution partner, Twenty-First Fox Inc. (FOXA) - Get Report , released the last film from their deal earlier this month, "Captain Underpants: The First Epic Movie." The film was produced at a much lower price point than previous DreamWorks ventures ($38 million as opposed to $125 million to $150 million) and is a modest success, having grossed about $74 million worldwide so far.
Now, DreamWorks Animation will be partially overseen by Chris Meledandri, who has had enormous success as the CEO of Illumination Entertainment. Chris DeFaria, who helped create Warner Animation Group (of "Lego Movie" fame) at Warner Bros. (TWX) , was promoted to president of Dreamworks Feature Animation Group in January. Given the shift in management, it is unsurprising that DreamWorks will not release another new film until March 2019, when "How to Train Your Dragon 3" is set to hit theaters.
2019 could be a banner year for Universal animation, as "The Secret Life of Pets 2" from Illumination is scheduled to open that July. The first film opened to a big $104 million last July and ended up being the most profitable movie of 2016, with an $875 million worldwide total off of a thrifty $75 million budget.
Indeed, Illumination always has produced its films for a reasonable price, as not one of its eight films so far has carried a budget over $80 million. Even more impressive is that all of its ventures so far have been hits, with five of its films having grossed more than $500 million worldwide (and "Despicable Me 3" seems certain to soon join that list).
"Illumination does an unbelievable job making films that appeal to four quadrants," said Wunderlich Securities Inc. analyst Matthew Harrigan, who covers Comcast. "Even the Crips and the Bloods would go see those movies."
Indeed, "The Secret Life of Pets" was marketed in front of adult-targeted films such as "Deadpool" and had a star-studded voice cast including Louis C.K. and Kevin Hart to help attract older audiences. Other Illumination films, such as "Despicable Me" and "Sing," have similarly relied on pop culture savvy and a strong voice cast to earn big bucks at the box office. Such a formula calls to mind the films from another animation studio, now an Illumination stablemate.
"The best animated films cross all sorts of boundaries in terms of gender and age appeal, and DreamWorks' movies have done that very effectively," comScore Inc. (SCOR) - Get Report senior analyst Paul Dergarabedian said. "When the first 'Shrek' came out, it was a real watershed moment for mass appeal animation."
DreamWorks' "Shrek" movies have relied on adult jokes and the voice talent of comedians such as Mike Myers (the title character) and Eddie Murphy (Donkey) to become a $3.5 billion franchise. Fellow DreamWorks films "Madagascar," "Monsters vs. Aliens" and "The Boss Baby" all have found worldwide success with a similar strategy that uses celebrity voices and rude humor to hook audiences of all ages. While the films from Walt Disney Co.'s (DIS) - Get Report Pixar Animation Studios and Walt Disney Animation Studios tend to be more wholesome and story-driven, Universal's Illumination and now DreamWorks have taken a different approach.
"Both the Illumination and DreamWorks brands have always been a bit edgier," Dergarabedian added. "But that gives them a true identity."
Given the similarities between the two brands, some questioned Universal's decision to acquire DreamWorks for nearly $4 billion when it already had a mass appeal animation studio in its arsenal. While DreamWorks has produced some of the biggest animated franchises of the 21st century ("Shrek," "Madagascar," "Kung Fu Panda") it also has had a spotty track record over the past few years. Indeed, for every breakout hit such as 2015's "Home" or this year's "The Boss Baby," there have been box office misfires such as 2013's "Turbo" or 2014's "Mr. Peabody & Sherman," both of which finished their runs with worldwide grosses under $300 million.
Some might even argue that Illumination has supplanted DreamWorks as the premier brand for animated comedies. The box office numbers certainly back that theory up: over the past five years, DreamWorks has grossed just over $5 billion at the worldwide box office from 12 films with an average budget of $129 million. In that same time span, Illumination has grossed just under $4 billion from five films with an average budget of $74 million.
In other words, DreamWorks' cumulative box office is just ahead of Illumination's, despite bigger budgets and a release slate more than twice as large. On average, DreamWorks' movies are making about $418 million worldwide; Illumination films are making nearly twice that with budgets that are about $55 million slimmer.
"Historically, the model at DreamWorks has not been as good as the one at Illumination," Harrigan noted. "I wasn't a huge fan of what Comcast paid for DreamWorks -- it was a very full price."
The $3.8 billion that the conglomerate shelled out for DreamWorks is a very steep price, coming near the $4 billion price tag of recent Disney acquisitions Marvel Entertainment Inc. and Lucasfilm Ltd. But while both of those brands have produced numerous $1 billion-plus hits, DreamWorks has yet to have one of its films crack that threshold at the global box office. On top of that, DreamWorks cash cows "Shrek," "Madagascar" and "Kung Fu Panda" are all absent from the upcoming slate, making it dubious whether Comcast will see a return on its investment in the next five years.
Comcast is playing the long game, though, and there are several reasons for optimism going forward. Sequels for recent DreamWorks hits "Trolls" and "The Boss Baby" are on the calendar for 2020 and 2021, respectively, and should be big earners for the studio if they can improve on their predecessors.
Consumers probably can expect to see some of DreamWorks' characters on future NBC shows as well, as DreamWorks properties have successfully been adapted to the small screen in the past. The penguins from the "Madagascar" franchise had their own series on Nickelodeon until last year, and "DreamWorks Dragons" and "The Adventures of Puss in Boots" are both streaming on Netflix.
Additionally, the DreamWorks brand should be a major selling point for NBCUniversal's theme parks going forward. Already there are plans to showcase a series of short films based on DreamWorks' animated franchises at Universal Studios Hollywood, and Universal Studios Singapore already features attractions from the "Shrek" and "Madagascar" franchises. In all likelihood, the three theme parks that NBCUniversal has under construction (Universal Studios Beijing, South Korea and Moscow) will all feature areas based off DreamWorks properties.
"The animated characters go very well with the parks," Harrigan said. "And they should also be a nice addition to the broadcast networks for Comcast."
The addition of DreamWorks should boost several sectors for Comcast, but none more than its film division. Having not one but two major animation studios sets Universal up to rival Disney in the animation arena, which has both Pixar and Walt Disney Animation under its belt. In gross box office revenue, Disney's animation studios have pulled in more than $7.7 billion in global box office revenue over the past five years -- $3.65 billion from Pixar and $4.07 billion from Walt Disney Animation.
While those numbers are impressive, it's worth remembering that DreamWorks and Illumination combined pulled in about $9 billion over that same time span. The titles on DreamWorks' slate outnumbered those from the Disney studios, but it's worth noting that the budgets for Disney's animation efforts are heftier (often in the $150 million to $200 million range). Disney, which could not be reached for immediate comment, has been the undisputed animation king for several years, but it has never had to face a competitor that has two animation studios as well.
If Universal can start producing its DreamWorks films at a lower price point -- and with Illumination's Meledandri giving counsel to DreamWorks, that seems very likely -- the studio may very well overtake Disney in the animation market sooner rather than later.
"To have DreamWorks and Illumination under the same umbrella is incredible," Dergarabedian said. "When those animation studios have a partner like Universal, which has the horsepower to market and distribute the films on a large scale, the revenue train keeps chugging along."
Jim Cramer and the Action Alerts PLUS team have some thoughts on the latest developments with Comcast, Alphabet Inc. (GOOGL) - Get Report and Western Digital Corp. (WDC) - Get Report . Find out what they're telling their investment club members by getting a free trial subscription to AAP.