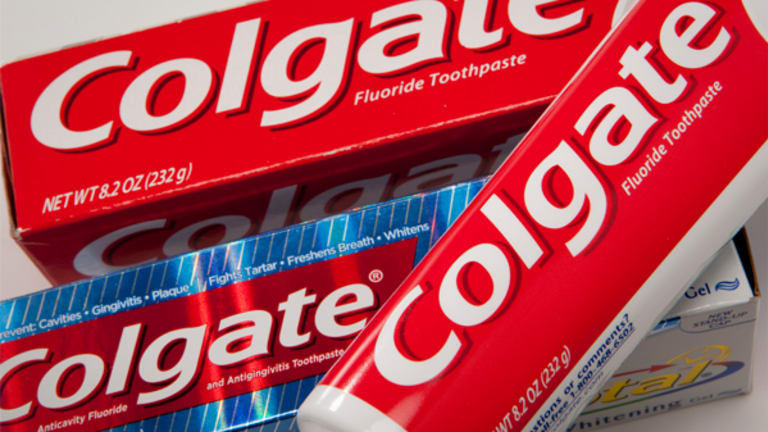 Colgate-Palmolive Will Be Hurt by Strong U.S. Dollar, So Protect Gains Now
There's too much risk and not enough reward in holding Colgate-Palmolive shares ahead of fourth-quarter earnings results.
NEW YORK (TheStreet) -- One quarter won't make or break consumer products makerColgate-Palmolive (CL) - Get Colgate-Palmolive Company Report . But investors can still protect their gains by trimming their positions ahead of the company's fourth-quarter and full-year results Thursday. The results likely won't be pretty.
The stronger U.S. dollar has weakened several multinational companies, including Colgate-Palmolive rivalsProcter & Gamble (PG) - Get Procter & Gamble Company Report and Kimberly-Clark (KMB) - Get Kimberly-Clark Corporation (KMB) Report . And there's no way Colgate-Palmolive can avoid the same fate.
Shares of New York-based Colgate-Palmolive closed Tuesday at $65.66, down 0.95%. By midmorning Wednesday the stock rose slightly to $65.72. But the company has lost 5% of its value on year to date, trailing both the Dow Jones Industrial Average (DJI) and the S&P 500  (SPY) - Get SPDR S&P 500 ETF Trust Report , which are down 2.5% and 1.7%, respectively.
All of the company's year-to-date declines have come in the past three trading sessions. Investors have gotten nervous, given the weak downbeat results by global giants like 3M (MMM) - Get 3M Company Report and Caterpillar (CAT) - Get Caterpillar Inc. Report , which cited revenue headwinds due to the stronger dollar.
Companies like Colgate-Palmolive sell products overseas at prices adjusted for the currencies of those countries. As the dollar strengthens, it generally weakens those other currencies. And when those currencies are converted to the U.S. dollar, Colgate-Palmolive is getting less value in return. The only way to offset this effect is for companies to charge more for their products in overseas markets. But by doing so, they risk hurting their sales.
On Tuesday, Procter & Gamble blamed the stronger U.S. dollar when it said its second-quarter net income fell to $2.37 billion, or 82 cents per share, well below last year's mark of $3.43 billion, or $1.18 per share. And Procter & Gamble said its expects swings in foreign exchange currencies to chip into its fiscal 2015 revenue and profits by 5% and 12%, respectively. Last week Kimberly-Clark shares plummeted more than 6% for the same reason.
For the period ending in December, analysts will be looking for Colgate-Palmolive to post earnings of 75 cents per share on revenue of $4.23 billion, representing flat earnings growth and a 3% year-over-year decline in revenue. For the full year, earnings are projected to be $2.93 per share, up 3% year over year on revenue of $17.3 billion, down almost 1%.
Flat quarterly earnings are the key here. Colgate-Palmolive, despite paying a decent dividend yield at 2.19%, posted a 7.5% decline in earnings last year. And this year's earnings likely won't be impressive, even outside of the impact of the strong dollar.
For a stock that's trading at a price-to-earnings ratio of 28.8 -- almost nine points above the average of companies in the S&P 500 -- there's too much risk and not enough reward in holding these shares.
This article is commentary by an independent contributor. At the time of publication, the author held no position in the stocks mentioned.