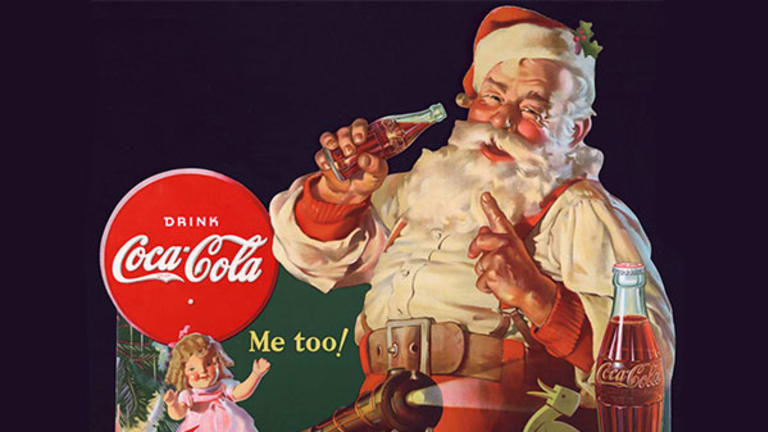 Coke Must Focus More on Being Like Pepsi and Less on Cutting Costs
Pepsi's strategy for dealing with declining soft-drink sales appears to be putting it in a much better position than Coke.
NEW YORK (TheStreet) -- Executives at Coca-Cola (KO) - Get Coca-Cola Company Report , trying to reverse weak earnings, would do well to emulate rival Pepsico (PEP) - Get PepsiCo, Inc. Report , which is churning out successful new snacks and drinks at a healthy clip.
That might be more fruitful than Coca-Cola's wide-ranging plan to cut billions in costs by 2019, which even included a move to get rid of employee voicemail at the company's Atlanta headquarters.
Total U.S. carbonated soft-drink sales volume fell 3% last year to 8.9 billion cases, the ninth-straight year of decline and the lowest number of cases sold since 1995, according to Beverage Digest.
Coca-Cola's North America unit case volume has been unchanged this year, reflecting meager 1% growth in "still" beverages such as tea and water and a 1% drop in sparkling beverages. At Pepsico, North America unit case volume has declined slightly this year, driven by a 1% fall in carbonated soft-drink volumes and a 1% increase in non-carbonated beverage volume.
In addition to cost cutting, Coca-Cola's response has been to focus on new package sizes for soda and develop new lower-calorie products such as  Coca-Cola Life, which contains 60% of the calories of classic Coke and is sweetened by Truvia, a branded form of stevia extract. 
"Next year is the 100-year anniversary of the contour [bottle shape], and we'll be expanding our immediate consumption focus in the market, which is a really important way to build habit," said Coca-Cola's Chairman and Chief Executive Muhtar Kent during an Oct. 21 earnings call. 
The obsession by Coca-Cola on daintier package sizes for plain old soda and what still amounts to diet cola, however, has left it overly exposed to waning carbonated soft-drink sales and competitive pricing in the United States. Furthermore, it may be causing a stalemate in new product introductions elsewhere in the Coca-Cola portfolio.
Pepsi, on the other hand, has been more intent on innovating.
"Expect to see from us an interesting number of mid- to low-calorie sparkling beverage platforms" next year, Simon Lowden, chief marketing officer of Pepsi Beverages North America, said in an interview on Nov. 21.
Pepsico's Tropicana will see news next year around sparkling juices and waters, while protein as an ingredient is expected to be used across more and more beverages, he said.
Pepsico's Gatorade business is one beverage in which protein could be added, putting the pressure on Coca-Cola to innovate with its Powerade sports drink brand. Gatorade will come out with more energy chews and bars.
Even coconut water, an industry that ballooned to $400 million in U.S. sales last year, according to research firm Euromonitor, is being targeted in a larger way by Pepsico, aside from it leveraging its majority stake in O.N.E. brand coconut water.
"You will see more news from us on coconut water next year as an ingredient across brands like Mountain Dew," Lowden said.
Coca-Cola owns Zico, the second-largest coconut water brand.
With its traditional soda business seemingly out of fizz, Coca-Cola could also borrow another tactic from Pepsico to re-caffeinate its sales by building a snacks business.
Under attack by activist investor Nelson Peltz this year to spin off its lucrative snacks business, Pepsico Chairman and Chief Executive Indra Nooyi has proven why owning businesses such as Frito Lay and Quaker Oats is so important to a carbonated-drink maker.
"Mountain Dew and Doritos have extremely high co-purchase incidence," said Nooyi during Pepsico's Oct. 9 earnings call, adding that "in the U.S., over 60% of Mountain Dew households buy Doritos."
Pepsico has tied together its drinks and snacks business in the aisles of Target (TGT) - Get Target Corporation Report and Walmart (WMT) - Get Walmart Inc. Report through joint packaging graphics and point-of-sale material.
Some of Pepsico's new products have had a premium price theme, allowing it to counteract sluggish sales of carbonated beverages.
For example, Quaker Foods North America has launched Quaker Express Cups, Smartfood Delights and Stacy's Pretzel Crisps this year to capitalize on consumer trends such as greater package convenience and healthier lifestyles.
Sales at Frito Lay North America have risen 3% this year, with non-generally accepted accounting principle operating profits rising 6%.
Quaker Foods North America has had a more challenging year in terms of revenue, which has declined 2%. The segment's non-GAAP operating profits have increased 1%.
The stock market has rewarded Pepsico's foresight on beverage products and its exposure to snacking in America, while punishing Coca-Cola. Shares of Pepsico have increased 17% this year, compared with a 3.9% gain for Coca-Cola.
This article is commentary by an independent contributor. At the time of publication, the author held no positions in the stocks mentioned.