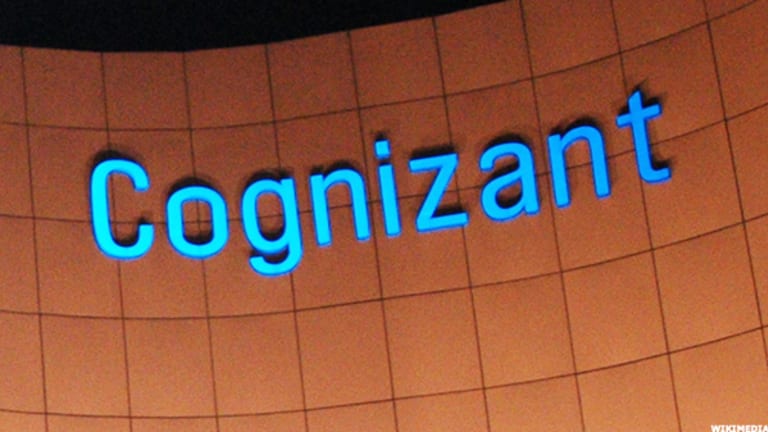 Cognizant Says Its Revenue Are Up Because It's Winning in Digital
IT services giant Cognizant posted a 20% first-quarter revenue increase thanks in part to its Digital Works initiative, and also because its TriZetto acquisition is starting to pay off.
NEW YORK  (TheStreet) -- IT services and consulting giant Cognizant Technology Solutions (CTSH) said Monday its new Digital Works initiative, which helps its clients design, build and run their digital businesses by simplifying big data issues and offering better analytics, is helping the company lure its digital enterprise clients to its traditional services, too. That has lead to a double-digit increase in first quarter revenue.
"We are doing well because we are winning in digital," said Francisco D'Souza, Cognizant's CEO, on the earnings call. "As the trend toward digital picks up, it helps drive our clients to our traditional services." These traditional services include business and technology consulting, systems integration, application development and maintenance, IT infrastructure services, analytics, business intelligence, data warehousing, CRM and supply chain management.
The Teaneck, N.J.-based firm said its health care segment saw sales increase 42% year-over-year, financial services gained 13%, and its manufacturing business was up 7.2%. 
The company will give greater attention to increasing its business in the energy and utilities sectors, as well as in government practices, said CFO Karen McLoughlin. She added that the company's intention is to focus on obtaining new federal business in areas related to to the Affordable Care Act, Medicare and government-backed housing loans.
Cognizant reported revenue for the 2015 first quarter was up 20% from a year earlier to $2.91 billion while GAAP net income was $382.9 million, up 9.7%. The stock was up more than 7% in late afternoon trading, at $63.37.
North American sales led the company increasing 25%, while currency issues helped push European, excluding the U.K., down almost 1%. The company did not break out specific numbers, but said sales in India and the Middle East also experienced an uptick.
The company also reported it added 6,200 workers during the first three months of the year, bringing its worldwide staffing total to 217,000. McLoughlin said first quarter hiring was the lowest Cognizant has seen in several quarters; the company had previously been expanding by 12,000 employees per quarter.
In a few other notes on Cognizant's performance, D'Souza also said its $2.7 billion acquisition of health care IT services provider TriZetto, which was inked last year, has started to pay dividends. And its long-term agreement with Health Net (HNT) to run its back-end IT operation is expected to go live midyear, with revenue from that deal kicking in during the third quarter.
Cognizant is likely to remain quiet for the near term when it comes to additional major acquisitions on the scale of the TriZetto deal, McLoughlin said, adding that the company would continue to look at smaller opportunities where they made financial sense.
The company's second quarter guidance expects revenue to hit $3.01 billion with non-diluted EPS forecast to be no less than $0.72. For the year, revenue is anticipated to rise 19%, compared to 2014, to $12.24 billion.
In an analyst note, UBS expects Cognizant's stock valuation to remain neutral, and sets its price target for the year at $60.
In a note released Monday, an Edward Jones analyst rated Cognizant a buy with an aggressive suitability. "We believe Cognizant is well-positioned to benefit from the global trend of companies outsourcing computing needs in order to reduce costs. ... We believe that Cognizant's share price does not fully reflect the company's solid positioning in an industry with attractive long-term prospects," the analyst concluded.
This article is commentary by an independent contributor. At the time of publication, the author held no positions in the stocks mentioned.