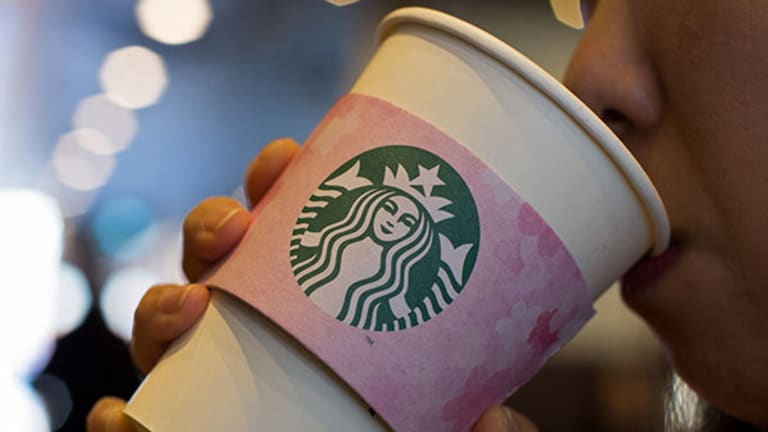 Coffee Giant Starbucks Must Address 2 Nagging Challenges in 2015
If its rapid growth is to continue, Starbucks will have to tackle the issues of crowded lines at its stores and slowing traffic due to more mobile purchasing by consumers.
NEW YORK ( TheStreet) -- Starbucks (SBUX) - Get Starbucks Corporation Report hopes to ring in the new year by addressing two nagging issues: Crowded lines that move at a snail's pace and slowing traffic to U.S. stores due to more mobile purchasing by consumers.  
Consider these issues to be partly a byproduct of Starbucks' own success. To keep its sales and earnings percolating for hungry investors, Starbucks has introduced a host of new drinks such as shaken iced teas from Teavana and food items such as paninis to its menu.
In the view of some on Wall Street, though, these new products have ratcheted up preparation complexity for baristas and slowed lines to a crawl. And after years of same-store sales increases that have long been the envy of most retailers in the United States and the continuing shift to mobile consumption that is hurting retailers with physical stores, growth rates here at home have begun to moderate.
Let's look at the challenges that Starbucks faces in 2015 and how it plans to address them.
Must Read:
Whole Foods CEO on How it will Beat Rivals in 2015
Will Overcrowded Stores Deter More Sales?
The long-running issue of poor "throughput," a restaurant industry term that measures how fast customer orders are processed, is one that Starbucks Founder and Chief Executive Howard Schultz continues to vehemently deny.
"This is not a throughput issue," he said emphatically during the Oct. 30 fiscal fourth-quarter earnings call, in reference to an analyst question on a downturn in store traffic. The comments from the coffee king's head honcho weren't without data to support his claims.  
Starbucks' highest productivity of fiscal 2014 happened in the fourth quarter.
It also represented a significant improvement year-over-year, according to the company.
Furthermore, the number of consumers ordering food has remained strong, as Starbucks has rolled out more pastries, hot sandwiches and bistro boxes to tempt those waiting in line.
Sales of food contributed two percentage points to Starbucks' same-store sales in the Americas during its fourth quarter. In total, sales of food advanced by a double-digit percentage vs. the prior year. 
High levels of productivity and strong food sales suggest that Starbucks is quickly getting customers moved through the long lines, and wait times aren't deterring them from making additional purchases.
The big test on whether Starbucks' greater menu complexity, where there are more steps to fully service an order, is inhibiting sales will arrive in mid-2015 when prior-year food and beverage introductions are reflected in financial statements. Starbucks completed the rollout of its La Boulange food brand in all company-operated and licensed stores in the United States in late August.
To help speed up lines, Starbucks launched its new mobile order and pay option in Portland, Ore., on Dec 3, and it expects to introduce the feature nationally beginning next year. The feature will allow customers to place orders in advance of their visit and pick them up at their chosen Starbucks store. 
But the methodical rollout of mobile ordering, as well as work spaces behind the register that aren't as efficient as the speedy Chipotle (CMG) - Get Chipotle Mexican Grill, Inc. Reportassembly line method, leaves the coffee retailer continuing to be exposed to slow-moving lines into early next year.
"We continue to invest in the ability to move lines more quickly, put more volumes through our stores, [and] digital with mobile-order pay is just one example of what's yet to come," said Starbucks Chief Operating Officer Troy Alstead during the fourth-quarter earnings call.
Any hiccup in the momentum in selling food and more drinks such as tea and beer to consumers will be dealt with harshly by investors who have valued Starbucks highly for years of robust growth. Shares of Starbucks trade at 22 times forward earnings, compared with 21.7 for Dunkin Brands (DNKN) - Get Dunkin' Brands Group, Inc. Report and 17.3 times for McDonald's (MCD) - Get McDonald's Corporation Report .
Must Read:How Clorox's New CEO Hopes to Wipe Away Competitors in 2015

Can Starbucks Re-Caffeinate Its U.S. Store Traffic?
Schultz once again referenced sluggish store traffic during the fourth-quarter earnings call and plainly conceded that the company "did not anticipate seeing it [turn down] in the fall."
He also said that there is a traffic shift occurring, one being driven by a cultural change in consumer behavior.
Schultz referred to the change as "seismic" this year, and its impact surfaced in Starbucks' U.S. same-store sales in its recently ended fiscal year.
For the year ended Sept. 28, same-store sales growth in the Americas segment increased 6%, marking the second consecutive annual slowdown in growth. The number of transactions for the Americas business rose 2% during the year, cooling from 5% and 6% gains in the prior two fiscal years.
To address the traffic changes, Starbucks' new mobile-ordering platform will have to prove effective at sparking transactions by consumers wherever they are. The rewards-based system of the Starbucks loyalty program, with free food and drinks given to enrollees after a certain number of purchases, should aid the company's mission to shift traffic back to its stores.
But the methodical implementation of the new mobile-ordering platform and inevitable hiccups may perpetuate slowing traffic in the first half next year. Indeed, that ratchets up the risk of Starbucks not delivering ahead of its guidance.
For fiscal 2015, Starbucks expects revenue growth of 16% to 18%, and non-generally accepted accounting principles earnings per share of $3.08 to $3.13.
Per Yahoo Finance estimates, Wall Street is looking for Starbucks to notch revenue growth of 15.5% and earnings per share of $3.13.
Must Read:Inside Nike's Sports Research Lab
This article is commentary by an independent contributor. At the time of publication, the author held no positions in the stocks mentioned.