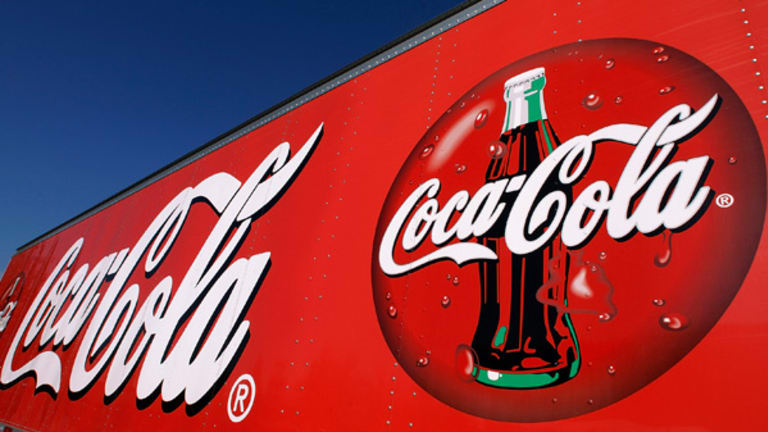 Coca-Cola Is Still Sweet Ahead of Earnings
With or without Stevia, Coca-Cola is a good sweetener for any portfolio.
NEW YORK (TheStreet) -- It's been a while since I've been able to say that shares of Coca-Cola (KO) - Get Coca-Cola Company Report "look cheap." Today's not that day.
And I expect that I'll continue to wait a little while longer before the word "cheap" to describe Coca-Cola can be repeated.
The fact is, very rarely do companies like Coca-Cola and rival
Pepsico
(PEP) - Get PepsiCo, Inc. Report
trade at less than fair market value. That's not to say that Coca-Cola is not a great buy today. But with second-quarter earnings on tap for Tuesday, July 16, value-oriented investors have to understand what they are paying for.
In the April quarter, for example, although Coca-Cola overcame some challenges, there were also plenty of noticeable room for improvement. Although the company did an excellent job growing volumes worldwide by 4%, which beat expectations, revenue still fell 1% year over year to $11.04 billion. There were noticeable pressures in the company's prices and product mix.
Read: Citi's Lights Are Bright Ahead of Earnings
For that matter, much of the company's growth came from Coca-Cola's portfolio of sparkling (carbonated) beverages, which grew 3% year over year. The growth was led by 6% increase in Fanta, while both Sprite and Coke added 5% and 3%, respectively. I won't says that these were good results. But they also produced roughly two-thirds of the company's worldwide volume growth.
By contrast, the volume in the still beverage category (noncarbonated drinks) increased by 6%. And management made every single drop count as margins arrived much better than expected. On an adjusted basis, there was roughly an 80 basis-point improvement in gross margin, which was enough to beat Street estimates by almost 60 basis points.
What's more, despite a slight uptick in operating expenses, Coca-Cola was able to post net income of $1.75 billion. After adjusting for one-time items, earnings per share was 46 cents, enough to beat estimates by 1 cent. Remarkably, however, the company was able to meet its operational expectations even as areas like Europe and North America continue to underperform.
Read: Hold BB&T Ahead of Earnings
It certainly helps that the company has been able to offset its North American struggles with better volume growth in emerging markets like Africa and Latin America. But the fact that the company still beat expectations serves as a reminder of the value of Coca-Cola's dominant brand. Accordingly, the word "underperform" in reference to this company should always be kept in the proper context.
The point is, as with other dominant brands like
McDonald's
(MCD) - Get McDonald's Corporation (MCD) Report
and
Nike
(NKE) - Get NIKE, Inc. (NKE) Report
, Coca-Cola has shown an uncanny ability to "struggle" and still grow market share at the same time. And there's clearly a direct relation to the Street's willingness to pay a premium for this sort of quality or "safety."
Today, due to recent obesity concerns regarding sugary beverages and increasing regulatory pressure, Coca-Cola faces a new kind of challenge -- one that has affected soda consumption over the past decade. The company is not taking this lying down, however. By announcing Coca-Cola Life, management is showing that it is serious about changing Coca-Cola's nutritional profile.
Coca-Cola Life is a new drink that the company hopes will be embraced by consumers as it will be sweetened using a blend of sugar and Stevia, a plant-based sweetener that has no calories. Although the company has used Stevia in other products, this is the first time Stevia will be added to a dominant Coke drink.
Read: Financial Lessons From the Aging About Catching Up
It remains to be seen, though, how the public embraces this new version of Coke. But regardless of any headwinds this company has faced over the years, the long-term prospects have never really changed. More than anything, this is what I meant in my introduction by suggesting that Coca-Cola's stock has never gotten cheap.
Over the past five years, the stock has had an average price-to-earnings ratio of almost 18. Not only is this higher than Pepsico, it's also twice as high as the P/E ratio of
Dr. Pepper Snapple
(DPS)
, which has posted an average P/E of 9 during that same span. Value-oriented investors should expect this trend to continue. And with or without Stevia, Coca-Cola is still sweet at this price.
Shares of Coca-Cola were trading at $41.06 Monday morning.
At the time of publication, the author held no positions in any of the stocks mentioned
.
Follow @saintssense
This article is commentary by an independent contributor, separate from TheStreet's regular news coverage.
Richard Saintvilus is a private investor with an information technology and engineering background and the founder and producer of the investor Web site
. He has been investing and trading for over 15 years. He employs conservative strategies in assessing equities and appraising value while minimizing downside risk. His decisions are based in part on management, growth prospects, return on equity and price-to-earnings as well as macroeconomic factors. He is an investor who seeks opportunities whether on the long or short side and believes in changing positions as information changes.