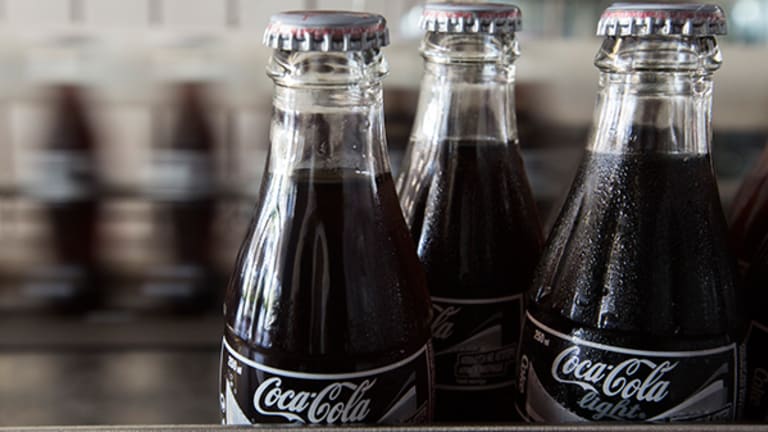 Coca-Cola Gives Warren Buffett Something to Smile About
Shares of the beverage giant hit an all-time high on Monday, something that hadn't happened since way back in 1998.
Coca-Cola (KO) - Get Coca-Cola Company Report  has eclipsed a record that should put a smile on the face of one of its biggest, most prominent shareholders, Warren Buffett.
On Monday, shares of the soft drink giant achieved a record high of $45.35, according to Bloomberg data. Coke's previous all-time high of $44.44 was hit way back in July 1998.
So far this year, Coca-Cola's stock has gained about 5.5%, outperforming the 1.1% drop for the Dow Jones Industrial Average. Over the past year, Coke's stock has tacked on a cool 12.5% versus the Dow's 4.2% decline.
While some on Wall Street may view the rise in Coca-Cola's stock as a function of investors seeking safe-haven investments in a volatile market, there are likely several other more important reasons driving the ascent. That is despite pressured sales of sugary soda, Coca-Cola is being run more efficiently and is seeing pockets of growth outside of its core soda business.
Coca-Cola has been cutting costs through job reductions and unloading some of its bottling operations and factories. In late February, the company said it would refranchise all of its North American bottling operations by the end of 2017, three years ahead of plan, while also refranchising its operations in China. Refranchising will allow Coca-Cola to significantly reduce its capital expenditures and in turn, boost profit margins and return on investment.
In total, Coca-Cola is targeting about $3 billion in annual savings by 2019.
Meantime, Coca-Cola saw volume increases around the world in several of its top carbonated beverage brands in the fourth quarter, including 1% growth in trademark Coke, 3% in Sprite and 7% for Coke Zero. For non-carbonated beverages, Coke delivered volume gains of 8% in water (Dasani, Smartwater) and 6% in ready-to-drink tea (Honest Tea).
Despite growth slowdowns around the globe, Coke anticipates delivering faster rates of sales and profit gains in 2016 compared to 2015, aided by factors such as demand for smaller cans of soda, cost cuts and stepped-up marketing. Coke is projecting organic revenue, which excludes the impact of acquisitions and currency fluctuations, to rise 4% to 5% in 2016. In 2015, organic revenue increased 4%.
Profits, excluding one-time items and currency fluctuations, are expected to rise 6% to 8% in 2016, says Coke. For 2015, the measure increased by 6%.
Warren Buffett is likely quite pleased by a more efficient and focused Coca-Cola, which seems to be whetting the appetite of investors. In its latest annual report, Berkshire Hathaway increased its stake in Coca-Cola last year to 9.3% from 9.2%.