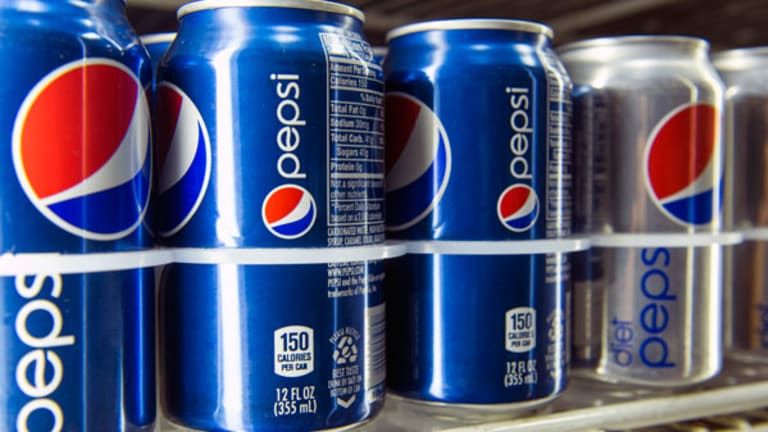 Profit on Call Options: Coca-Cola, ExxonMobil, Home Depot, Pepsi
These Dividend Aristocrats are ideal for gains from writing covered call options.
NEW YORK (TheStreet) -- For several reasons, current market conditions are ideal for writing covered call options on "Dividend Aristocrat" stocks such as Coca-Cola (KO) - Get Coca-Cola Company (The) Report, ExxonMobil (XOM) - Get Exxon Mobil Corporation Report, Home Depot (HD) - Get Home Depot Inc. (The) Report and PepsiCo (PEP) - Get PepsiCo Inc. Report.
Dividend Aristocrats are those publicly traded companies that have increased the dividend annually for at least the past 25 years. Stock owners write covered call options when they sell options to buy the shares within a set period of time. For the owners of the shares, there are three ways to make money from writing covered call options: the actual selling of the option, the capital gains from selling the stock if the option is exercised and continuing to collect the dividend income during the period of the option.
Coca-Cola, ExxonMobil, Home Depot and PepsiCo have all done well in the current bull market.
Over the last year of trading, Coca-Cola is up nearly 8%, very close to its 52-week high. ExxonMobil has surged nearly 16%. It, too, is close to its year high. Over that time period, Home Depot has jumped almost 10%. PepsiCo has risen more than 12%.  
What makes each ideal for writing covered call options is that lower growth is projected. For Home Depot, earnings per share growth is expected to drop by around one-third over the next five years. For Coca-Cola, earnings per share over the next five years is estimated to be lower than the last half-decade. There is an expected decline in earnings of about one-third for PepsiCo. Earnings for ExxonMobil are expected to continue to fall next year. With bearish outlooks like that, selling covered call options is a good way to generate income from stocks whose EPS growth is not predicted to rise. (All data is from Finviz.) 
In addition to the negative outlook keeping the share price from increasing, these are not volatile stocks. Shareholders do not have to worry that wild swings in the share price will lead to an exercise of the call option. The beta for the stock market as a whole is 1. For PepsiCo, the beta is 0.39. Coca-Cola has a beta of 0.48. The beta for ExxonMobil is 0.82. Home Depot has a beta of 1.05.
| | | | |
| --- | --- | --- | --- |
| Company | 52-Week Rise | Beta | Dividend Yield |
| Coca-Cola | 7.93% | 0.48 | 2.89% |
| ExxonMobil | 15.54% | 0.82 | 2.73% |
| Home Depot | 9.58% | 1.05 | 2.32% |
| PepsiCo | 12.33% | 0.39 | 2.95% |
Source: Finviz
The owner of the stock, and not the option buyer, collects the dividend income. That is even more rewarding for Dividend Aristocrat stocks that have a history of increasing the amount of the dividend.
During the period of the option, the owner of the shares is not denied dividend income that has historically increased. The dividend yields for Coca-Cola, ExxonMobil, Home Depot and PepsiCo, as shown by the chart above, are all well above the average of around 1.8% for a member of the Standard & Poor's 500 Index (SPY) - Get S&P 500 ETF TRUST ETF Report.
According to Joe Louro, an options expert who is head of Investview, a financial education and investor technology firm, the great majority of options go unexercised. That means that writing covered call options is a low-risk activity, as shareholders profit from selling the option and collecting the dividend. Based on analyst projections, declining growth is ahead for Coca-Cola, ExxonMobil and Home Depot. That should reduce even more the risk in writing covered call options.
Why Coca-Cola Stock Is a Buy at TheStreet
How to Recession-Proof Your Portfolio With These 5 Dividend Aristocrats
At the time of publication, the author held no positions in any of the stocks mentioned.
This article represents the opinion of a contributor and not necessarily that of TheStreet or its editorial staff.