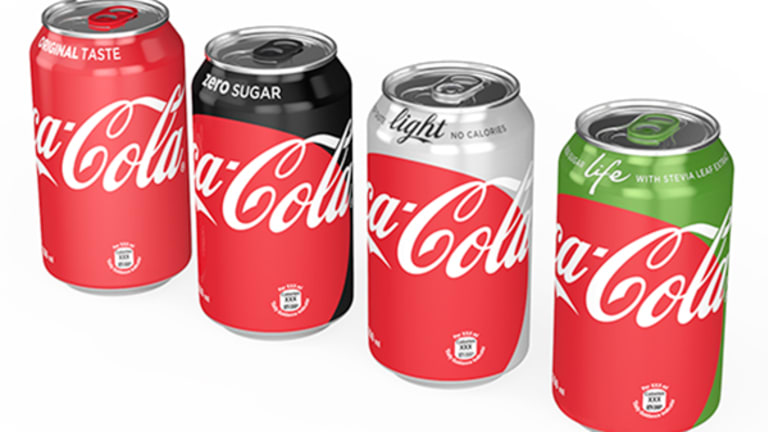 Coca-Cola Changed Its Iconic Cans and People Are Drinking It Up
Coca-Cola's new cans seem to have spurred more sales of soda in certain overseas markets.
Coca-Cola's new cans seem to have spurred more sales of soda in certain overseas markets.
People overseas seem to like the new look of Coke, so much so they are buying more soda. 
At least that is the early read from Coca-Cola (KO) - Get Report  Chief Operating Officer James Quincey. "The new packaging drove extra sales of light and zero-calorie soda," said Quincey during a presentation to investors at Deutsche Bank Thursday, referring to consumer response to new can designs that recently launched in Spain, Mexico and northern Europe. 
The beverage giant unveiled its "one brand'' graphic for its iconic soda bottles and cans in late April. In the new design a large red circle takes up most of the landscape, with the tops of the labels identifying whether the product is Coke Zero, Diet Coke or Coke Life. Historically, silver has been the main packaging color for Diet Coke. Coca-Cola Zero has carried black packaging while Coca-Cola Life, a mid-calorie soda, has been wrapped in green.
The new packaging will roll out to other markets in 2016 and 2017. One of those markets may be the United States.
"This [new packaging] is part of a strategy. We will learn and evolve from the implementations. We will be bringing it to the U.S," Quincey told TheStreet in an April interview.
Quincey added, "What's important here is not just the look of the packages, but how we connect the strategy to set trademark Coca-Cola up for growth over the long-term by allowing consumers to enter the franchise and then be able to move between the variances of Coca-Cola more easily."
A Coca-Cola spokesman, however, denied Americans would soon see a new look for Coke. "Coca-Cola North America is exploring a variety of 'One Brand' packaging graphics for the Coca-Cola Trademark," said the spokesman, adding, "Due to an already packed promotion and marketing calendar, there will not be any changes made in 2016 -- the results of testing in North America will inform their packaging considerations for the Coca-Cola Trademark in 2017 and beyond."
Coke's bread-and-butter cola business could use the lift from any buzz surrounding the new packaging, especially as soda tax wars rage on in the United States.
First-quarter sales of trademark Coca-Cola declined in every country except for the Asia Pacific region, where sales rose 3%. In the U.S., sales of diet Coke declined.