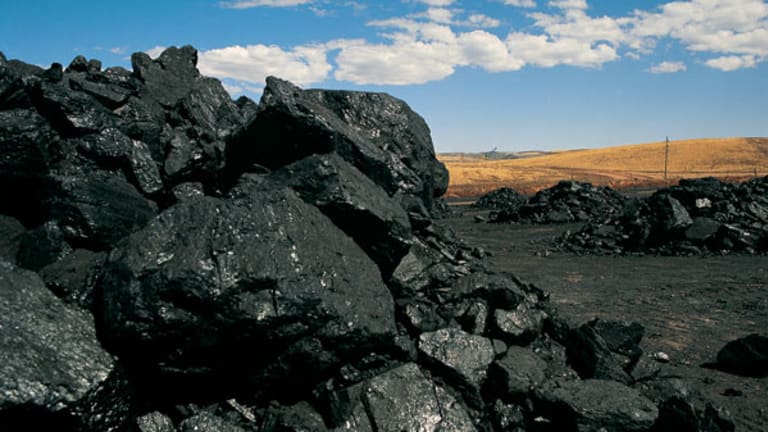 Coal Stocks: A Year in Review
Coal is a hazardous business and risky investment.
NEW YORK (TheStreet) -- To say 2013 was a dark year for coal companies would be a gross understatement. The entire industry was off 18% on the year; disappointing, but hardly representative of the bloodbath that occurred when looking at individual performances.
The industry's 2013 performance, highlighted by a 42% stock price decline from Arch Coal (ACI) - Get Albertsons Companies, Inc. Class A Report, marked a 7% improvement from three years ago when the group shed more than 24%. While this high-risk commodity business surprised no one with its struggles, I don't believe anyone anticipated that the 29% decline in Peabody Energy (BTU) - Get Peabody Energy Corporation Report stock would have been considered a "relative outperformance."
Notice how coal aficionados hold their convictions. Despite negative momentum within the industry, many investors, including those in Liberty Coal (LYRTF) and Colombia Energy (CERX) , stubbornly rode their investments down to 100% declines, insisting that "the Street had gotten it wrong."
While trying to "time the bottom," some investors learned the brutal lesson that things can always get worse.
Unlike the underlying operational struggles that have hurt its peers, I believe Alpha Natural Resources (ANR) has the management in place to capitalize if/when coal gets out of this funk. And this includes having posted gains of more than 50% since August. But I'm not going to make the same mistake and assume that Alpha Natural is immune to the industry's woes. This company still has issued related to debt that it must overcome.
That said, as with anything else, I believe the timing is right, given the fact that not only does domestic thermal coal inventories continue to trend down, but there are also decent (I won't say great) advances in metallurgical coal. Not to mention, Alpha Natural will enter 2014 trading at or near its all-time lows.
Obviously, I can be wrong here. Lacking a crystal ball, there is no way to know where the market will go in 2014. But here we have modest evidence of a coal recovery, coupled with a depressed stock that just posted sequential improvement in revenue. If that is not the recipe for a good bet, I don't know what is.
Along those same lines, I have to believe that both Peabody Energy and Arch Coal will see some modest gains next year given that they are the two leaders in terms of U.S. coal production. They should enjoy the benefits of government contracts that likely eluded them this year.
While I'm not as infatuated with Peabody and Arch as I am with Alpha Natural, I don't envision any recovery that does not immediately benefit either company. Arch Coal has come under criticism for recent performances, but I was nonetheless pleased with management's improved profitability, even if the result was a $2 million loss. Relative to the prior quarter's loss of $60 million, I don't think it's fair to complain.
Finally, I would be remiss without having mentioned CONSOL Energy (CNX) - Get CNX Resources Corporation Report, which has posted 17% year-to-date gains. With the company's ambitions of entering natural gas, management seems discontent with CONSOL's already-established elite status.
The company has already closed a $3.5 billion deal to offload its West Virginia coal mines. And CONSOL has begun to work with Dominion Resources (D) - Get Dominion Energy Inc Report and Noble Energy (NBL) - Get Noble Energy, Inc. Report to acquire drilling rights to natural gas fields. Management is not wasting any time to escape a coal industry that has left behind so much carnage. Who can blame them? The only question is: How quickly they can execute to realize the sort of value they envision returning to shareholders?
Coal has never been as sexy as, say, technology or banking. But I believe what has occurred in this industry the past couple of years is on par with the tech bubble and credit crisis. Unlike those sectors, coal has been depressed for the better part of a half decade. Will there ever be a recovery?
Coal mining has always been considered a hazardous business. But investing in it has proven equally dangerous. As with CONSOL, there will be some winners in 2014. I believe Alpha Natural, Arch Coal and Peabody will be relative outperformers. But wear protective gear and a hard hat before you buy.
At the time of publication, the author held no position in any of the stocks mentioned.
Follow @saintssense
This article was written by an independent contributor, separate from TheStreet's regular news coverage.