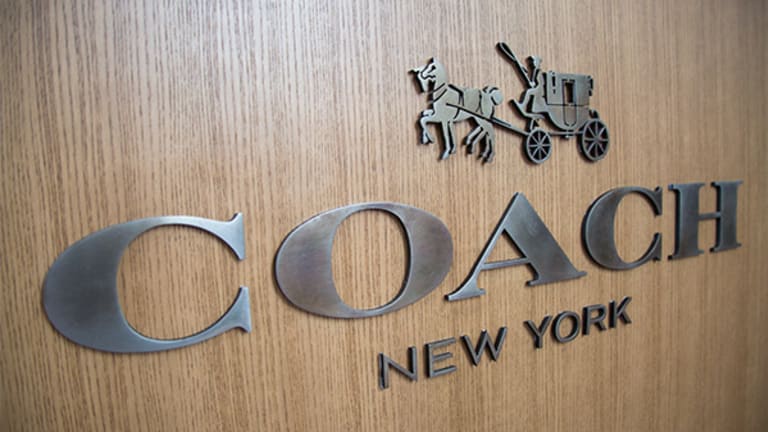 Coach Stock Is Unfashionable and May Not Recover
The stock may rise again but do you want to hang on?
Coach (COH)  investors have had a rough ride. The stock was clobbered after the fourth-quarter report. Coach reports fiscal first-quarter earnings Tuesday. Can Coach ride again? Not right now.
Coach shares were riding a wave of optimism. In early August, the stock hit $43. But after the fourth-quarter earnings report on Aug. 8, the shares began to fall back. Since the report, the stock is down almost 20%. Coach investors are cautious.
On the surface, the fourth quarter looked good. Coach beat the consensus estimate by 4 cents to report earnings of 45 cents a share. Revenue rose 15% to $1.16 billion, just a hair under the consensus estimate of $1.17 billion. Total fourth-quarter North American sales increased 9% to $606 million, which included $44 million associated with an extra week in quarter. Same store sales increased 2% on a 13-week basis.
International sales rose 15% to $450 million. Greater China sales were up 5%. Japanese sales rose 7% in constant currency, but declined 5% due to the strong Yen.
The company plans to close over 250 under performing locations in North America. Inventory ended the year down 5%. But after the company filed its 10-Q, we found out those results were driven by aggressive markdowns and increased promotional activity.
Management said it expects fiscal 2017 revenue to increase in the low-to-mid single digits, including a benefit from foreign currency of 100 to 150 basis points. The company expects an operating margin between 18.5% and 19%. Guidance includes the negative impact of the acquisition of Stuart Weitzman and the closure of 25% of the company's stores and any markdowns related to the restructuring.
Analysts are expecting a North America same-store comp of 2% in Coach's first quarter versus -10% in the same period last year. Total sales are expected to be $1.06 billion. With a gross margin of 67.4%, earnings would be 45 cents a share. For the year, analysts are looking for revenue to increase 3% to $4.6 billion. Analysts forecast 2017 earnings of $2.21 and $2.51 the year after.
For the stock to recover, Coach needs to show a positive North American comp on a decent gross margin. Management has to prove it can growth sales without aggressive markdowns. Analysts are looking for the company to end the year with gross margins over 68%. In order to do that, Coach needs to finish the first quarter with a margin close to 69% and an operating margin of 16.9% or better.
Historically, Coach shares trades between 18 and 20 times earnings. Right now, investors have little confidence in the first quarter, so the stock is stuck below its historical range.
While the stock can probably trade back up to the low $40s, I have very little conviction. I would stay on the sidelines and wait to see if the company can put together a decent quarter with strong comps and less discounting.
Eventually, Coach will ride again, but I'm not on board yet.
This article is commentary by an independent contributor. At the time of publication, the author held no positions in the stocks mentioned.