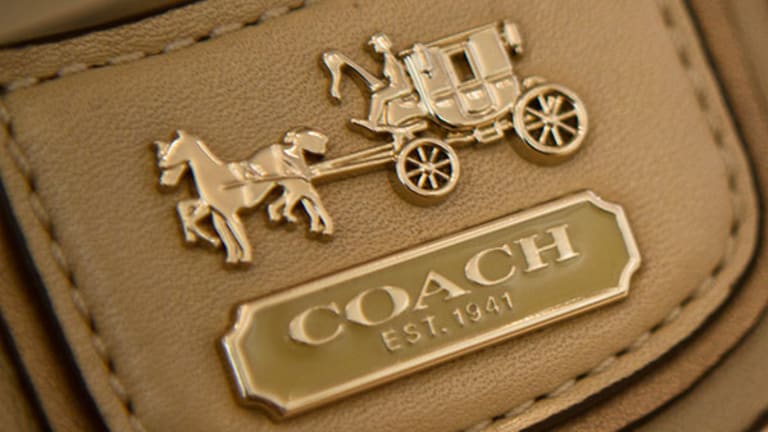 Coach: Is It Really That Bad?
Coach shares are under pressure following poor U.S. sales trends, but are investors too pessimistic?
NEW YORK (TheStreet) -- One company getting no love today is Coach (COH) with shares in the handbags and other fashion items retailer falling back towards their 52 week low following the announcement that their third fiscal quarter saw a near 25% drop in operating income profitability from a year ago. If that was not bad enough comparable sales in the U.S. fell more than 20% and the company said recent sales trends had not shown any real improvements.
Sometimes the darkest hour is before the dawn especially with financial commentators falling over themselves to say how bad Coach things are compared to a peer like Michael Kors (KORS) .
Look again at the numbers though. Whilst their business in North America 'remained challenging' and hit by both the weather and the shift of the Easter holiday, other regions were performing much better with both Asia and Europe being described as 'robust' and in China specifically total sales grew by more than 25% and comparable store sales rose by more than a double-digit rate. Sales outside the U.S. accounted for just less than 40% of total company sales during Coach's third quarter. That is becoming more and more influential and, given the structural growth of the Asian consumer, has a strong likelihood of continuing.

WATCH: More market update videos on TheStreet TV | More videos from Debra Borchardt
For a full recovery though, sales in Coach's home market need to start to bounce back a little. Just under a year ago the company appointed a new executive creative director whose inaugural collection will be launched later this year. New collection launch, new opportunity.
Read: Twitter Plunges Despite Earnings Beat
And then there is the ungeared balance sheet, continuing repurchasing of the company's shares by the management and the dividend which is equivalent to just more than a 3% yield. In combination this represents a strong positive shareholder focus.
An analyst day June 4 means there are a number of opportunities for the bigger institutional investors to reappraise Coach positively over the next few months. Given the low levels of sentiment towards the company currently it is not going to take much of a positive reappraisal to move the shares up off their depressed level.
At the time of publication the author held COH.
This article represents the opinion of a contributor and not necessarily that of TheStreet or its editorial staff.