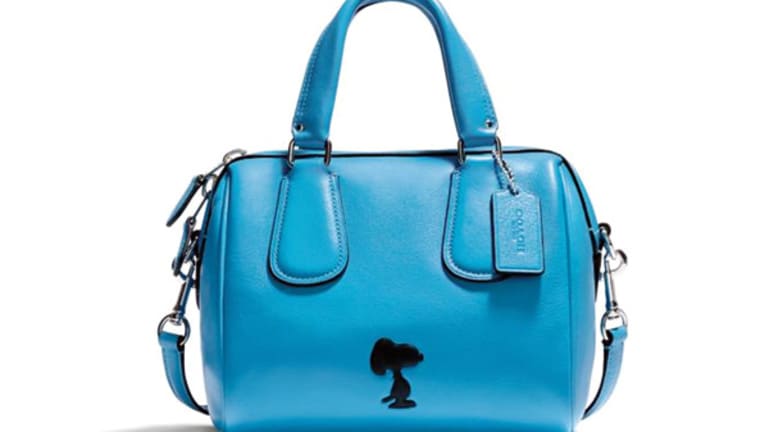 Updated from May 1.
Something sexy is happening at iconic handbag and accessories maker Coach (COH) .
After enduring several years of plunging sales as women in the U.S. shunned bags with the Coach logo emblazoned on them and headed off to upstart accessories purveyors such as Michael Kors (KORS) , the 75-year-old Coach brand is finally starting to turn the corner. The reason for the rebirth could easily be detected in any Coach retail store -- ill-conceived logo bags that once overran shelves have been replaced by more fashionable designs that emphasize Coach's rich leather-making heritage. And Coach has taken the more fashion-forward look of its bags, a vibe steeped in its New York City roots, to the pages of key fashion magazines and online in an effort to reverse a stigma among women that it's simply not a cool brand.
"If you went to one of our retail stores today, you would have a hard time finding a logo bag," said Coach CEO Victor Luis in an interview with TheStreet. Luis, who took over as Coach's CEO in 2014 after leading the brand's successful expansion in Asia, added, "Where we are seeing the most positive response, and one we are most excited about, is the most fashion-engaged consumers are an increasing number of our customer base -- and they are the opinion leaders."       
Coach reported fiscal third-quarter earnings, excluding one-time items, of 44 cents a share compared to 36 cents a year earlier. Wall Street expected 41 cents a share. Net sales tallied $1.03 billion, up 11% year over year, and higher than the $1.02 billion consensus. The company maintained its fiscal year revenue guidance for growth of a low-single digit percentage, excluding the impact of the strong U.S. dollar. Operating profit margins are still seen in the mid- to high-teens percentage range.
Same-store sales at Coach's more than 250 North American retail stores were unchanged from the prior year, representing the fourth consecutive sequential quarter of improvement. Store traffic continued to be soft as customers shifted purchases online, but when customers visited Coach's stores, they spent more than they did a year earlier. 
The quarter benefited from the launch of Coach's new 1941 collection earlier in the year that commemorates the company's 75th anniversary and a new limited-time Snoopy collection. The company marketed the more fashionable 1941 "Heritage" product line -- which is priced higher than most Coach offerings -- aggressively on social media and in print publications.
Executives said on a call with analysts that same-store sales in February and March increased, and reiterated they anticipate same-store sales in North America for the fourth quarter to rise. The company teased a new upcoming design collaboration with a well-known American brand along the lines of Snoopy, but declined to share more specifics.
Meantime, according to a May 2 note by Keybanc analyst Edward Yruma, Coach will launch $150 straps for the Apple Watch in its retail stores on June 1. "Coach is undergoing an impressive brand and design driven recovery," said Yruma.
William Blair analyst Amy Noblin said in an April 7 note: "More recently, store checks suggest strong reception to the newer Swagger, Mercer and Saddle handbags, the latter of which is part of the company's 75th-anniversary collections that will be rolling out through the rest of the year."
Noblin, who rates Coach shares at outperform, added, "We believe these newer designs have been well-received, with a greater number of respondents in our most recent survey indicating fashion and design attributes as a driving concern when making a Coach purchase."
TheStreet talked with Luis about Coach's turnaround and what's in store for the rest of the year. What follows is an edited and condensed version of our discussion.
Coach bags have gotten their sexy back.
TheStreet: What is the identity of the Coach brand today? Most of the women in our office still think you just make bags with the Coach logo on them.
Luis: I think that relates to the fact that we are still very much in the midst of our transformation. Coach was, and has been, America's leading accessories and leather handbag brand. But our transformation that we refer to as modern luxury is really about transforming the brand much more into a lifestyle brand that has fashion credibility and that is very much grounded in the history, heritage and quality of Coach being America's original house of leather. I like to look at this positioning as a two-headed coin. On the one side is a brand that is rooted in history, heritage and quality but on the other hand there is a brand that plays with credibility in the current fashion scene. This is such a unique positioning for any American brand. There isn't a 75-year-old leather brand in the U.S. today that is also a credible fashion resource.
So we are in year three of our transformation. There are still certain consumers that have the image we just make logo bags. But if you went to one of our retail stores today, you would have a hard time finding a logo bag. There is of course a lag in changing consumer perception. Where we are seeing the most positive response, and one we are most excited about, is the most fashion engaged consumers are an increasing number of our customer base. So that has been very important to see because these are consumers who represent 20% of the premium handbag and accessories market, and 60% of the overall spending in that market, and they are the opinion leaders. They influence others. They spend a minimum of $200 per year on handbags and accessories.
We are also seeing new consumers come into our brand. The younger consumers are coming into Coach through our outerwear and footwear because it's much easier to do so where the perception that we just do logo bags may still be in existence.
TheStreet: So it sounds as if Coach is being reborn?
Luis: I think that's what our strategy is about. Of course bringing in new, younger consumers who don't know us is important. But also bringing in lapsed consumers who think of Coach in one way and maybe we lost them due to logo bags. I can tell you that Coach's creative director Stuart Vevers in his very first meeting with our operating group, where we were doing a very corporate thing in discussing our objectives for the year ahead, when it was his turn to speak he simply said his objective for every year is to make Coach cool again.
TheStreet: Are your surprised it has taken three years to start gaining traction with this transformation?
Luis: No. If you were to ask anyone in the trade, especially the luxury retail brands that have the size that we do, I think people would say it's taking a shorter period of time than they expected. When we came out with our turnaround plan in June 2014 most people did not believe that we could achieve it. I think what we are seeing now in the reaction with the investment community, the analyst community, and media is a lot of positive response to the results, the product and the stores. The plan is basically unfolding exactly as we laid out. That, of course, for me has been a tremendous source of great pride.
Coach is also remodeling its retail stores to reflect its new look.
TheStreet: The mall is crowded with handbag and accessories brands. What is Coach doing differently in this competitive environment?
Luis: I think there are two main themes. First and foremost we have a unique positioning. There is not another brand that can claim this wonderful combination of quality, history and heritage. We were born as a manufacturer. We weren't born as a concept that then went out and found sources. We know how to make handbags, it's in our DNA. Here in New York City, we easily have the largest sample-making facility with craftsman that have been there 30, 40 years -- nobody comes close to us in the U.S. in doing this at the scale and quality that we do. With Stuart Vevers' new products, we are now gaining credibility as a fashion resource.
The second thing is that frankly, we are sticking to our guns and being consistent -- we have a vision, a plan and we are executing. Whether that is with our stores with a new concept that we will have in over 400 locations soon, or the product, we are sticking with the image of Coach being a house of quality leather. And then finally on the marketing, we have been very consistent with our imagery.
Those three things lead to consumers, I think, beginning to see Coach as a cool brand.
TheStreet: On your recent earnings call it sounded as if you are taking a harder line with department stores that love to discount your products?
Luis: I believe you can correctly read it that way. It's not about a harder line per se towards their strategies, but it's certainly a hard line on what we want to be in the department store channel. Look, department stores are 5% of our total business. So for us, it's not the most difficult decision for us as a retailer to say hey look, guys, we don't want to be on promotion every day. We don't think we should be in these locations in the store so let's partner together to create a vision for the Coach brand in your stores that we can live with and that you could support and feel good about.
That has been very much the discussions we have been having.
TheStreet: How worrying are the wave of department store closures to Coach?
Luis: It may be a good thing for the overall industry. I think the department stores themselves need to obviously work with their resources and brands to find ways to remain relevant. The answer to our success is not which channel, but the brand. If we make the Coach brand relevant in the mind of the consumer we will have success whether it's in our own stores, online or the department stores. If there are actions taken by us, or our partners, that slows that process down or adds negative impressions then we have to also try and reduce those and potentially, yes, limit them from using the brand in that way.
TheStreet: Coach is remodeling a fair amount of its retail stores. What's different about them?
Luis: The key objective is to have the stores represent the physical manifestation of what should be the environment for this new Coach women or girl. Obviously it needs to be an environment that reflects the quality of the product. Physically it means an environment that's warmer, more elevated in terms of product presentation and lighting that highlights product quality. It's also one that allows for the new product categories that Stuart Vevers is bringing in such as outerwear and footwear. You will also see modern furnishings that reference mid-century, which Stuart has a passion for, but also reflects the contemporary lifestyle of our customer.
It's about us being different than the competitive set. When we came out with our first set of retail stores in the early 2000s they were something different in the marketplace. They were a typical white box, and we were the only true handbag and accessory store in the average American mall. But then our competition came in and they all took a version of our store, maybe adding a thing or two such as a rug or light fixture -- in essence they were copying a lot of our architecture -- and as a result we didn't look different anymore.
There wasn't much authentic about our white box other than that we started it -- in reality it didn't really reference our history or DNA as well as this new concept, while also separating us from the pack.
Spotted at Coach: a pretty cool handbag.
TheStreet: You have closed a good number of retail stores in recent years. Or more closures likely?
Luis: In terms of North America, I think we have the right footprint. We may add a store here, close a couple there, depending on what's happening with mall development. We don't see square footage growth in North America, but are of course incredibly focused on continuing to develop the Coach brand internationally. We are still opening stores in Asia, with a focus on Mainland China, and we are very aggressively looking at Europe because that for us is still a very significant opportunity where we are seeing terrific results this year. The brand is growing by very high double-digit percentage rate to $125 million in sales, and over our planning horizon of the next three years or so we see Europe as a $500 million sales opportunity.
We are also looking at new markets like India, Eastern Europe, the Middle East continues to grow, and South America.
TheStreet: Is Coach having any success selling bags to men?
Luis: We launched men's about four years ago, and it quickly generated $100 million in sales. We have relaunched it since, and it has become a $700 million business for us. We see in our planning horizon men's being a $1 billion business.
What's exciting is that initially, we focused on men's as an opportunity with the Asian consumer, where in a market like China men represent about 35% to 40% of the luxury market. In Japan, it's 25%. In the U.S., it's probably closer to 10% as well as in Europe. But we are seeing faster growth in men's across all markets than with women in the accessories category. Globally, men represent about 18% of the handbag and accessories space. For Coach, it's now about 18% of our business.
There are several trends driving the business. First, men themselves are becoming increasingly fashion aware and are looking for luxury goods not only in Asia, but also in the U.S. and Europe. Second, we have been very focused on developing offerings that are much more accessible to a more average American guy. Backpack sales trends right now are especially strong. We are also very excited about men's shoes and leather outerwear.
TheStreet: Lastly, Coach bags with the "C" logo on it now represent about 5% of your business, down a lot from back in the day. Will the Coach logo bag ever officially disappear?
Luis: No. The logo bag is not something we aren't proud of -- it's a part of our history and heritage. But it is a part of the business we are elevating. If you were to look at some of the bags Stuart Vevers is designing, we are looking at new materials for logo bags -- printed leathers and other printed materials. It will be something we continue to innovate.
Fashion often goes and comes in cycles. I am convinced there will be a period when logo will be an important part of our business, or more important than it is today. It's just that right now based on what's happening with fashion trends globally and consumer preferences, logo is less important.