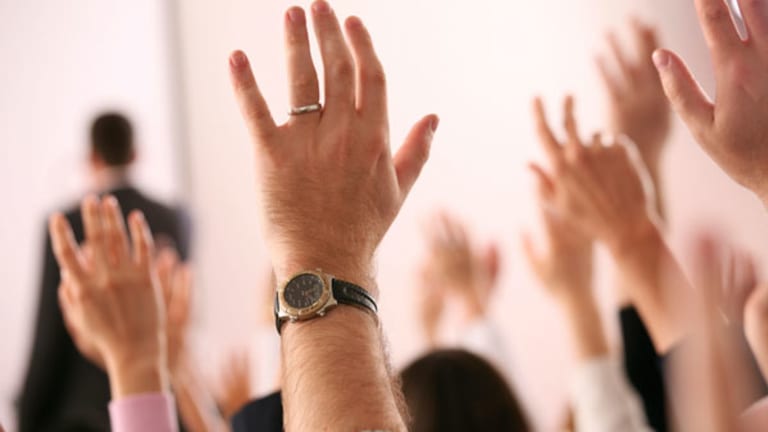 CNBC, Jim Chanos Gang Up on First Solar
First Solar declines after its earnings, and CNBC gives famed hedge fund shorter Jim Chanos a convenient platform for ensuring the solar stock's decline.
NEW YORK (
) -- Tuesday was a tough day for the investor relations effort of the solar sector -- and not just because the world's second richest man, Microsoft founder Bill Gates, was once again voicing his support for nuclear energy and saying alternative technologies like solar are a long way off from being economically efficient.
Gates' latest -- though by no means new -- comments about the energy future were part of a long-standing and logical argument from the capitalist titan. On the other hand, the manner in which
CNBC
covered the earnings report from solar sector bellwether
First Solar
(FSLR) - Get First Solar, Inc. Report
seemed to stack the deck against the solar company.
As First Solar reported its earnings after the market close Tuesday, who of all people was seated next to Maria Bartiromo on the
CNBC
set? Why it was noted First Solar shorter and hedge fund superstar Jim Chanos. Bartiromo is famous for her closing bell catchphrase, "It's four p.m. on Wall Street. Do you know where your money is?"
On Tuesday, Bartiromo seemed set to offer a special edition of the catchphrase: "It's four p.m. on Wall Street. Do you know where your First Solar shorter is? Why he's sitting right next to me, ready to slam the company, again. Is it reporting today? Huh, what a coincidence!"
Chanos was on
CNBC
less than a month ago to beat up on First Solar, notably also during
for First Solar, when a key executive Bruce Sohn announced his departure.
Of course, Chanos was ostensibly on
CNBC
on Tuesday to discuss China -- as if the world doesn't know how he feels about China by this point -- and even though the world also knows how Chanos feels about First Solar,
CNBC
seemed to go out of its way on Tuesday in providing a platform for Chanos' First Solar case for the second time this month, and didn't even have its facts straight.
Bartiromo introduced Chanos by referring to the famed shorter being "long known for his accurate predictions including the collapse of Enron" and said she was anxious to hear Chanos' "viewpoint and investment savvy."
Then as First Solar reported earnings, Bartiromo referenced Chanos' short position in First Solar. Throwing Chanos a meatball pitch right after the First Solar earnings, Bartiromo said of the First Solar results, "they were weaker than expected."
This was a curious thing to say, as the First Solar printed numbers in the first quarter
the average analyst expectation on the top and bottom line.
There were plenty of data points within the First Solar report, and in the company's commentary, that suggested conditions in solar are
they get better, and that would suggest a stock selloff post-earnings.
However, if
CNBC
is going to be consistent in its earnings coverage, a top- and bottom-line beat can't be described as "weaker than expected." Plenty of times a
CNBC
host will ask, "The company beat on both the top and bottom line but is declining after hours. Why?" Bartiromo didn't even show that level of nuance in her factually incorrect dismissal of the First Solar results, simply serving up what Chanos wanted.
Chanos restated the case that he made on
CNBC
on April 14, saying that First Solar insiders are selling, executives are leaving, and added a vague comment about "accounting issues" he had with First Solar. Why not add the vague "accounting" comment? After all, accusing a company of financial fraud without a shred of specificity is like the stock shorter's icing on the cake -- and it may help Chanos with his call that First Solar shares are headed to mid-double digit territory. The most bearish analyst on Wall Street has a target of $73, though most of the bearish analyst targets for First Solar are closer to the $100 mark which has served as a trading low for the stock over the past few years.
Is
CNBC
playing fair by having a famed shorter who has specifically targeted First Solar shares appear on air during First Solar's earnings report, and on top of that, describe a top and bottom line beat as "weaker than expected?"
A few solar investors weighed in on the issue to
TheStreet
in written comments.
"Bartiromo and Chanos did a real hatchet job on FSLR, and misstated the facts," said one reader.
Showing his anger, another commenter wrote, "CNBC should be held accountable for their blatant lies.... To have a guy come on and comment on FSLR who they know is short and then FLAT out LIE about them missing when they beat is disgusting to say the least."
That might not be "saying the least," and it's a fine line when it comes to the investment world and the press. After all, using the press to get your message out is part and parcel of the rich and powerful, from
endless appearances on
CNBC
-- when he feels like it -- to the unofficial
CNBC
on-air personalities from PIMCO, Bill Gross and Mohamed A. El-Erian -- do they even have any time away from
CNBC
to manage money?
Indeed, the case can be made that allowing a shorter to appear during one of his biggest shorts earnings is no different than allowing a Wall Street analyst who has a buy rating on a stock to come on and discuss a company that he rates a buy when it reports.
Yet there is at least one important distinction: an analyst isn't allowed to own shares in the stock he is covering, while Chanos is specifically going to profit from his First Solar trade only if and when the stock goes down.
On cue, First Solar stock went down right after the earnings call, right as Bartiromo and Chanos were speaking.
Let's be clear: there were plenty of reasons for
, which continued on Wednesday morning. That said, it seemed like at 4 p.m.,
CNBC
and Bartiromo only knew where Chanos' money was, and gave the First Solar shorter a little more help than was necessary in ringing First Solar's bell.
Indeed, the
CNBC
and Jim Chanos tag team against First Solar raises the question,
Do you think the business network played fair in presenting First Solar shorter Chanos on-air during First Solar earnings?
Take our poll below, and see what your fellow investors think....
-- Written by Eric Rosenbaum from New York.
RELATED STORIES:
>>8 Reasons Why First Solar is Getting Whacked
>>How Tin Film Plans to Beat Chinese Solar
>>First Solar: a Bad Year for Back-End Loading
>To contact the writer of this article, click here:
Eric Rosenbaum
.