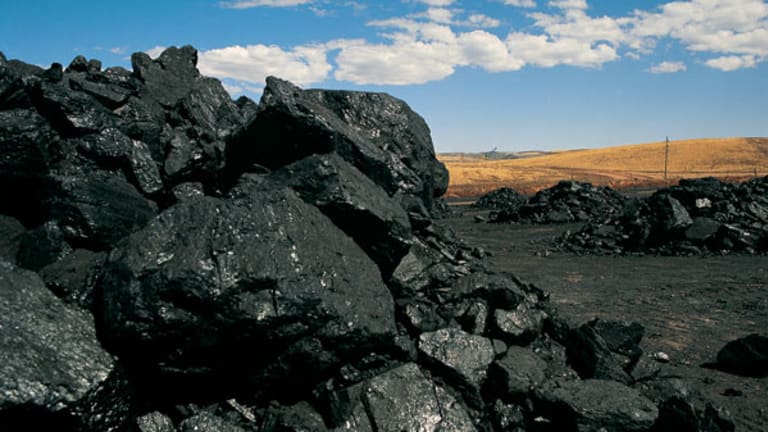 Cloud Peak Energy Is Still Stuck in a Valley
Although there are signs the coal industry has seen the worst, it's hard to recommend Cloud Peak Energy's stock.
NEW YORK (TheStreet) -- If you ever doubted the Street's pessimism towards any sustainable recovery in the coal industry, just take a look at shares of Cloud Peak Energy (CLD) - Get Cloud Peak Energy Inc. Report. Not only are they down 16% on the year, but last week the stock fell below $16.03, which is the company's last reported book value.
Without getting too technical, what this means is that if Cloud Peak, which is the fourth-largest U.S. coal producer, went out of business today and liquidated its assets, shareholders would be left with pieces of the company that are not currently "carrying their weight" on the balance sheet. Clearly, the Street has no confidence in this business.
While these shares suddenly appear more attractive when compared to other downtrodden commodity names like Arch Coal (ACI) - Get Albertsons Cos. Inc. Report and Consol Energy (CNX) - Get CNX Resources Corporation Report, unlike the 50% jumpAlpha Natural Resources (ANR) has enjoyed the past couple of months, Cloud Peak stock has yet to bottom.
[Read: Tesla vs. BMW i3 Electric: First Comparison Test]
The question is how much of the Street's lack of confidence is based on the overall future of coal versus Cloud Peak's underlying weaknesses in operations. And I worry that absent meaningful signs of improvement in execution by management, cheap or not, Cloud Peak investors placing a bet here may be stuck in this valley for the foreseeable future.
All of that said, current investors can certainly hang their hats on the fact that the stock has only lost 17% since January 2012. On a relative basis, I consider this a "win" compared to Alpha Natural Resources' 65% decline during that same span.
However, given the fact that investments are about the future and not the past, this is where the comparisons to Alpha Natural Resources should end -- at least, for the next couple of quarters.
While I'm slightly more bullish than most on Alpha Natural's prospects, I'm not going to tell you that the company is better than Cloud Peak. Cloud Peak did reveal some positive signs in its third-quarter earnings report, including posting a 2-cent beat in earnings-per-share estimates. Nonetheless, I was disappointed the company's wasn't able to capitalize from the recent recovery in natural gas prices. This is while posting revenue of $375 million, which missed Street estimates by $10 million.

Given the brutal state of the coal industry, I don't believe Cloud Peak's numbers are that shocking. After all, as noted, the Street is valuing this company on the assumption that it will post little to no growth at all. But what did shock me, however, was the near-60% decline in year-over-year earnings-per-share.
This circles us back to my question above and trying assess whether the Street has completely given up on this industry or if it's an issue with Cloud Peak's management. This was the same question raised following the company's June quarter, during which Cloud Peak agreed to sell roughly four million tons of 2013 coal production for less than $10 a ton.
While I was more than willing to (then) give management the benefit of the doubt for this decision, it was nonetheless questionable since the cost per ton during the June quarter was more than $10. What that meant was management was (then) willing to sell coal below cost, which essentially guaranteed an adverse impact on margins and profitability.
[Read: 10 Best Craft Beers for Thanksgiving]
With product margins and average cost of coal per ton sold falling 21% and 10%, respectively, this quarter, that decision came home to roost. This was yet another example of how management missed out on a narrower-than-expected loss this quarter by placing the wrong bet back in June.
The good news is that, based on the company's guidance, management did sound a bit more optimistic about the future. It's certainly encouraging management said it has already contracted to sell 42 million tons of coal in 2015 -- of which two-thirds will be for an average price of close to $14 per ton.
Unlike the June quarter, management is clearly placing an emphasis this time on profitability. The problem, though, is that any value to be gained from these sales may not be realized on the balance sheet until (at the earliest) mid-2015.
To that end, I believe the Street has pegged this story correctly. Although there are some signs the coal industry has already seen the worst, there's no way I can in good conscience recommend this stock.
At the time of publication, the author held no position in any of the stocks mentioned.
Follow @saintssense
This article was written by an independent contributor, separate from TheStreet's regular news coverage.