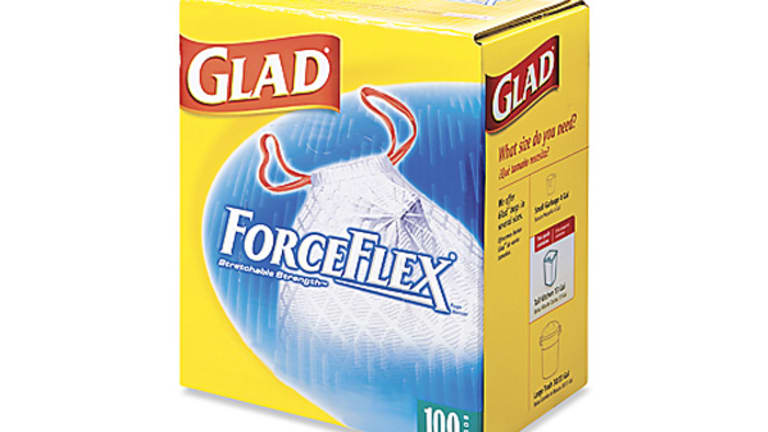 Clorox's Glad Grabs Market Share With Premium Trash Bag Gains
There is more than meets the eye to the Glad trash bag.
NEW YORK (TheStreet) -- There is more than meets the eye to the Glad trash bag.
Glad, a division of Clorox (CLX) - Get Clorox Company Report, makes a staggering 100 million bags a week, giving the brand a 32% market share of the U.S. trash bag market, according to Jon Balousek, senior vice president-general manager for the specialty division of Clorox. A Clorox spokeswoman added that premium trash bags now make up about 70% of total trash bag sales for Glad, a notable shift from less than 50% five or so years ago, which so happens to coincide with the beginning of a recovery in the stock market. 
According to data from research firm IRI, the overall U.S. trash bag category is valued at about $2.4 billion, and split into multiple areas including contractor bags, premium indoor bags with odor protection and non-puncture technology, and entry level bags. Producers are huge consumer product companies like Clorox and Reynolds Consumers Products, the maker of Hefty, as well as assorted private labels. 
According to Balousek, although "indoor category bag growth is running 0% to +2%", the contractor bag market is growing slightly faster. Contractor bags are those often used on construction sites or for yard cleaning.  
For those households opting for premium trash bags, there are two major trends driving Glad's business: stretchable strength and odor control.
"Consumers are willing to pay a premium to get stretchable strength," Balousek said. These bags are made with proprietary material that prevents punctures. As for odor control, Balousek put it best by saying that "trash stinks" and consumers are OK with plunking down a bit more for an odor-control product from Clorox. These product take anywhere from six months to a couple of years to bring to market, Balousek noted. Clorox has been devoting a good portion of its research and development budget to premium bag technology.
Next up for the trash bag market is a smart bag, which Balousek mentioned he has seen but not really in an advanced form yet. A smart bag, for instance, would send alerts to a smartphone when it's time for it to be discarded.
Clorox shares closed Monday at $91.34. The stock over the past three months has risen 3.8%. 
A Chobani IPO is Looming, and Here is Why
Chobani Prepares a Major Supermarket Invasion
-- By Brian Sozzi CEO of Belus Capital Advisors, analyst to TheStreet. This article represents the opinion of a contributor and not necessarily that of TheStreet or its editorial staff. At the time of this publication, Belus Capital Advisors rated Walmart and Target at sell. Brian Sozzi is the CEO and Chief Equities Strategist of
. He is responsible for developing and managing an equities portfolio of mid- and large-cap positions, in addition to leading the firm's digital content initiatives. He is also a personal finance columnist for
Men's Health
magazine.