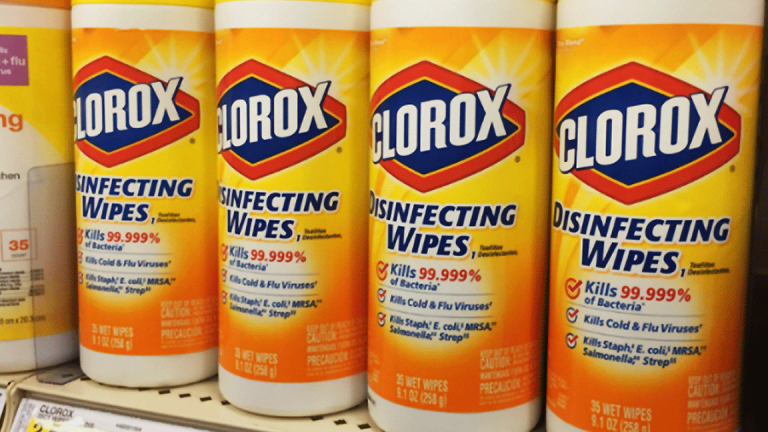 Clorox Gets Downgraded to Sell at Goldman Sachs
Clorox shares are on watch after Goldman Sachs downgrades them to sell and tells how they can get an upgrade.
Clorox Co. (CLX) does not have enough bleach to clean up its act, according to a Goldman Sachs note Wednesday. 
The bank's research arm downgraded Clorox to sell while reducing its price target to $112 from $127 - that represents 17% downside. 
"We see unsustainably high relative valuation for CLX compounded by EPS risk. On EPS, we believe consensus estimates do not account for continued input cost headwinds into FY19 and likely negative repercussions of the company's pricing actions," says analyst Jason English. 
Goldman believes that the company's charcoal business will continue to struggle, as will its trash bags following the expiration of a patent protection that has kept competitors at bay. Those headwinds, as well as softness in Argentina, will result in headaches for the company that will affect the company's bottom line as soon as the fourth quarter of this year, according to Goldman Sachs.
Shares fell 4% on the downgrade. 
In spite of Wednesday's bearish note, Goldman does see opportunities for Clorox to get back on track in spite of the numerous headwinds. 
Namely, Goldman believes the company needs to demonstrate that it can increase prices without experiencing significant volume declines. 
"Our view is predicated in part on an expectation that branded and competitive headwinds will result in a material volume deceleration for the company and evidence to the contrary would cause us to become more constructive. We also expect CLX's categories to realize minimal growth in the U.S., especially in areas such as charcoal, water filters and bleach," English wrote. 
Clorox CEO Benno Dorer recently spoke with TheStreet, detailing the company's plans to expand in the future. Take a look at the full interview here.