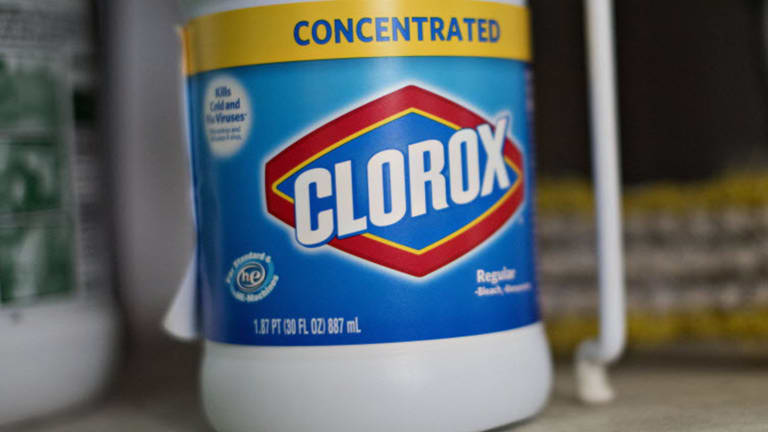 Clorox CEO: Why I Spent $295 Million for a Digestive Health Company
The consumer products giant's move into faster-growing health and wellness products continues to pay dividends.
Updated with comments from interview with CEO.
Clorox (CLX) - Get Clorox Company Report has proven yet again it wants to be known for more than its eponymous bleach.
The company announced the acquisition of Renew Life on Tuesday for $295 million in cash. Renew Life sells full-body cleanses and probiotic products mostly at natural grocers such as Whole Foods (WFM) and Sprouts (SFM) - Get Sprouts Farmers Markets, Inc. Report as well as supplement retailers like Vitamin Shoppe (VSI) - Get Vitamin Shoppe, Inc. Report . Clorox said Renew Life generated sales of about $115 million last year and had gross profit margins generally in line with its existing portfolio. 
"We have talked about three priorities for M&A -- natural personal care where we think there is still opportunity to tack on brands to be complementary to Burt's Bees; food enhancers such as dressings and marinades where we have been successful with Hidden Valley Ranch and we think there is more space for us to grow; and, finally, broader health and wellness where we think about products that can go in (ingest), on or around a person," explained Clorox CEO Benno Dorer in an interview with TheStreet.
Dorer, who said he has been trying out Renew Life's products the past three months and has noticed a difference in his well-being, added, "We have been looking for a while in these categories, but have waited for a while for the right business that is also a good deal."
The Clorox chief said talks between the two companies began around Christmas. 
Dorer has big plans for Renew Life.
Clorox will continue to expand the brand's core products of cleanses and probiotics in the natural grocery store channel, and use its sales and distribution expertise to get offerings onto more shelves at mass merchants such as Walmart (WMT) - Get Walmart Inc. Report and Target (TGT) - Get Target Corporation Report where distribution at the moment is limited.
New products are waiting in the wings, too. "Renew Life already has a range of innovations underway, and we have seen a number of ideas to drive their core business and expand the business into new areas," Dorer said. "Also, the Clorox R&D team and the Renew Life team have already started to develop ideas." 
According to research firm Mintel, the digestive supplement market currently hauls in annual sales of about $10 billion in the U.S. and is growing at about 7%. The probiotics sub-category, which is valued at $1.3 billion in the U.S., is expected to grow about 15% per year according to Mintel.
Roughly two-thirds of Renew Life's sales come from probiotic products, said Clorox. ReNew Life is a portfolio company of Bedminster, N.J.-based private equity firm Swander Pace, which acquired it in 2008 for undisclosed terms.
The acquisition continues the diversification of Clorox into faster-growing health and wellness products.
Clorox will now sell total body cleanses.
Clorox purchased all-natural cosmetics maker Burt's Bees in 2007 for a lofty $925 million. Since being acquired, Clorox has expanded Burt's Bees into all-natural lipsticks and lip balms, among other new products. Renew Life is unlikely to be Clorox's last acquisition under the leadership of Dorer, who is a big fan of product innovation.  
"We continue to look at acquisitions, but our priority right now is to integrate Renew Life," said Dorer. 
Clorox' diversification continued to pay dividends in the most recent quarter.
The company also reported Tuesday that fiscal third-quarter earnings, adjusted for one-time items, came in at $1.21 a share vs. estimates for $1.10 a share. Volume for the quarter ended Mar. 31 increased 4% year over year, reflecting gains across all of Clorox' business segments.
While shipments in the company's core bleach and Fresh Step cat litter businesses fell, volume for Burt's Bees surged by a double-digit percentage thanks to the introduction of new lip care products. Clorox said it also saw strength in its Glad trash bag and disinfecting wipes businesses. The disinfecting wipes business even managed to score one noteworthy client during the quarter.
Clorox regained distribution of its wipes at warehouse club operator Costco (COST) - Get Costco Wholesale Corporation Report after it had ceded the business to Lysol maker Reckitt Benckiser about two years ago. Shipments commenced at the end of March, said Dorer.
"The deal will accelerate top-line growth by significant margin in the near-term -- the disinfecting wipes business will likely grow by double-digits [in the near-term] based on this distribution expansion," said Dorer.
Shares of Clorox closed higher by 2% to $129.43 in trading on Tuesday.