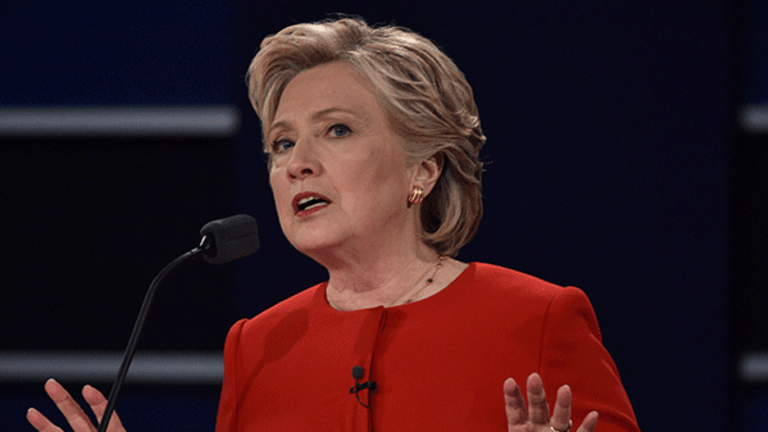 Hillary Clinton: Race Is a Big Part of Trump's Attack on NFL Athletes
The former Democratic nominee for president said on Monday that President Trump's remarks about professional athletes who protest peacefully are thinly veiled attacks steeped in racism.
Hillary Clinton called Donald Trump's weekend remarks on professional athletes who protest peacefully thinly veiled attacks steeped in racism.
The former Democratic presidential nominee, at the taping of a show to air later this week on satellite radio operator Sirius XM Holdings Inc. (SIRI) , said Trump was using the players' protests against police brutality and racial injustice to foment racial and cultural divides.
"I couldn't help but think that he has attacked these black athletes for peacefully protesting, but he doesn't really attack white supremacists, neo-Nazis, the Ku Klux Klanners or Vladimir Putin, who interfered in our election," Clinton said in New York on Monday, Sept. 25, referencing Trump's response to violent marches that took place in Charlottesville, Va., last month. "It's all part of his political calculation -- he wants to set people against each other, he wants to divide us."
Clinton said Trump's reference to any black athlete who kneeled during the playing of the national anthem as a "son of a bitch" whom National Football League owners should "fire or suspend" was a calculated plan to appeal to core supporters.
Dozens of NFL athletes, mostly African-Americans, reacted to Trump's remarks over the weekend by picking up on a movement begun a year ago when former San Francisco 49ers quarterback Colin Kaepernick, also African-American, took a knee in protest during the national anthem. NFL owners, mostly white and conservative and very wealthy, surprised some observers by criticizing Trump and in some cases, standing with their players, many of whom kneeled, on Sunday during the singing of "The Star Spangled Banner."
"What he said about those players at a rally in Alabama, we need to say, we can have disagreements, but let's not be engaging in prejudice and bigotry," Clinton said in an interview conducted by Zerlina Maxwell, Sirius' director of progressive programming who worked for on the Clinton presidential campaign. "We don't need that. We need to overcome it the best we can."
The Clinton appearance at SiriusXM's New York headquarters was one of a series of interviews she's given since the publication earlier this month of her memoir of the campaign, "What Happened," which was published by Simon & Schuster Inc., a unit of CBS Corp. (CBS) .  
Clinton said the NFL player protests should seen in the context of gun violence and killings by police and that Trump's portrait of their actions as nothing more than disrespecting the flag or the military missed the point.
"We've always had to keep working to overcome racism," Clinton said. "This is not something that's here today, gone tomorrow. It's part of our founding. We fought a civil war over slavery, and so we have had to work hard and dig deep."
More of What's Trending on TheStreet: