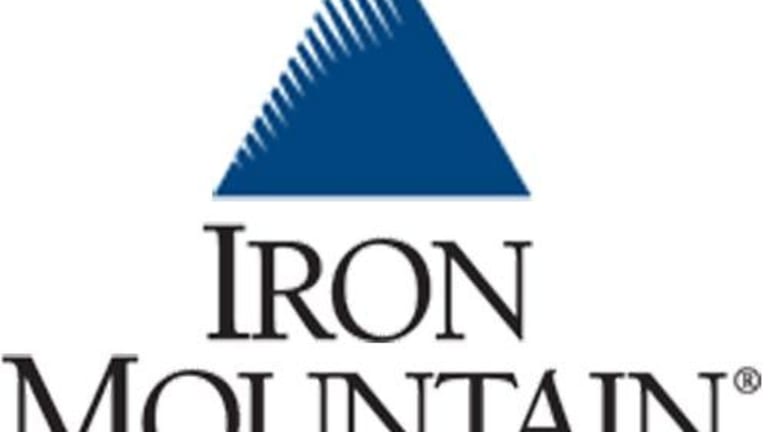 Climb on Iron Mountain for Its Strong Dividend
Here's a beaten-down stock that trades at an attractive forward multiple, offers tons of growth potential and pays a high yield.
Revenue and profits have been hard to come by at Iron Mountain (IRM) - Get Iron Mountain, Inc. Report , which is odd when you consider that during this time of global data insecurity, a company that provides secure storage for information, records management and data protection services to companies all over the world would have few problems.
Still, its shares, at close to $29, are down about 25.5% in 2015 and 23% in the past 52 weeks and have not performed as well as investors hoped they would, especially when compared to the 1.2% gain in the S&P 500 (SPX) index. But Iron Mountain, headquartered in Boston, pays robust 48.5-cent quarterly dividend.
At its current price its dividend yields in the neighborhood of 6.76% annually -- more than three times the dividend payers in S&P 500 index, which averages out to a 2.00% yield. Although IRM stock doesn't appear cheap at 51 times earnings compared to a price to earnings multiple of 21 for the S&P 500, there are several reasons to want to own these shares now.
IRM stock will begin trading ex-dividend Friday, meaning that to qualify for a dividend check, investors must own the shares on or before that date. After that the company will finalize its roster of shareholders to whom it will send dividend checks. Investors of record as of Dec. 1 will receive Iron Mountain's 48.5-cent quarterly payout on Dec. 15. This amounts to roughly two weeks from the record date.
Not willing to wait? Consider, the long-term value Iron Mountain is building for its shareholders. Having transformed its business in 2014 into a real estate investment trust, Iron Mountain is looking to capitalize on a storage facilities business that offers  high retention rates and low maintenance expenses with low turnover costs. All told, the company -- through its various cost-saving initiatives -- expects to realize $125 million in expense reductions in the next three years.
At the same time, the company is investing to grow in emerging markets where it sees high revenue growth opportunities and larger profit margins. Based on the stock's average price target of $40 -- suggesting almost 40% gains from current levels -- analysts have bought into the company's plans.
Based on the fiscal 2016 consensus estimate of $2.21 a share, which drops Iron Mountain's forward P/E to 14 -- three points lower than the S&P 500 index -- IRM stock is not as expensive as you might think.
So here's a beaten-down stock that trades at an attractive forward multiple, offers tons of growth potential and pays a high yield. The money it expects to save in the next three years can also be used to raise its dividend, which has already been raised over 600% since 2010.
This article is commentary by an independent contributor. At the time of publication, the author held no positions in the stocks mentioned.