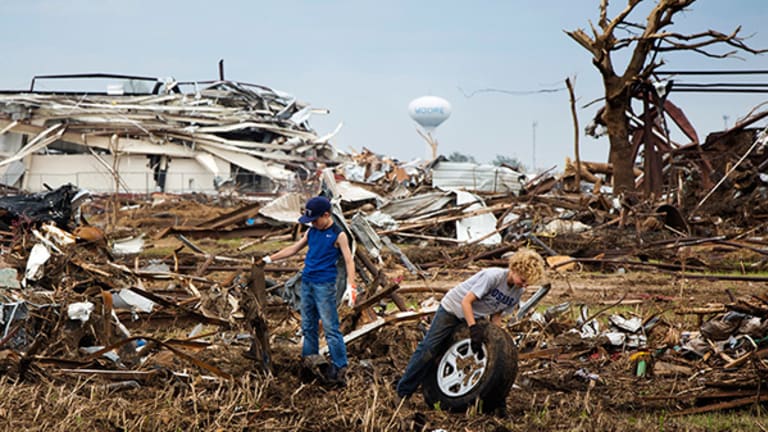 Climate Change Finds Resonance in Federal Farm Policies
The 2014 Farm Bill moves federal policy toward a climate change risk mitigation model based on crop insurance.
The 2014 Farm Bill moves federal policy toward a climate change risk mitigation model based on crop insurance.
NEW YORK (TheStreet) -- With programs and policies informed from the growing threats of climate change, implementation of the 2014 Farm Bill is taking steps toward a risk mitigation model for farmers partly through a growing emphasis on crop insurance and the termination of more direct subsidies.
While significant, those efforts remain small compared to the growing threat to farmers, crops and agricultural suppliers and customers from more frequent and more severe climate disasters.
Scott Marlow, executive director of the Rural Advancement Foundation International - USA, noted that although climate change is not mentioned directly in the new legislation, its implications are clearly felt.
Carbon Tax Could Boost Economy as it Aids Global Warming Fight
Geothermal Unloved While Solar Steals the Show
3 Policy Shifts the World Bank Says Will Save the World
"We see significant climate change impact and choices in some of the farm bill programs," Marlow said. "There seem to be some programs that address global climate change issues directly." Other programs, he added, most notably those surrounding crop insurance, represent significant policy changes as an indirect response to threats posed by climate change.
Those changes will prove a boon to crop insurance specialists like Rural Community Insurance Corp., a unit of Wells Fargo (WFC) - Get Report, and ARMTech, a subsidiary of Endurance (ENH) . Both companies offer a variety of crop insurance products across most of the U.S. Farmers already lean heavily on crop insurance to get them through natural disasters like the drought currently wreaking havoc in California. The greater variety in policies and insurance cost subsidies offered under the 2014 Farm Bill will serve to rachet up the demand for coverage.
In addition, revenue channels for large companies like Monsanto (MON)  and Caterpillar (CAT) - Get Report will also be strengthened somewhat, as farmers will be in a better position to pay off suppliers without losing their businesses.
While the federal budget allocates money to specific projects for a 12-month period, the Farm Bill establishes multi-year federal spending procedures regarding agriculture and food supply. The previous bill was passed in 2008. It officially expired in 2012 but was extended by Congress for an additional year. After being debated for three years in both chambers, the current bill was signed into law Feb. 7.
Under the old bills, the safety net for crop losses consisted of direct payments based on crops the farmer had a history of growing -- and would be paid regardless of whether the crop was currently being grown -- and countercyclical payments that would be triggered if prices fell below a pre-set target. Neither one required farmers to pay anything.
The current system instructs the U.S. Department of Agriculture to set up subsidized crop insurance programs, offered to farmers through private companies and backed by the federal government. Premiums are heavily subsidized at varying rates, but most coverage plans require the farmers to pay something toward the policy.
The total budget covered by the Farm Bill is $956 billion over 10 years, with 79% of that allotted for nutrition, including food stamps. Crop insurance is the next largest segment, totaling $89.8 billion.
The programs expand funding for crop insurance by $5.7 billion over 10 years, but because the direct payments are terminated, that yields a total savings to the taxpayer of some $16.6 billion, according to the Congressional Budget Office. While the nutrition title was trimmed by $8 billion, the largest remaining chunk of that savings comes from the elimination of agricultural subsidies, coupled with the expansion of crop insurance.
More importantly, the strengthening of crop insurance programs represents what the Institute for Agriculture and Trade Policy (IATP) calls "the most notable and far away the most expensive programmatic response to climate change in agriculture."
The Impact of Climate Change
Criticisms against the science of climate change persist despite solid scientific evidence, but following the lead of the insurance industry, the Farm Bill ignores the debate and focuses on observable trends.
According to the insurance industry group National Crop Insurance Services, 2011 and 2012 were the costliest years on record for U.S. agriculture due to extreme weather conditions.
In emails to TheStreet, NCIS Vice President of Public Relations Laurie Langstraat said, "Regardless of one's opinion of the climate change issue, there is no disagreeing that farmers are dealing with extreme weather events. At a minimum, climate change is projected to introduce a whole new level of uncertainty into production agriculture, bringing periods of more intense heat or cold, abnormally high or low moisture and altered weather patterns."
California has experienced below average rainfall three years running and is currently experiencing one of the worst droughts on record, with emergency measures in place statewide, including heavy fines in some places for violation of water conservation rules.
Cold snaps have a history of ruining citrus crop yields in both California and Florida and scientists suspect that climate change could be worsening those events as well. Events involving storms, lightning, hail and cyclones of a once-in-a-lifetime severity are similarly breaking old records, opening new farms particularly  up to extreme, unpredictable levels of risk.
Threats to crop yields from climate change also include indirect changes like increased weeds, insects, soil degradation and plant diseases. Together with weather-related disaster, these risks challenge longstanding federal policies.
"The past is no longer predictive of the future," Marlow said. "And that's a huge deal."
Crop insurance is a step in the right direction, Marlow said, but it falls short as a long-term strategy. For one thing, it mitigates the risk of economic loss to the farmer but does nothing to mitigate risk to food production or the communities economically dependent on the farms.
Further, insurance to cover a farmer's loss doesn't necessarily encourage the farmer to consider changes that could prevent losses in the future. Such changes could include raising a great variety of crops, enhancing ground cover and soil conservation techniques and encouraging small, diverse farms serving local communities.
"The question is do you invest in mitigating effects on the front end" before a disaster occurs? Marlow asked. "Or do you invest in simply paying the cost of the damages on the back end?"
Crop insurance doesn't necessarily encourage more sustainable practices, and so fails to counter the risk from climate-related disaster, Marlow said.
"What it does is transfer all that risk to the taxpayer," he said.
The IATP echoes rafi-USA's concerns in an article on its Web site.
Even though current Farm Bill initiatives recognize the impacts of climate change, they have failed to encourage adaptation as a less costly and longer term safety net. . . . Relying on programs that compensate for losses without requiring the adoption of more stringent conservation practices to prevent the same disaster happening again costs billions of dollars each year.
On the other hand, the reliance on crop insurance allows farms to collect compensation for a loss faster and allows the losses to be tied more closely to the needs of individual farmers.
"The hard thing for people to get straight is, is this a good thing or a bad thing?" Marlow said. "And the answer is, yes."
Further enhancements to the bill are being made in the implementation, including changes to the whole farm revenue insurance program that will allow new farmers to enroll for coverage who would have been arbitrarily excluded due to revenue history requirements.
Issues of sustainability for farmers should be of paramount concern to policymakers, Marlow insisted.
"Climate change or not -- in the last 10 years there's no place in the country that hasn't been declared a natural disaster," he said. "Global climate change or not, you can't get around that."
The key for the federal government lies in giving farmers an incentive to pursue well-researched, scientifically tested methods for adaptation.
"They took a big step in this farm bill," Marlow said.
Does Monsanto's Stock Price Account for All the Potential Risks?
-- Written by Carlton Wilkinson in New York