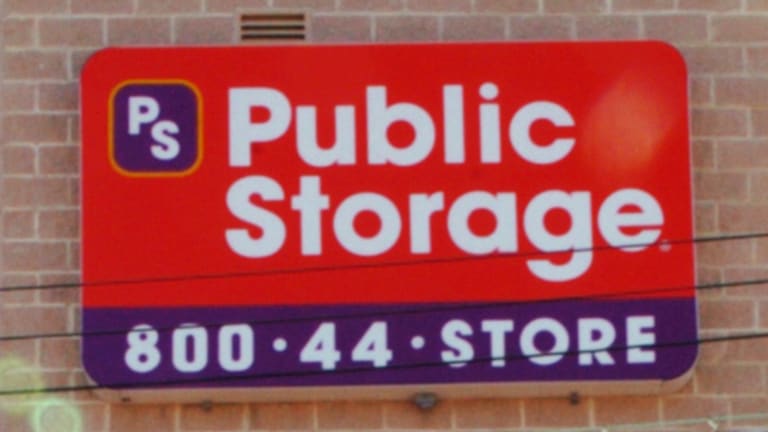 Clear Out of Public Storage for Now
The real estate investment trust reports earnings later Wednesday. The stock is much more attractive under $200.
Looking at shares of Public Storage (PSA) - Get Free Report  , currently at $212, you'd think Americans cleaned out their storage lockers. The stock is 22% below its 52-week high. What happened to this once-great performer, and is this a good opportunity to buy into a well-run real estate investment trust? The company reports fiscal third-quarter earnings after the close Wednesday.
Shares of Public Storage have collapsed after being hit by a wave of valuation downgrades by the sell-side analysts. Then investors freaked out after the second-quarter results were reported.
Public Storage reported second-quarter results on July 27 in line with analyst estimates. The company said funds from operations (FFO) were $2.40 per share, in line with the $2.40 consensus estimate. Revenue rose 7.9% to $594.4 million versus the estimate of $594.83 million.
The company said some of the company's best markets -- including Los Angles, San Francisco, Seattle and Dallas/Fort Worth -- grew in the high single digits. However that was offset by exposure to weak markets including Denver, Houston and Washington D.C. In those areas, rents declined 2% to 3% and renewal growth slowed.
Investors hit the panic button when they heard about oversupply, lower rents, intense competition and discounting. But that's nothing new. The industry has long used promotions to lure customers into rental agreements. 
Second-quarter realized annual contract rent per occupied square foot was $17.13, a 5.4% increase over the prior year. Even though occupancy was essentially flat with last year, rental growth was up slightly because the company acquired 12 self-storage facilities in the second quarter. The company ended the quarter with 2,003 facilities.
Same-store ending occupancy was 95.2%, a decrease of 50 basis points year over year. Average occupancy was 95.3%.
I think the selloff in the stock is over done. Public Storage is the 900-pound gorilla in the self-storage business and is by far the largest consolidator in a very fragmented industry. Extra Space Storage (EXR) - Get Free Report is the second-largest operator, but it has only 1,412 facilities. EXR is the fastest-growing self-storage company in the industry.
According to the Self-Storage Almanac, measured by market share per square foot the "non-REIT non-institutional quality properties," otherwise known as mom and pop operators, were 35% of the self-storage business. About 45.8% of the industry is non-REIT institutional quality properties, which are high-quality operators that own a few facilities and those units are ripe for acquisition, too.
The big operators have many advantages over the mom and pop operators. First, developing new facilities is very expensive, especially in high rent cities. The lack of land that can be delivered and the NIMBY (not in my back yard) attitude of residents make finding good locations difficult.
Second, the big operators get the majority of their customers from the Internet, so the ability to capture referrals and move customers into a rental is crucial. Most mom and pop operators don't have sophisticated web technology that can get a new customer signed up in seconds. The large operators also have mobile apps that can tip the scale for customers. Customers appreciate a sophisticated mobile app that can take reservations, make rental payments and allows customers to monitor their account.
Third, the REIT operators build facilities that make customers feel confident their stuff is safe. Modern facilities that are monitored 24 hours a day takes the anxiety out of storing your holiday decorations in a facility that takes security seriously.
While I think the decline in the shares is overdone, the stock is much more attractive under $200. Because of its strong record historically, PSA trades at a premium (around 23 times FFO) to the REIT sector.
But at $200, the shares would be trading closer to 20 times fiscal 2016 estimates of $9.64 and 19 times estimates of $10.54 for fiscal 2017. Those multiples would be more in line with the REIT sector and offer investors more downside protection should the industry slow further. In my opinion, buying the stock below $200 (ideally $180) won't clean you out.
And for those who want a lower valuation, more growth and no exposure to Houston, Austin, Denver or Chicago, you should check out Extra Space Storage.
This article is commentary by an independent contributor. At the time of publication, the author held no positions in the stocks mentioned.