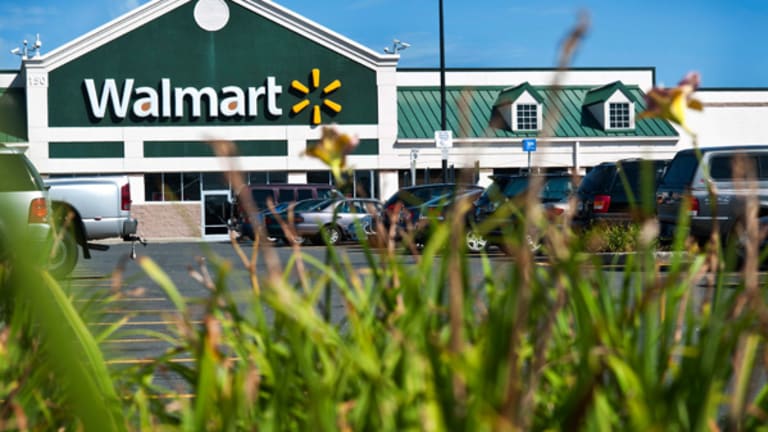 Cleanup in Aisle 2: Debt Pressures Roundy's and Safeway
Grocer stocks have soared this year..Heavy debt loads will bring some back down to earth.
NEW YORK (TheStreet) -- Debt, when acquired at a low cost and invested to yield high profits, can be very beneficial for a publicly traded firm. But when there is excessive debt, the potential for a collapse in the stock price is troubling. That is especially true in challenging periods for companies in low margin industries that pay high dividends, such as Roundy's (RNDY) , Safeway (SWY) and Ingles Market (IMKTA) - Get Ingles Markets, Incorporated Class A Report.
Due to the bull market, each of those companies is up significantly for 2013.The stock price has more than doubled for Safeway this year. For Ingles Markets, the rise has been more than 60% since the first of the year. Over the same period, Roundy's is up nearly 120%.
Just as high as the stock price rises for these companies are the levels of debt for each. The debt-to-equity ratio for Roundy's is 3.34. That means that for each dollar of equity, it required $3.34 in borrowing for Roundy's. The debt-to-equity ratio for Ingles Market is 2.34. For Safeway, it is 1.74.
By contrast, the debt-to-equity for
Wal-Mart
(WMT) - Get Walmart Inc. Report
, the biggest grocer in the United States by sales, is 0.80, less than half that for Safeway. The average debt-to-equity ratio for the industry is 1.74.
In addition to the claim that debt payments has on the cash flow, Safeway, Ingles Market and Roundy's also pay an unaffordable dividend that is much higher than the sector average of 1.20%. The payout ratio for Ingles Market is over 173% for a dividend of 2.43%. That is clearly unsustainable.
Roundy's has a high payout ratio, too, for its 5.16% yield: There have been dividend cuts in the past. Safeway has a dividend payout ratio of 31.70%, which is modest, for its dividend of 2.26%, which is almost twice the industry mean. But Safeway has also sold assets to raise cash.
There are neither the profits nor the needed cash flow growth needed to responsibly support these dividend payments.
For each company, the five-year sales growth rate is also below the industry average of 3.05%. The profit margin for Safeway is 1.70% with a negative sales growth rate for the last five years of 0.15%. The growth rate for Ingles Markets over that period was 3.46% with a profit margin of 0.50%. For Roundy's, it was a 0.50% growth rate for the past five years as it is presently losing money at a 1.5% rate.
As a result, the cash flow growth has been anemic for these grocers, which can be fatal in a low profit margin industry with high capital costs.
This all shows up in the return on equity, one of the most important indicators for Warren Buffett, according to his biographer, Carol Loomis. The average return on equity for a member of the
Standard & Poor's 500
is around 15%. For Wal-Mart, it is 23.50%. Safeway has a return on equity of 19.31. It is only 4.37% for Ingles Markets. Roundy's has a negative return on equity of 26.89%. It is obvious why Warren Buffett is a major shareholder of Wal-Mart's. However, all of the stock prices for the grocers are near 52-week highs.
Safeway just announced that it is leaving the Chicago market. That can hardly be considered a show of strength, especially with a drop in profits for Safeway in the most recent earnings period. It is of little comfort for those owning the stock of Roundy's that its share of the Milwaukee market, its home base, has declined from 58% to 42% over the last three years as Wal-Mart's portion has increased from 6% to 16% for that time segment. Earnings-per-share growth for Ingles Market is down on a quarterly basis and for the last five years, too.
But it is not just Wal-Mart that threatens the grocery store sector.
Family Dollar Store
(FDO)
,
Walgreen
(WAG)
and other discount and drug store chains are selling more grocery items such as milk and snacks to lure in more shoppers.
Amazon
(AMZN) - Get Amazon.com, Inc. Report
, with AmazonFresh, "same or next day delivery of almost everything you want to buy...," is going after the high-end products.
While the competition is increasing, it is the high debt and high dividend payments that are the greatest threats to the stock prices over the long haul for Safeway, Roundy's and Ingles Market. The dividend can be easily cut or ended for a company. That would result in the shares plunging, undoubtedly, as it is a bearish move. Income investors would no longer have a reason to own the stock with the selling further depressing the stock prices.
It is difficult to imagine the debt loads falling with the poor cash flow growth. The funds going to service the debt and pay the dividend cannot be used for discounts, specials, capital spending or other needs. Managerial resources also have to be dedicated to debt and dividend matters rather than increasing revenue.
Over the long term, those factors should result in the stock prices falling for Safeway, Roundy's, and Ingles Markets from the present lofty perches.
At the time of publication the author had no position in any of the stocks mentioned.
This article was written by an independent contributor, separate from TheStreet's regular news coverage.
Jonathan Yates is a financial writer who has had thousands of articles appear in periodicals and Web sites such as TheStreet, Newsweek, The Washington Post and many others. He has degrees from Harvard University, Georgetown University Law Center and The Johns Hopkins University.