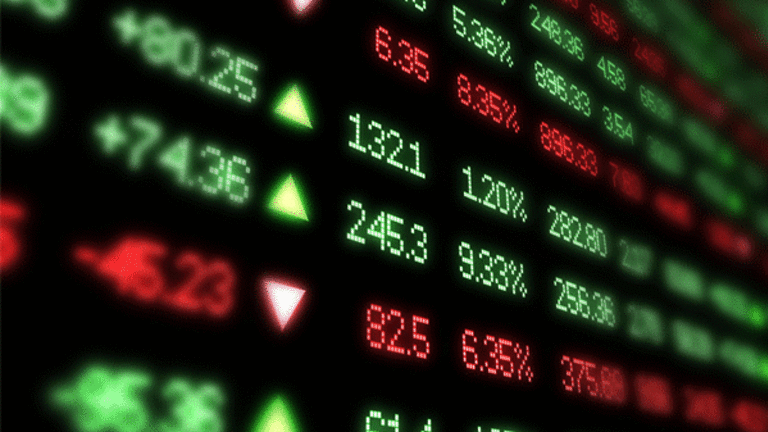 Cleaning Up With Consumer Goods Makers
The sector's 'Four Horsemen' are up on Kimberly-Clark's earnings, but how long can that last? Investors should be careful.
The sector's 'Four Horsemen' are up on Kimberly-Clark's earnings, but how long can that last? Investors should be careful.
NEW YORK (TheStreet) -- They're off and running! Friday was an awesome day for the "Four Horsemen of Consumer Goods" starting with Kimberly-Clark's (KMB) - Get Report blowout first-quarter earnings report.
KMB shares hit an all-time high after the company reported a 13% increase in first-quarter earnings. KMB did a good job of cutting costs and experienced strong sales of high-margin products like Kleenex tissue and everybody's favorite daily-need product, toilet paper.
The company's adjusted earnings per share (EPS) came in at $1.48, which was an all-time record and up 19% year over year, bolstered by KMB's strong cost savings strategy. KMB's Senior Vice President and Chief Financial Officer Mark Buthman stressed during the conference call the company continues to allocate capital in shareholder-friendly ways through dividends and share repurchases.
Shares of KMB opened above $104 and traded as high as $106.16, which at that price level lowers the dividend yield-to-price to a still generous 3.05%. It correlates nicely with CEO Thomas Falk's statement that he sees organic sales growth for KMB continuing at a 3% to 5% rate for the rest of 2013.
>>Also see: Apple Doubts Deepen: Tech Weekly >>
Robert Abernathy, KMB's Group President of Europe, Global Nonwovens and Continuous Improvement and Sustainability, who appears to be the insider with the largest number of KMB shares (134,568 as of Feb. 21) had to be pleased. Based on KMB's closing share price on Thursday of $101.36 his shares would be worth over $538,000 more by the time KMB closed Friday at $106.10.
If you want to see all the details of this terrific earnings release and quarterly financial report
look at the company's press release at its easy-to-navigate Web site
. The "Executive Summary" is a sight to behold, the picture of a well-run company operating with shareholder's interests at heart.
Chairman and Chief Executive Officer Thomas Falk said, "We are off to an excellent start to the year. We achieved solid organic sales growth compared to a strong year-ago result, including benefits from targeted growth initiatives and product innovations. We improved adjusted gross margin by 140 basis points and adjusted operating profit margin by 200 basis points."
Falk also celebrated the fact that "we delivered all-time record adjusted earnings per share, reflecting continued momentum in K-C International, $85 million of cost savings from our ongoing FORCE program and above-plan volume growth in North American consumer tissue. Finally, we improved cash flow and returned $0.8 billion to shareholders through dividends and share repurchases."
CFO Buthman elaborated further by saying, "We continue to allocate capital and shareholder from ways with the first quarter dividend payments in share repurchases totally nearly $800 million. In February we announced our 41st consecutive annual increase in the dividend. The 9.5% increase should help maintain our position as a top-tier dividend payer."
He said the company repurchaed $500 million worth of stock in the quarter and expects full-year repurchases to be between $1 billion and $1.2 billion.
As our own Jim Cramer likes to say, share repurchase programs are like a "tax-free dividend" since it decreases dilution and helps boosts the price of the stock, which Friday's leap higher fully demonstrated. The chart below gives us the one-year snapshot of KMB's share price exuberance but doesn't reflect the results of Friday's financial quarterly report.
data by
Like so many other high-flying dividend dominators, KMB's share price has been driven more by the trailing 12-month revenue per share than by the quarterly year-over-year diluted EPS. The cost-cutting success of the company's leadership should be given some credit as well.
>>Also see: Google's Tax-Sheltered Earnings Miss >>
How about the other three members of what I call "The Four Horsemen of Consumer Goods" companies? Friday was a great day for them as well.
Sure enough,
Clorox
(CLX) - Get Report
hit a 52-week high of $90.08 Friday before closing at $89.55. It's selling at 19 times forward earnings and the dividend yield is down to 2.86%. CLX marches into the earnings confessional on May 1.
Then there's
Colgate-Palmolive
(CL) - Get Report
which also hit penthouse pricing today to an all-time high of $119.89 on lower-than-average volume. Also selling at 19 times forward earnings this "horseman of consumer goods" has a dividend yield-to-price of only 2.27%.
Yes, I'm aware that the 10-year Treasury bond only yields 1.7% and state income tax-free. But I wouldn't feel comfortable having you chase that yield either. And my discomfort with these sky-high consumer goods companies has more to do with how they will sustain their share price levels. CL's dividend payout ratio is approaching 50% while KMB's is around 67%! Yikes!
The last of the "horsemen" is none other than the leader of the pack,
Procter & Gamble
(PG) - Get Report
. Is it living up to the last half of its name ("Gamble") to own shares at $81.43, or today's 52-week high of $81.70?
Come on folks, these are not companies with 30% profit margins and 40% operating margins. PG, as of the end of 2012, had a profit margin of 15.5% and an operating margin of 19.77%. It will tell us about its first-quarter 2013 earnings on Wednesday.
Right now, as with the other members of the four horsemen, PG's dividend yield-to-price is below 3% representing a 50% payout ratio. PG and the other three are all great companies, and KMB's earnings report today gives us much to cheer about.
But how high can consumer goods stocks soar? I'm guessing we've just experienced a temporary top and we're getting ready for a "cooling off" period. We'll see.
At the time of publication the author had no position in any of the stocks mentioned.
This article was written by an independent contributor, separate from TheStreet's regular news coverage.