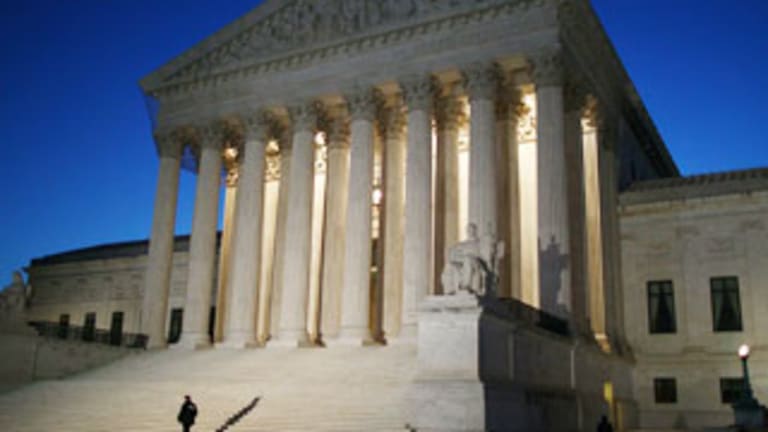 Citizens United May Save Health Mandate
Purchases to ensure human health have long been mandated.
Purchases to ensure human health have long been mandated.
NEW YORK (
) -- Since 1970, when Republican President Richard Nixon signed the Occupational Safety and Health Act, the United States Occupational Safety and Health Administration (OSHA) has required corporations to purchase personal protective equipment for their human workers.
On January 21, 2010, the U.S. Supreme Court ruled that corporations are people in Citizens United v. Federal Election Commission. This makes the statement that, "the federal government has never mandated that people purchase of a good" to be a false premise.
In a form of federally mandated health insurance, corporate "people" have been making mandated purchases under OSHA -- designed to be made in advance to protect humans from injury -- for the last four decades.
President Obama's Affordable Care Act did not fundamentally change the relationship between the government and the people. The Supreme Court did that with Citizens United.
Investigative news stories bemoan the working conditions of workers in China assembling
Apple
(AAPL) - Get Report
products. American manufacturers like
General Electric
(GE) - Get Report
and
Ford Motors
(F) - Get Report
are both required to have their assembly line workers wear eye protection and create an environment to avoid repetitive stress injuries.
U.S. utilities have emissions that cross state lines. They are regulated at the federal level by the Environmental Protection Agency. So, corporate people like
NextEra Energy
(FPL) - Get Report
and
Constellation Energy Group Inc
( CEG) are both required to purchase equipment to clean up emissions before harm comes to humans.
Under the Citizens United precedent the Supreme Court must confirm that the Affordable Care Act mandate for people to buy health insurance or pay a penalty is constitutional.
-- Opinion of Kevin Baker in Jupiter, Fla.
Kevin Baker became the senior financial analyst for TheStreet Ratings upon the August 2006 acquisition of Weiss Ratings by TheStreet.com, covering equity and mutual fund ratings. He joined the Weiss Group in 1997 as a banking and brokerage analyst. In 1999, he created the Weiss Group's first ratings to gauge the level of risk in U.S. equities. Baker received a B.S. degree in management from Rensselaer Polytechnic Institute and an M.B.A. with a finance specialization from Nova Southeastern University.