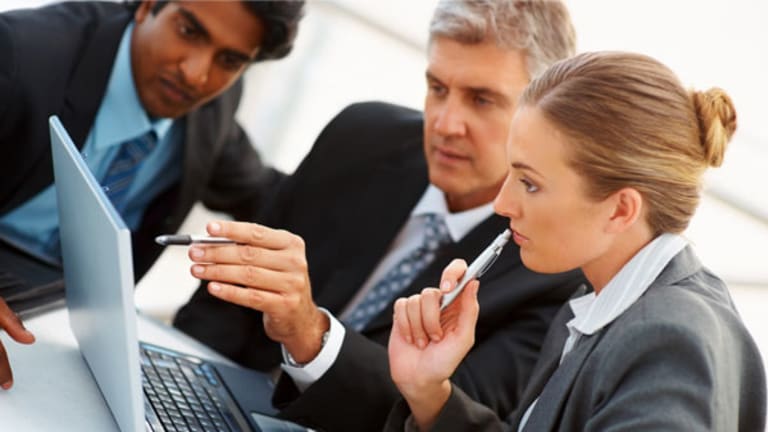 Citi, Goldman Deflate Dow: Today's Outrage
Citi and Goldman Sachs didn't offer enough "wow" to sustain the Dow.
Adds market update.
NEW YORK (
) -- Citigroup and Goldman Sachs didn't offer enough "wow" to sustain the Dow.
Goldman Sachs
delivered solid profit numbers
, but declining revenue from investment banking compared negatively to JPMorgan's outsized results announced yesterday. Citi reported a
narrower loss than expected
, but scared some investors with large credit losses.
That's all the bears needed to pull the market back below Dow 10,000 after hitting 10,015.86 Wednesday.
This is a psychological tug-of-war over a rally built on optimism and the expectation that the worst is behind us. Hesitation is opening up doubts and bringing out the sellers.
This will be a big test of the bulls. They can only win by pushing the Dow back above 10K and never looking back. If they succeed, the bears may well go into hibernation for the winter.
The last big bull victory of this magnitude came in 2004, after months of tug of war with the bears after the Dow crossed the 10K threshold in December 2003. It wasn't until November of 2004 that the Dow finally held its ground above 10,000 and headed toward new heights.
The bears won the time before that, back in 2002 when the Dow hit a high for the year of 10,635.25 in March and then plummeted to a low of 7,286.22 in October.
Dow Jones Industrial Average 2000-2009
Until now, investors haven't picked a side. They've been hedging their bets or sitting noncommittally on the sidelines.
That's the only way to explain why just about everything is up. Gold - the safety play - hit a record $1,040 an ounce last week. Oil hit a six-week high this week. The bond market is holding up and even the dollar, for all the talk of weakness, isn't exactly collapsing under the weight of the massive U.S. debt load.
The tenuous optimism that is driving the Dow is evident in the stocks that are leading -- primarily banks and technology companies -- while the bellwethers of the consumer and industrial sectors are still in negative territory.
The top Dow performers include
American Express
(AXP) - Get Free Report
,
IBM
(IBM) - Get Free Report
,
Cisco
(CSCO) - Get Free Report
and
JPMorgan
(JPM) - Get Free Report
, which are helping to offset declines among the likes of
General Electric
(GE) - Get Free Report
,
Wal-Mart
(WMT) - Get Free Report
and
McDonald's
(MCD) - Get Free Report
.
This awkward equilibrium can't last forever. Investors will have to decide whether they believe in this stock market rally or not.
To win, the bulls must face down the bears without blinking.
--Written by Glenn Hall in New York.
Glenn Hall is the New York-based Editor in Chief of
TheStreet.com
. Previously, he served as deputy editor and chief innovation officer at
The Orange County Register
and as a news manager at
Bloomberg News
in Frankfurt, Amsterdam and Washington, D.C. As a reporter, he covered business and financial markets, worked in both print and television in the U.S. and Europe, and conducted in-depth investigative coverage at
The Journal-Gazette
in Fort Wayne, Ind. His work also has been published in a variety of newspapers including
The Wall Street Journal
,
The New York Times
and
International Herald Tribune
. Hall received a bachelor's degree in journalism and political science from The Ohio State University and a certificate in project and program management from Boston University.