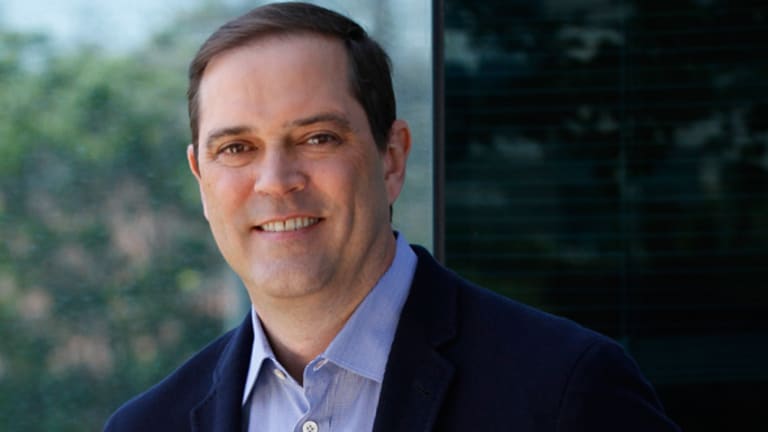 Cisco's Got Trading Strength Thanks to New CEO
Chuck Robbins is ripping things apart and that makes the Street very happy.
NEW YORK (TheStreet) -- Cisco (CSCO) has a new CEO who is not concerned about shaking things up relative to what was many years of status quo for his company.
Chuck Robbins is selling, and could continue to shed, bits and pieces of the company, even if by doing so he incurs net losses in the process. So far the Street is rewarding Cisco during the early stages of this process as the stock's price continues to hold its own while many stocks are getting "haircuts" in their valuations. Thus Cisco is gaining relative strength while the CEO prunes the company.
Cisco has a dividend yield of 3%. That dividend is more than doubly covered by Cisco's earnings per share over the past four quarters. Cisco will announce its last quarter's earnings in the second week of August. Barring any surprises, those results are projected to be flat relative to those of 2014's second quarter (56 cents vs. 55 cents). Cisco trades at a trailing price to earnings ratio of 16 and a forward PE (basis projected earnings one year hence, or by July 2016) of just 12. Thus by most standards of stock valuation Cisco is not an expensive stock.
Technically, I read Cisco's one-year stochastic pattern and Relative Strength Index as being bullish with more potential upside, perhaps to $30+ in the intermediate term (three to six months). Cisco has traded between $22.49 and 30.31 over the past 52 weeks. Thus any move above $30 is a potential breakout move. Cisco stock recently traded at $28.32.
Source: Stockcharts.com
Cisco has a balance sheet that any CEO would love to inherit as the company has over $30 billion in net cash. Those numbers equate to a net cash per share balance that exceeds $6.50 per share.
The trade tactic I prefer now for Cisco is the bullishly biased put calendar diagonal spread.
The trade is as follows: sell Cisco September 30 put at $2.00 and buy Cisco October 29 put for $1.50.
The total risk for the trade is 50 cents per spread. The suggested target to close for a gain is a bid of 90 cents. The stop-loss level is the 50-cent risk.
Note that should the position become morphed into becoming a synthetic call (long stock that is put to you and long the October 29 put would be a synthetic October 29 call) that Cisco should trade ex dividend for 21 cents a share in early October. Thus that dividend would reduce the net risk/potential loss of 50 cents.
As always, this is a guideline, and you should always stick to your trading plan and what's best for your risk/reward tolerance.
OptionsProfits can be followed on Twitter at twitter.com/OptionsProfits
Skip Raschke writes regularly for Options Profits. You can get his trades first and interact with him there with a free trial.
This article is commentary by an independent contributor. At the time of publication, the author held no positions in the stocks mentioned.